Over Memorial Day weekend, the annual Phoenix Comicon took over Downtown Phoenix. The basement of their convention center housed comic book readers, writers, cosplayers, artists, sellers, and buyers — but above all, fans of popular culture.
In this ensemble of excited, energetic individuals was one artist eager to share his upcoming venture. After hearing his mission on the morning news, I knew I had to find and learn more from the artist behind works such as DC Comics' Batman Incorporated, Flashpoint: Wonder Woman, and his own book, Bushi Tales.
On the final day of the Con, I spoke to this artist, Dave Beaty, who let me in on his upcoming project, Focus: a comic book about an autistic superhero. Although he is working with social and cultural anthropologist Yvonne Wan to craft an accurate portrayal of an autistic superhero, Beaty was the only one I spoke to. Fortunately, he provided more than enough detail on the character, practically oozing with passion as he filled me in on Focus:
"The character's name is Focus. He is an autistic superhero. We're not sure if he is the first but probably among the first. His superpower is actually precognition, so he is able to predict future events in real time in order to affect the outcome. But he is also a third-degree black belt. He's big into parkour; he's a skater."
Already, I was intrigued; however, I became more interested as Beaty went on to explain how fundamentally similar Focus would be to one of my favorite heroes, Daredevil.
"And his precognition ability actually comes out of his disability. It's because of his autism — because of how he perceives detail — he is able to focus (hence his name) and develop this ability over time."
Much like Marvel Comics' Man Without Fear, Focus has found fantastic power and ability in a disability, and through it, he can be an extremely effective superhero and work for the greater good.
However, I was curious as to how Beaty got involved with Focus and where Focus came from, so he filled me in:
"The character came about because my friend, Yvonne Wan, was doing a documentary actually on autism, and she's been studying families with autistic children for quite some time. She was doing a Kickstarter campaign, and she was like, 'You know, I could really use some rewards here, stuff that people like," so if they pledge to a higher level to get something else to help support the documentary she was doing.
She asked me to design some t-shirts, and I was like, "Sure, I can design some t-shirts." So, as I started working on it, just putting a bunch of words on it, it just wasn't really appealing to me. I'm a superhero guy. People know me for working on Batman and Flashpoint: Wonder Woman and superhero stuff. I'm like, 'what if we created a character and put in on the shirt? We don't have to do a full-blown book, but we could do like a superhero-style trading card with just information about the character.' She said, 'That sounds like a great idea.'"
In that moment, Focus was born and crafted by Beaty, though not fully realized; however, Focus would soon gain momentum for a book instead of remaining solely on t-shirts and trading cards.
"So, she [Yvonne Wan] went out, and she was promoting her Kickstarter campaign for her documentary. But there was all this interest in this particular character and the idea of an autistic superhero. So, she's like, 'I think this might be worth pursuing.'"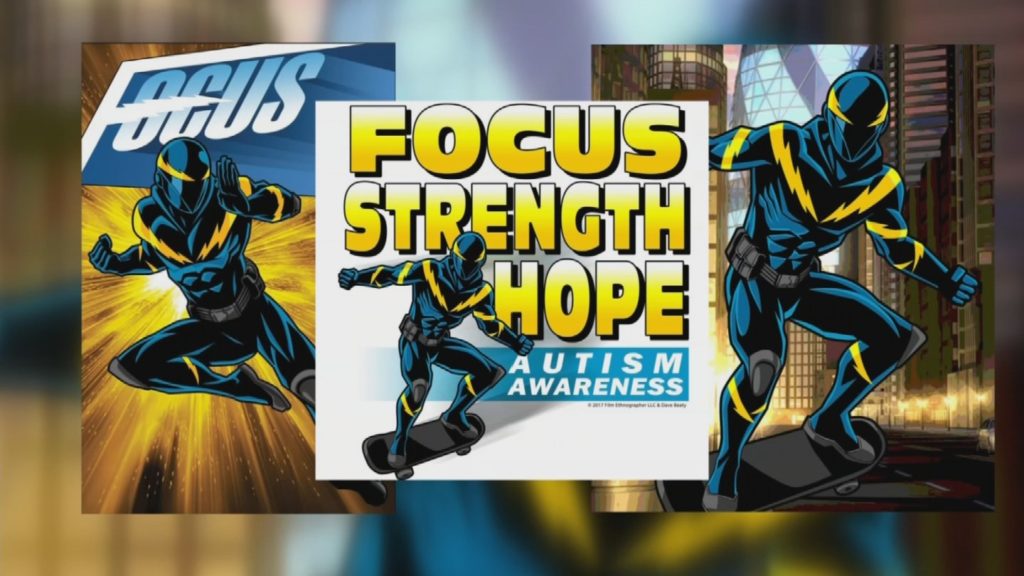 Beaty agreed, citing the love for his creator-owned projects such as Bushi Tales, a fantasy series about four female samurai, and Red Skirts, an homage and parody of Star Trek and other classic sci-fi series, as the basis for wanting to have his own superhero series as well. However, with the Focus books, the series will obviously serve more than just Beaty as an artist:
"Overall, the goal is to change people's perceptions and help educate them about what autism is."
Yet, on a personal level, Beaty learned more about the challenges of autism over the weekend at Phoenix Comicon.
"I've learned more about it this weekend too because Yvonne is more the expert on autism because she has been studying it. I'm just a comic book guy; I write stories about female samurai and draw stories about Batman. That's what I do. So, I've learned much more about the disability, the challenges, and I've met more people, kids and adults who have relatives or children who have autism, over this weekend. It's really given me a much better understanding just for my own self. So in terms of creating autism awareness, for me anyway, it's been huge."
Though Beaty found his personal experience both helpful and eye-opening, especially in how he will approach the book — possibly with other disabilities as well, such as Aspergers — he went on to describe the bigger picture of Focus, hoping that it will do the same for others.
"But I think, hopefully, it is to just create, you know, a great superhero who has autism, and at the end of the day have something that people can enjoy too. That way, as we do more stories, he can have friends who are maybe not as high functioning as he is, and we can explore that spectrum… It's one of those things that I think if people understand more about it, it'll help people understand how to relate. Ideally, that's what we are trying to do." 
However, Beaty admitted that he would love to see Focus go beyond even that and "stick" as a popular hero like Daredevil:
"But if we create a character that has the ability to stick like Daredevil, who happens to be blind, that would be awesome! That'd be great, you know? That would be really cool. It would be neat to see another character with a disability maybe be on the same plateau as Daredevil."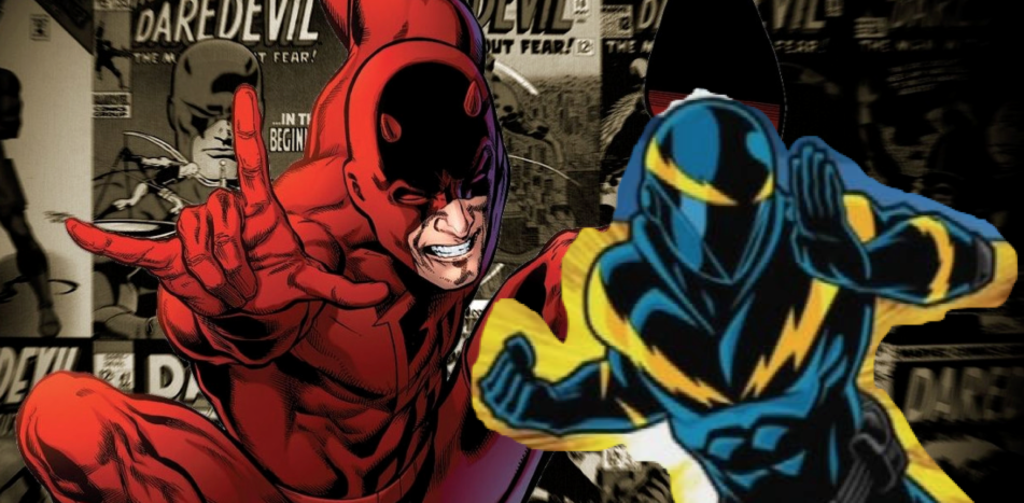 At this point, I was already sold on the series, ready to pick up a copy and start pestering Marvel with fan-mail for a crossover. Then adding to my demand, Beaty concluded our little interview by describing the first story-arc of the series:
(Spoiler Alert)
"The first story-arc I want to do is where he is recruited by a superhero team, so that we can see how he interacts with them through his eyes and how they perceive him. An inside-out, outside-in story so that we can see the perceptions and the stigma associated with autism in a different light."
Unfortunately, this potentially eye-opening story and this unique, necessary hero can only come about with help from comic book fans like you. At focuscomic.com you can learn more about Focus, Dave Beaty, Yvonne Wan, their goal for the series, and even help fund the book by making a donation of any size.
As I've written before — in articles on the latest Ms. Marvel, Kamala Khan — everyone needs a relatable superhero, someone strong, courageous, and righteous to look up to, who can inspire their readers.
In the U.S. alone, 1 in 45 children have been diagnosed with autism spectrum disorder. Focus will, specifically, be their hero, someone who struggles in the same way they do but is able to be a superhero regardless. Addtionally, Focus will teach the rest of us, those not directly or indirectly affected by autism, to understand it and those who have it.
I strongly urge your support for Focus, and I cannot wait to pick up a copy soon.
In the meantime, keep checking back with The Source for updates on Focus and all your favorite superheroes! Be on the lookout for more interviews from Phoenix Comicon 2017!
Correction:
We were recenty contacted by Dave Beaty. He clarified that Yvonne Wan had the orignal idea to create Focus.