The Rebellion has been trying like hell to end the tyranny of the Empire for, well, a while now. Although their success rate is much higher than the Empire's comfortable with, they're still fighting an uphill battle against nearly insurmountable odds brought about by nearly insurmountable weaponry.
And as righteous as their struggle seems, we're getting a little tired of their incessant whining. Sure, the Empire destroyed 16 star systems in the last four weeks, but that's because the Rebellion wouldn't listen! If they simply fell in line, the extinction-level events would cease! Anyway, we appreciate the Rebellion's plight, but we also appreciate the Empire's always overwhelming response, and we celebrate this seemingly uneven but never-ending conflict with the REBEL SCUM HeroBox Mystery Box!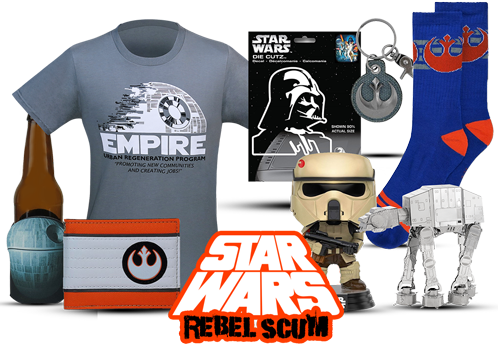 Available for pre-order RIGHT NOW, the Rebel Scum HeroBox is filled to the brim with collectible, wearable, and sometimes wholly unique items related to the never-ending conflict occurring between the Rebellion and the Empire during some indiscernible time in deep history, and within a currently unreachable star cluster. What kinds of items are we talking about in a collection that gleefully uses the Empire's favorite pejorative when it comes to those unkempt hooligans who refuse to toe the party line?
Well, firstly, you should know that our items touch on the entire, original saga, and the new film revisiting an untold legend from the trilogy, Rogue One: A Star Wars Story. Yep, we know the mission to abscond with those pesky Death Star Plans was a success thanks to a very informative, upwards crawl, but we never actually bore witness to the events.
Secondly, our Rebel Scum Herobox comes in two very affordable, very valuable, very Empire-approved iterations:
The Star Wars Rebel Scum HeroBox Silver Edition!
This costs you a paltry $49 for $70-worth Star Wars/Rogue One swag!
The Star Wars Rebel Scum HeroBox Gold Edition
This costs you a paltry $69 for $100-worth of officially branded swag hailing the Empire, or rallying behind the surprisingly well-organized resistance.
So, finally, what might your Rebel Scum Herbox actually contain? Well, it will certainly include a T-Shirt, and a random selection of tasteful accessories, collectibles, and additional apparel items. Things like…..
A collectible figure!
A keychain!
A pair of socks!
A button!
A sticker!
A pint glass!
Detailed instructions on how to Force-choke those incessantly chirping cicadas! (definitely not included.)
So, support the Rebellion, support the Empire, or the whole dang conflict with our Rebel Scum HeroBox Mystery Box. Pre-order this Star Wars swag-box TODAY; these-limited edition boxes start shipping on 12/7!