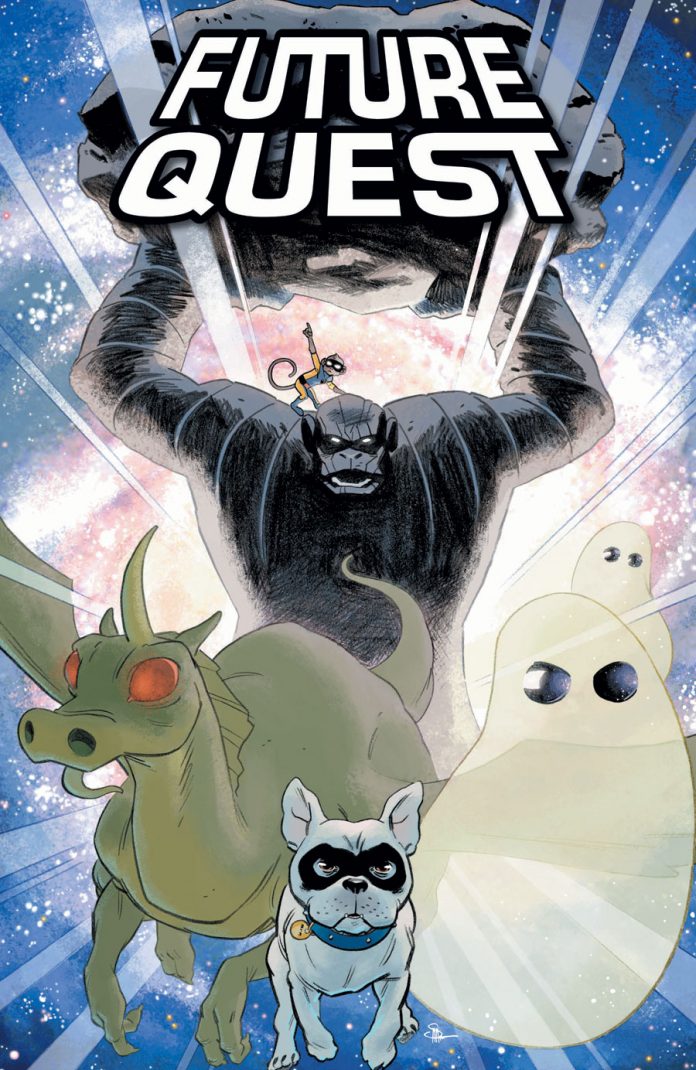 Check out Our Review [WITH SPOILERS] of Future Quest #2
Writer: Jeff Parker
Artists:  Evan "Doc" Shaner, Ron Randall, and Jonathan Case
Colorist: Jordie Bellaire
Three artists on the second issue of Future Quest? Oh, it's going to be one of THOSE books, huh? Oh well, if you have to have a partial fill-in for the great "Doc" Shaner, you can certainly do worse that the clean and breezy stylings of Ron Randall and Jonathan Case. Each artist brings their A-game to the second issue of Future Quest, as this book continues to read like a nostalgic labor of love by all involved, but methinks DC should have had a few more issues in the can before soliciting this bad boy.
All that aside, Future Quest #2 brings the Herculoids, Space Ghost and his crew, and the Galaxy Trip into the fray and yes, my gray-templed children of the 70s, the Galaxy Trio! Can you even?
The story of the alien incursion of Earth continue as fans witness a flashback of the Hanna Barbera sci-fi heroes doing battle with this strange, almost Lovecraftian cosmic creature. Fans of a certain age will thrill to the Herculoids, the Trio, and Space Ghost and his young aides doing battle with the creature. Grab the Cocoa Puffs, kids; this tickles the nostalgia bone big time.
The action ends up on Earth as young Jace and Space Ghost's monkey join with Jonny Quest and Birdman. It sounds like a lot, but Parker keeps things Saturday morning simple but never panders. There is a story here and Parker tells it as the adventure comes first and the nostalgia comes second. Parker does not flinch away from the sillier parts of these characters like the space monkey or multiple animal sidekicks, but that type of thing is just what makes this comic so darn earnest.
The three artists don't really hurt the readability of the issue, but that many artists in a single comic kind of breaks visual momentum and I wish Shaner could have done the whole deal. There is a fill-in with the legendary artist Steve Rude (which certainly doesn't suck) coming, so maybe the book will soon have the visual consistency it deserves.
As it stands, this book is a delight for those who remember these simple characters. And now they are together under one cover by some of comics' best. Galaxy Trio, you guys!