Check out Our Review [WITH SPOILERS] of Super Sons #1!
Superboy and Robin! Alone they're the children of two of the greatest heroes of all time and a force to be reckoned with! Together, they're something extraordinary; two veritable legends in the making. They're …the "Super Sons"!
This title was announced with the unveiling of DC's Rebirth, and after a few issues of Superman, it's finally here! Super Sons has Superboy and Robin team up in their own book…whether they want to or not! I have to say, as far as first issues go, I really liked this comic.
Peter J. Tomasi seems right at home writing this story, and it makes sense given his work on Batman and Robin, and Superman. Through Superman, we've had time to get used to the new Superboy, and experience his meetings with Damian. From there, Tomasi picks up where he left off with these two as the 'frenemies' continue to partner up.
I like how he acknowledges that these characters are kids, regardless of their very adult superhero-ing. Even with Damian growing up as quickly as he did, he's still immature and Tomasi writes that well. Their dialogue has the kind of banter you'd expect from two kids, with some colorful articulation from Damian.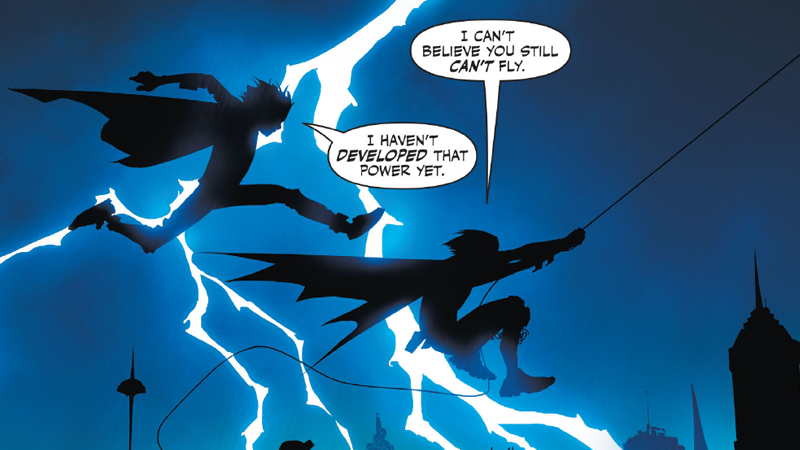 I also enjoy seeing the two in their normal home lives (well, as normal Batman/Superman can be). It shows us that the kids grow up in very different households with very different parents. We also see how these parenting styles affect our protagonists. I think that makes these two instantly relatable, and a good way to get an inside their characters.
Actually, I think it focuses a lot on Damian in particular. Call me crazy, but I get the sense that, in a way, this comic implies that Damian might envy Jon. In a way, the two have similar backgrounds, the difference being that Jon has the normal life Robin never had. That could be why Damian snoops on Jon and pressures him to go on this little team-up.
As for the villain (or who I think is the villain for this story), I'm not really sure what to make of him. But, I'll say I am intrigued by how creepy he comes off at the beginning of the comic, and I'm very interested to see what Robin and Superboy face and how it helps them develop in later issues.
The artwork by Jorge Jimenez is amazing stuff! Each character is drawn very distinctly, and I like the wide array of expressions he uses for them. The art really compliments the light, fun tone of the story. There's even a small wink to The Dark Knight Returns in there!
Super Sons #1 is lighthearted fun starring two of DC's youngest heroes. If you've read Superman #10 and #11 and want to see more of Jon and Damian together, then this comic's for you! It's packed to the brim with great writing, interesting characters, and loads of potential. This a great start to a series that was worth the wait!!