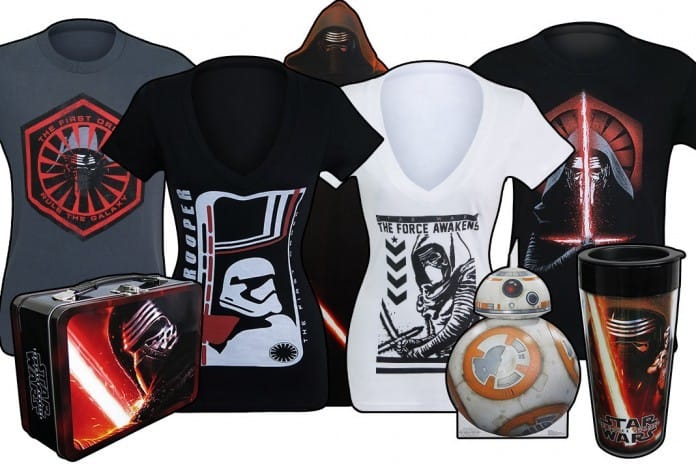 Gear up for Star Wars Episode 7: The Force Awakens with Our Cool New Merchandise!
YES! It's HERE! It's Star Wars: The Force Awakens merchandise and it's RIGHT HERE on The Source AND Superherostuff.com! We have everything from apparel and accessories to cardboard standees, and you will love EACH AND EVERY ITEM AS MUCH AS WE DO!  Yes, uppercase letters imply…EXCITEMENT!
Talking about apparel, check out these little numbers! Look, it's Kylo Ren on a charcoal colored t-shirt for guys! Look, it's Kylo Ren on a white v-neck t-shirt for gals! Do you like Kylo Ren? Yes? You're welcome!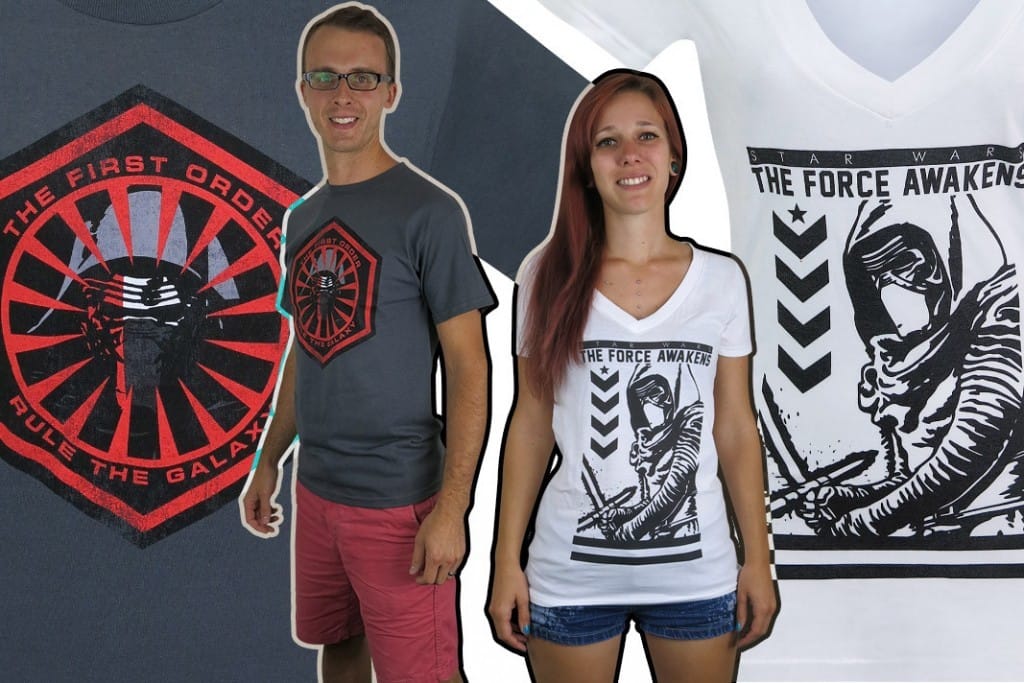 Holy bologna, there's more! LOOK! It's one of those pesky, ill-mannered Stormtroopers glazed in a modern, glossy, Episode VII finish! And look! It's Kylo Ren! AGAIN! That's the same blade he used to puncture your tire and singe the ears of your cat, Mr. Crinkles. Don't EVER tell Kylo Ren that Vader's a stiff dancer. Well, unless you're okay with the smell of burning Mr. Crinkles!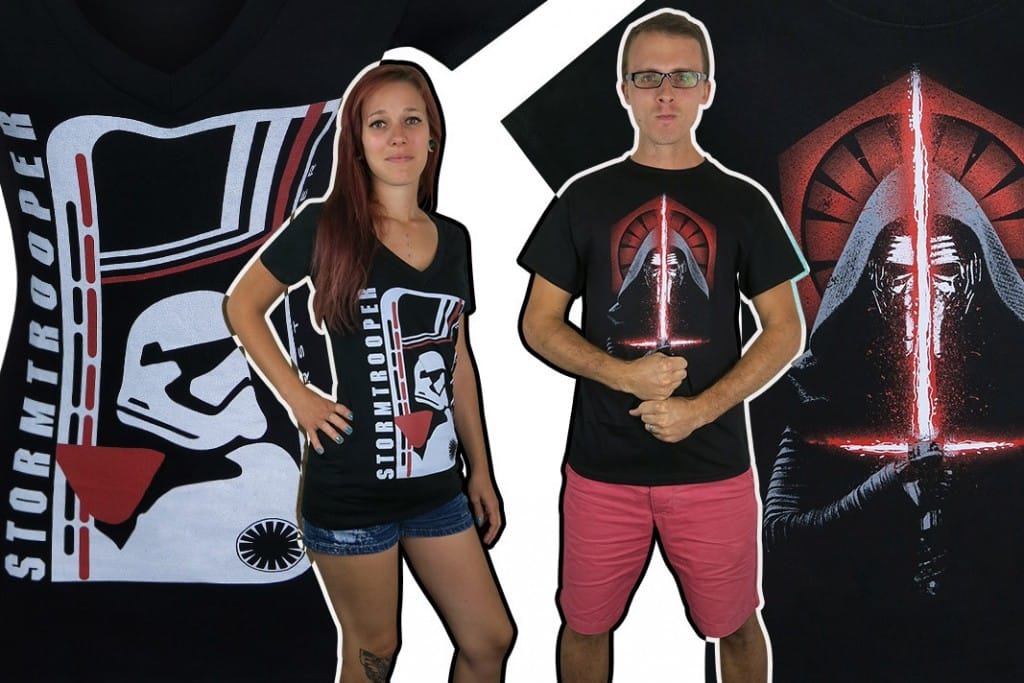 Be sure and click HERE for more awesome/amazing/spectacular (not Spider-Man but) Star Wars: The Force Awakens t-shirts!
Are we limited to apparel? Heck no, Ky-lo! Check out this AWESOME Kylo Ren Collectible Tin Tote! This is where one stores waffles, thumbtacks, acorns, plastic army men, Cabbage Patch Dolls (Preemies, mind you) or…(gasp)…LUNCH! SPACE LUNCH!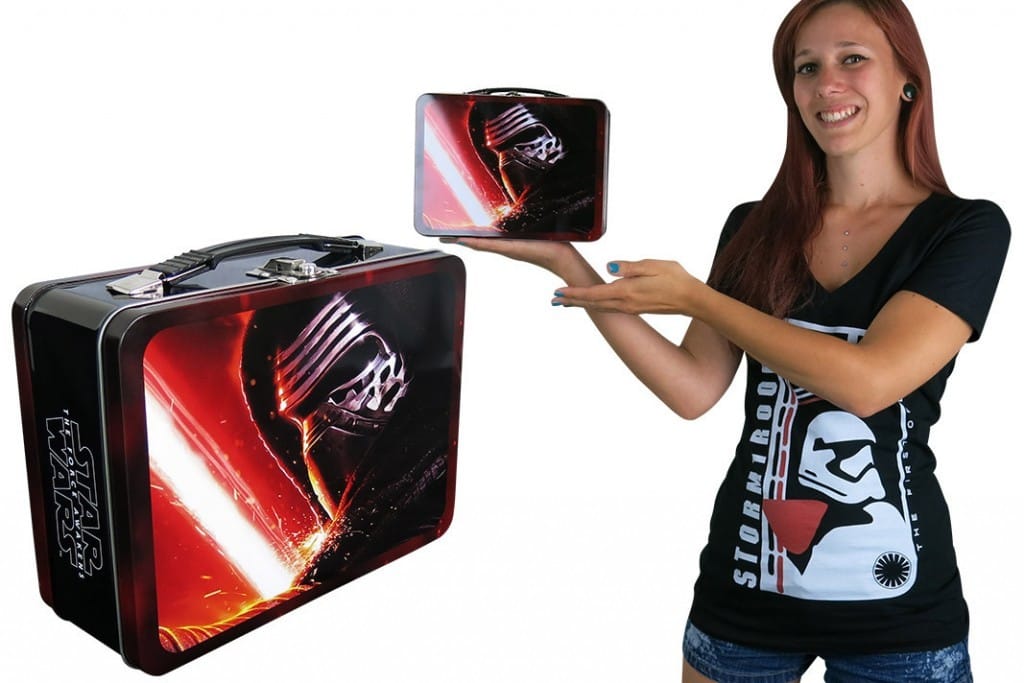 And look! Another classy, collectible container featuring your favorite new Star Wars character, Kylo Ren! Since he can't decapitate you with an electrified, two-handed sword every time you dribble, he fashioned a container to help mitigate the mess!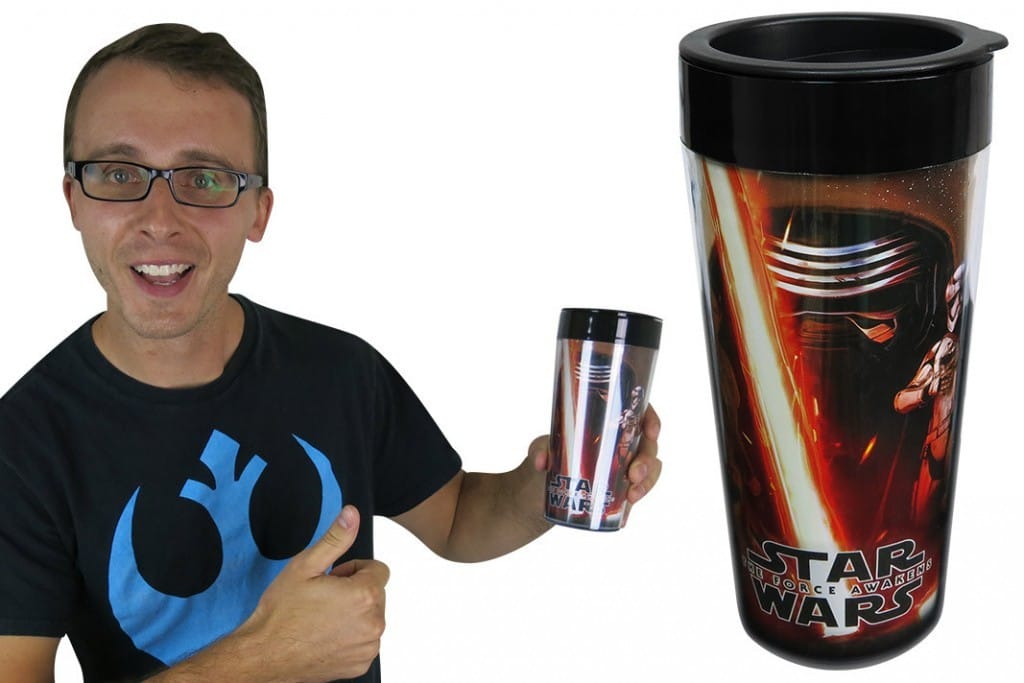 Be sure and click HERE for more awesome Star Wars: The Force Awakens home goods and accessories!
Wanting something a little more unique? Something that might actually aid you in reenacting your (soon to be favorite) scenes from Star Wars: Episode VII? Really? GOOD! With these life-size Cardboard Stand-ups, you can relive the excitement, re-experience the magic and give Kylo Ren a good talkin' to regarding his TERRIBLE attitude and COMPLETELY UNACCEPTABLE TEMPERAMENT! Interested in interacting with your very own pretend space-person? Click HERE for more Star Wars: The Force Awakens Cardboard Cutout Stand-ups!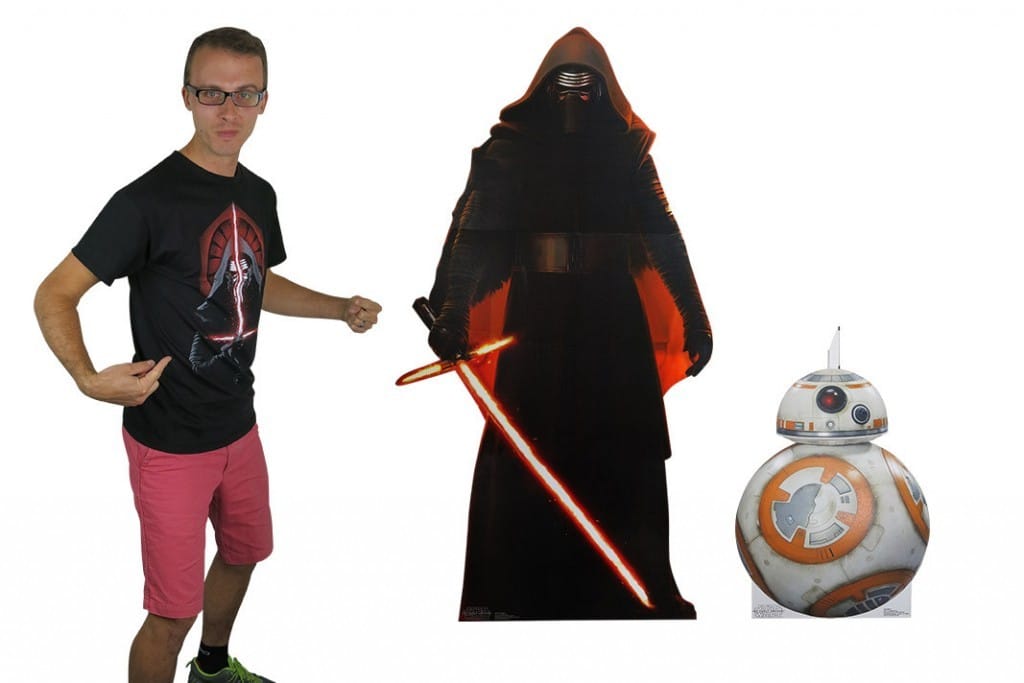 For your convenience, we ask that you click HERE to check out our entire line of Star Wars: The Force Awakens merchandise!
Oh, so you're a fan of the classic Star Wars trilogy are you? Then click HERE to get the latest Classic Star Wars Merchandise and celebrate the greatest space opera ever conceived!
Excited for the new film? Hugging your Millennium Falcon spacecraft (by Kenner) and singing, "The Boys Are Back in Town," by Thin Lizzy? GOOD! Now, let us know just how excited you are. And remember…CAPITAL LETTERS IMPLY EXCITEMENT! Or maybe just nonsensical screaming.