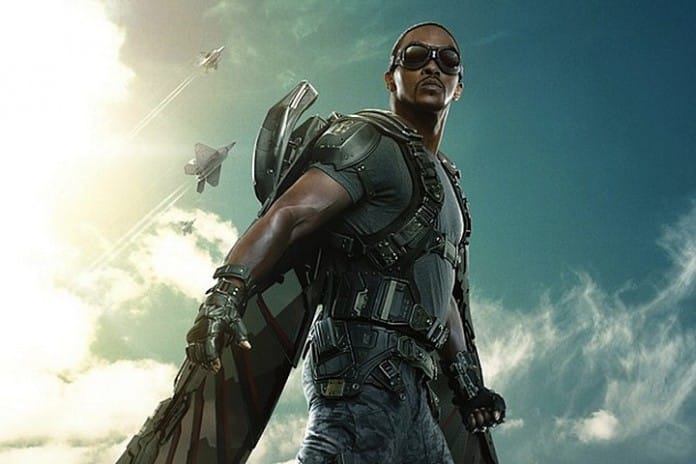 Soon after the first official Captain America: Civil War trailer was released, our good friends at ComicBookResources sat down with actor Anthony Mackie (aka The Falcon), who couldn't help but gush over the forthcoming film's quality, and the exceptional creators/actors involved. Anthony Mackie really wanted to convey (and did so, successfully) that Civil War isn't just a special effects-heavy blockbuster meant to simply distract one with loud explosions, thinly plotted, sci-fi superhero combat and a hefty dose of overused, moralizing platitudes. Civil War is the whole package, and Anthony Mackie couldn't be happier about it.
Elaborating on his feelings regarding the trailer, and its ability to convey depth of both story and character, Mackie happily declared, "You know, the great thing about it is that I feel like what the trailer showed more than anything is Marvel has kind of infused action movies with acting." Not like subdued, brooding acting," he continued. "They're giving actors an opportunity to flourish and do the things you would do in another type of movie. And now they're putting that into superhero movies, which is amazing, because it makes you relate to the characters."
Mackie continued to comment on Marvel's exceptional ability to create truly engaging characters. "The reason we love Captain America so much is because we can relate to him," the actor added. "The reason we love Tony Stark so much is because we relate to him. They make him human. It's hard to love a billionaire, philanthropist playboy that hates his life. It's like, if I had a billion dollars and I was a philanthropist and a playboy, my life would be dope! I'd get to hang out with Morgan Freeman everyday. I love my life. So it's interesting when you see those characters just how much fun it is to put yourself in there."
Mackie then switched to the subject of Black Panther's inclusion in Civil War, specifically regarding the actor inhabiting the role of Black Panther, Chadwick Boseman. "I've known Chad for a long time," he said. "I was very happy when I heard he got cast as Black Panther, because I knew he'd do the work to bring that character to life. It's not so much about two black actors being in a movie at the same time. It's more so about the right black actor getting that role to do the work to make it timeless, and Chadwick is that guy."
How about some more scenes with Paul Rudd's Ant-Man?  I mean, that comical contest portrayed in Marvel's Ant-Man was left…unresolved, sort of. When asked, Mackie laughed, offering, "I'm waiting on my rematch!"
Debuting May 6th, 2016, Captain America: Civil War stars Chris Evans, Robert Downey Jr., Scarlett Johansson, Sebastian Stan, Anthony Mackie, Paul Bettany, Jeremy Renner, Don Cheadle, Elizabeth Olsen, Paul Rudd, Chadwick Boseman, Emily VanCamp, Daniel Brühl, Frank Grillo, William Hurt, and Martin Freeman.