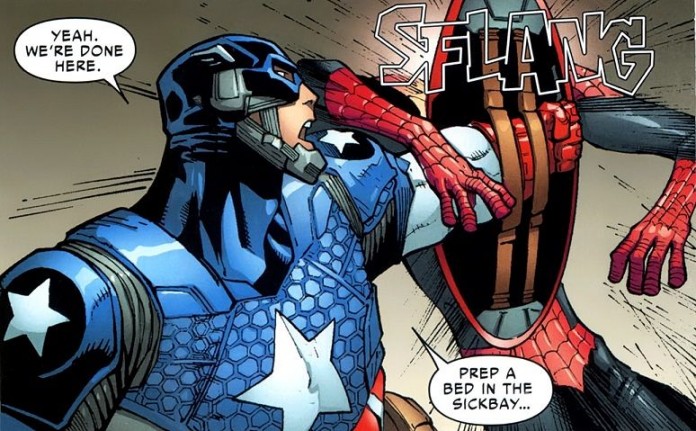 "Hey, everyone." Who said that? Spider-Man said that when he appeared at the very end of Civil War Trailer #2! That's right; Spider-Man showed up, disarmed Cap, and then twisted and flipped in a balletic flurry for about .000036 seconds before landing on the carcass of some poor vehicle caught in the crossfire between teams Iron Man and Captain America. Yup. Recently, in an interview with our friends at Forbes Magazine, Captain America: Civil War directors, the Russo brothers, answered quite a few questions regarding Spider-Man's involvement in the forthcoming film, and also shed a little light on a particularly contentious topic: Spider-Man's costume.
Anthony Russo confirmed that introducing Spider-Man at the end of this particular trailer was always the plan, and granted us the reasoning behind Spider-Man's introduction at the end of Civil War Trailer #2:
"We went through a very thorough casting process, we tested Tom Holland vigorously with Chris Evans and Robert Downey Jr., we screen tested him along with several other actors, it was a very intense part of making Captain America: Civil War because he was an important part of the movie to us. Finally it's all secure and we're at a place where we can present him even in just a small taste."
Joe chimed in and mentioned fans will be "happy" with Spider-Man, and commented on the degree of fun involved with inserting him into the Civil War conflict.
"Part of the fun of Spider-Man is that this film is basically a war amongst the Avengers and Spidey does not have the baggage that all these other characters have. He enters the story after the conflict that is happening between the Avengers and that gives him a very unique place in the story."
And then, the interview veered towards, and landed directly on top of, the subject of Spider-Man's costume. Fan reaction has been a little mixed (this fan loves it, by the way), but Joe Russo is confident fans will love it as much as the creators who signed off on it.

"The design of the costume is what it is. That's the design that we love, it's the design that Kevin Feige loves and so on. He's a very popular character so it's always going to be controversial, people are always going to love or hate what you do with him, but all we can do is make sure that we love it, that we are true to ourselves and true to how we feel about the character and then hope that everybody else digs it. And there is still effects work that needs to be done on it."

Joe also mentioned that adjustments to the Spider-Man costume would certainly be made over time. This is his very first appearance, after all, and we're definitely going to see more of him in the relatively near future.

"Without question. We like making strong choices with characters so while this might be a slightly more traditional, Steve Ditko influenced suit, it is certainly in our vocabulary to develop it into something more extreme as the storytelling requires. I think there are things that people will discover when they see the film about why the suit operates the way it does, why the eyes move, all that stuff is substantiated. Everybody wants the answers yesterday but then what would be the point of seeing the movie?"

That's one hell of a good point, Joe!
What are YOUR thoughts regarding the Spider-Man costume? Let us know in the comment section below!
Captain America: Civil War debuts May 6, 2016, starring Chris Evans, Robert Downey Jr., Scarlett Johansson, Sebastian Stan, Anthony Mackie, Paul Bettany, Jeremy Renner, Don Cheadle, Elizabeth Olsen, Paul Rudd, Chadwick Boseman, Emily VanCamp, Daniel Brühl, Frank Grillo, William Hurt, and Martin Freeman.