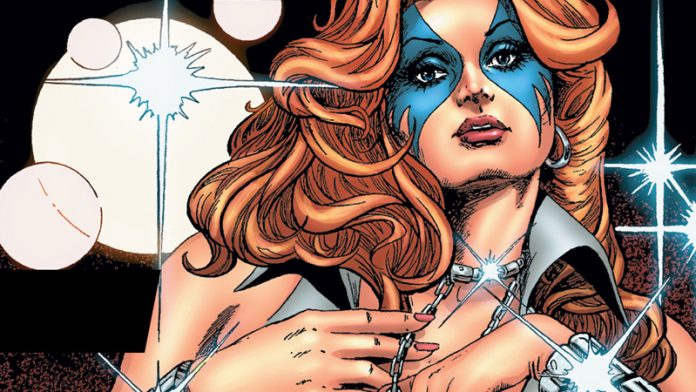 Just when you thought you couldn't be more excited about the impending arrival of X-Men:  Apocalypse, we get news that Dazzler will be appearing in the movie.
Well, sort of.
Earlier today, Sophie Turner (Jean Grey) tweeted out this gem.
#FBF that time Cyclops and I went shopping at the mall and found our favorite singer's album (pre 1989, of course) pic.twitter.com/BherKQbE4Z

— Sophie Turner (@SophieT) April 29, 2016
That's right, it appears that Cyclops (Tye Sheridan) is big fan of disco-era Dazzler.
I'm actually more concerned about that Anne Murray album being in the "rock" section in the background.
Not familiar with Disco Dazzler? As a child of the 80s I am the proud (?) owner of a significant run of her eponymous title, so let me fill you in:
Don't judge. It was the 80s.
Alison Blaire was a mutant with the power to convert sound into light. She was also a decent singer. So, what did she do? She used her mutant abilities to create dazzling (see what I did there?) light shows for her concerts. Concerts often featured her in a plunging silver disco jumpsuit, roller skates, KISS-inspired face paint, and wearing a disco ball necklace.
No, seriously.
Incidentally, the album cover in that picture is the actual cover of Dazzler #29 by none other than Bill Sienkiewcz.
I wonder what tracks are on that album?
How about:
Lights! Music! Disco!
BAMF! Went My Heart
Longshot at Love
Do You Think I'm X-ey?
Okay, that's enough of that.
X-Men:  Apocalypse opens in theaters on May 27.