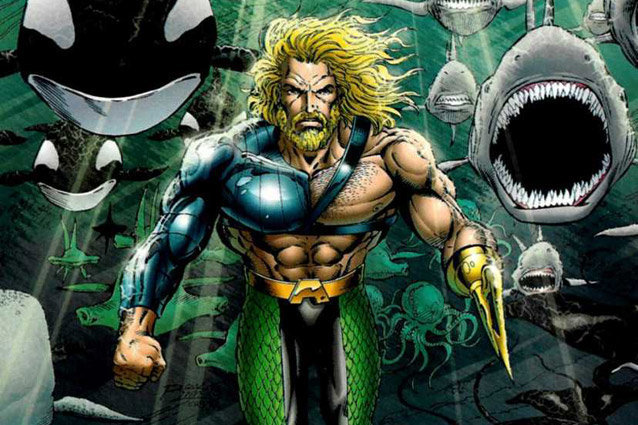 Look, Aquaman gets a bad rap. He's consistently made fun of for appearing ineffective with a rather fantastical power-set; he swims fast, and he talks to fish. But if you're a comic book reader like me, you know that Aquaman is very much the antithesis of "ineffective." His body is capable of withstanding thousands of pounds of pressure due to existing in previously unplumbed ocean depths; this makes him super-strong, and damn near impervious to any physical attack. And depending on the amount of internal, political strife pervading the kingdom of Atlantis, Aquaman can find himself the leader of a highly advanced underwater nation capable of storming continents and annihilating miles of infrastructure. Yep, Aquaman is formidable to say the least, and Aquaman director, James Wan, is completely on board with this. In fact, a brief interview with our friends at Empire Magazine revealed that James Wan's Aquaman will be dark, fun, and express a characteristically "badass side."
And if you want dark, look no further than Wan's past projects; he co-created the Saw and Insidious franchises. Citing this purposely disturbing resume, Wan detailed his vision for the Aquaman film.
"Look at the sensibility of my movies, from Furious 7 to the horror films. You can extract the kind of movie I might make of Aquaman." 
Of course, Wan understands the need for intermittent fun and humor regardless of the incredibly dark tone of previous projects.
"The kind of filmmaker that I am, even my darker horror films are still very fun. And I think that's important for me and the kinds of films I make. The film I'm here to present, Lights Out, is a fun horror film. And I think Aquaman is a character who has…You know, been made fun of a lot over the years, and I think it's kind of fun to show a really different, cool, badass side to this character – but at the same time, let's not forget to have fun with it."
Look, just relax. Aquaman was already scary as sh*t during that .000075-second YouTube video in Batman v Superman. He will NOT disappoint.