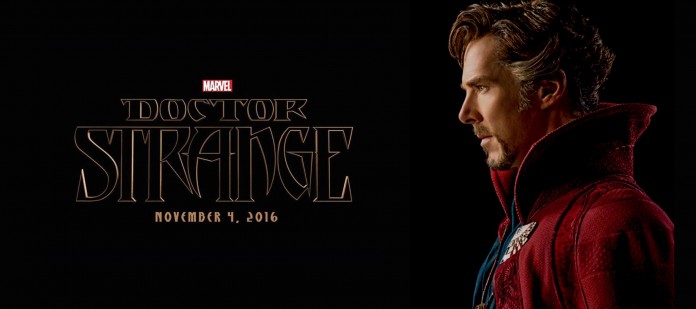 Well, it's official; the very first Doctor Strange trailer debuts tomorrow night on Jimmy Kimmel Live (sometime after 11:35 pm)! Who's presenting this highly anticipated first-look at the cinematic interpretation of Marvel Comics' Sorcerer Supreme? Why, that would be the very actor portraying the titular titan of the occult, Benedict Cumberbatch!
Where else can you see the debut trailer featuring Marvel's mystical protector, philosopher, and all around psychedelic thinker? That would be RIGHT HERE, on THE SOURCE! As soon as this baby hits we'll Tweet it, Facebook it, and email it in a special newsletter announcing this magnificent occurrence! Stick with us, and YOU WILL NOT MISS THIS STARTLING, STRIKING, DOCTOR STRANGE TRAILER THAT'S SURE TO BE SATURATED IN AMBIGUOUSLY EFFERVESCENT MYSTICISM!
Want to make sure you're properly alerted? Then subscribe to our newsletter and guarantee your validity as the most knowledgeable superhero movie-goer on the block!! 
Where do you subscribe?? It's right on The Source homepage and directly underneath our top-viewed articles. Hell, I even circled it for you down below.
So, make sure to follow us here at The Source and you'll be one of the first to catch the brand new, full Doctor Strange trailer! Stick with us, kids. We're here to graciously enable your unhealthy superhero addiction.
Directed by Scott Derrickson with a screenplay by C. Robert Cargill, Thomas Dean Donnelly, Joshua Oppenheimer and Jon Spaihts, Doctor Strange debuts November 4th, 2016 and stars Benedict Cumberbatch, Chiwetel Ejiofor, Rachel McAdams, Tilda Swinton, Mads Mikkelsen and Scott Adkins.