Haven't we all been in that spot when we've been locked up in a supermax prison? I don't know about you guys, but they take jay-walking very seriously in this area. That's alright though because if DC Comics' latest movie is any indicator then that means you'll get to join a squad. A Suicide Squad! Don't worry about that first bit; that's just to make them seem more intimidating. The above video is the Suicide Squad advanced tickets trailer and it shows off some new things while intermingling with some of the old!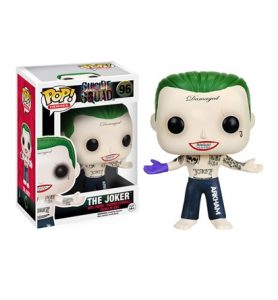 What exactly might you see in the 30 second Suicide Squad advanced tickets trailer? How about more scenes of Captain Boomerang, Katana, the Joker, a quick shot of Batman, and Harley Quinn! There's a lot more going on there too but I just wanted to point out how effective the marketing campaign has been for this. We've seen a lot of footage regarding DC Comics' latest project and yet I feel like we know very little. It is a team composed of bad guys that is supposed to save the world. From what? Beats me! Guess we will just have to wait a little bit more…at least we have the band Queen to keep us company. Thunderbolts and lightning…very, very frightening!
We wait with bated breath until August 5th, 2016 for Suicide Squad to come out! Suicide Squad stars Will Smith as Deadshot, Jared Leto as the Joker, Margot Robbie as Harley Quinn, Joel Kinnaman as Rick Flagg. Oh and Viola Davis as Amanda Waller, Jai Courtney as Captain Boomerang, Jay Hernandez as El Diablo, Adewale Akinnuoye-Agbaje as Killer Croc. And we can't forget about Ike Barinholtz in an unspecified role, Scott Eastwood as perhaps Nightwing(?), and Cara Delevingne as the Enchantress. Oh, and Adam Beech since somebody needs to sell snakes and sparklers.