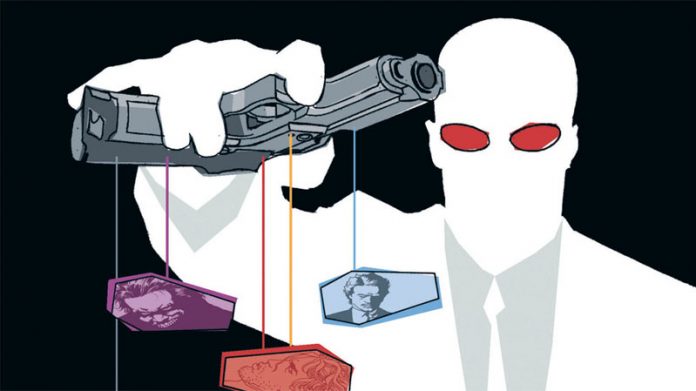 Tom Hardy has agreed to produce, and possibly star in, a big screen adaptation of Vertigo's 100 Bullets.
Hardy is no stranger to genre movies. He starred as Bane in The Dark Knight Rises and Mad Max in last year's Mad Max: Fury Road. It seems he's interested in starring in the film as well in the role of Agent Graves.
100 Bullets will be developed by New Line Cinema who recently assumed control of Vertigo film projects from Warner Brothers.
The film will be based on the 1999-2009 series 100 Bullets by Brian Azzarello and Eduardo Risso. The series had the mysterious Agent Graves show up in a person's life and offer them the chance to right a personal wrong with a briefcase full of 100 untraceable bullets.  Over the course of 100 issues, the series expanded into a brilliant crime-noir tale of power, betrayal, revenge and redemption dating back to the colonization of America.
Adapting 100 Bullets has been tried before. A video game was announced, but ultimately scrapped. There were also reports that the series was being adapted for television, but that fell through as well.
100 Bullets featured a huge cast of characters, both good and evil, including Agent Graves' Minutemen. I want to go on the record right now as saying I hope they cast Dwayne "The Rock" Johnson as Lono. I want to see him walking around in a Hawaiian shirt causing chaos.
I want to see that SO bad.
Who would you like to see cast in the 100 Bullets movie?
Tell us in the comments section below!