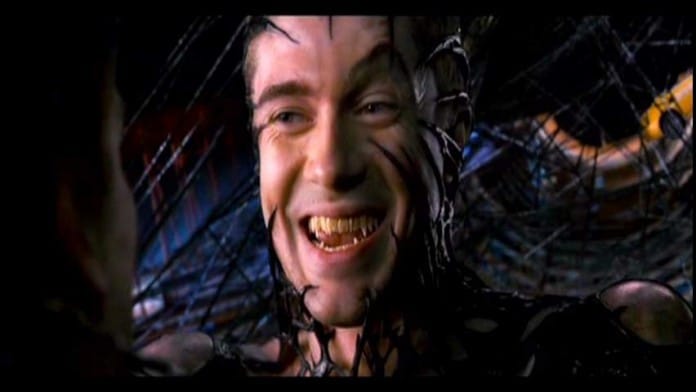 Ah, poor Topher Grace. Whether he is getting beat up by aggressive red-heads or getting rejected by super sweet Predators on game-preserve planets, Topher Grace is somewhat abused. While promoting his latest movie, Topher Grace was asked to comment on Sam Raimi's recent comments on how Spider-Man 3 didn't turn out the way he wanted it to. We all remember Topher's role in that movie as Eddie Brock and second host of the Venom Symbiote. His thoughts?
"I know the movie did well for Sony, but I also know a lot of people weren't happy with it. I think Sam is so talented. I remember one time I was on ninth unit. (Laughs.) Ninth unit? It's like he's running a small country. This summer, there was a movie like that where people are just slamming a big studio movie. I would love to see anyone who's slamming one of those movies try to fit in Sam Raimi's position. He was like the president of a small country — by the way, it had the gross national income of a small country, too. I have huge respect for him. I think, on a whole, he did such a fantastic job [on that trilogy]."
There you have it! It looks like Topher Grace doesn't have any ill-feelings whatsoever and gave us a rather diplomatic response. Do you think Spider-Man 3 could have been better, or what do you think the issues were?