I'll say this for this week's episode of Gotham, 'Mad Grey Dawn', it certainly covers a lot of ground. Bruce Wayne, James Gordon, Selena Kyle, Edward Nygma, and Oswald Cobblepot all have their storylines advanced this week, with mixed results.
Let's start with the Penguin. Oswald meets his dear old dad this week. Played by the great Paul Ruebens (sort of reprising the roll from Batman Returns), Oswald's dad seems too good to be true. He feeds the Penguin, he clothes the Penguin, and he ever introduces his family to the Penguin. So why do I have a feeling there's more than meets the eye in regards to this sudden arrival. I'm afraid that the mansion the Penguin now resides in may not turn out to be a safe playhouse (see what I did there).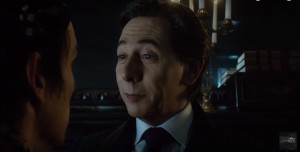 The mentally castrated Cobblepot does get reunited with his BFF Edward Nygma this week and it's always nice to see this odd couple get together. But as Cobblepot grows less evil, Nygma grows more malevolent. This week, Nygma goes full Riddler and frames Gordon for not only the murder of Theo Galavan but he also frames him for the murder of a GCPD officer. It was neat to see the machinations of the future Riddler; I just wish the Gordon plot line was played a bit more subtlety. After the frame job, Gordon breaks things off with Lee and things just went from zero to hugely over-dramatic way too quickly. I do like how Bullock steps up and swears to help Jim though.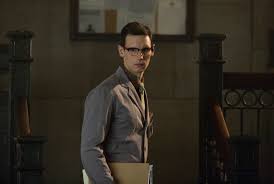 Meanwhile Bruce and Selena try to rob a gang that sells illegal mushrooms. Mushrooms created by the future Poison Ivy I might add. It's always good to see Ivy and Selena together. Bruce stands up to one of the heavies and gets the beat down but we see some glimmers of the Batman as Bruce keeps getting up despite the punishment.
So, the Bruce, Penguin, and Riddler stuff works but the Gordon stuff got a little too hysterical for my tastes. This episode doesn't break any new ground, but it is a fun distraction as we wait for this week's main Bat event, "Dawn of Justice!"
3 stars