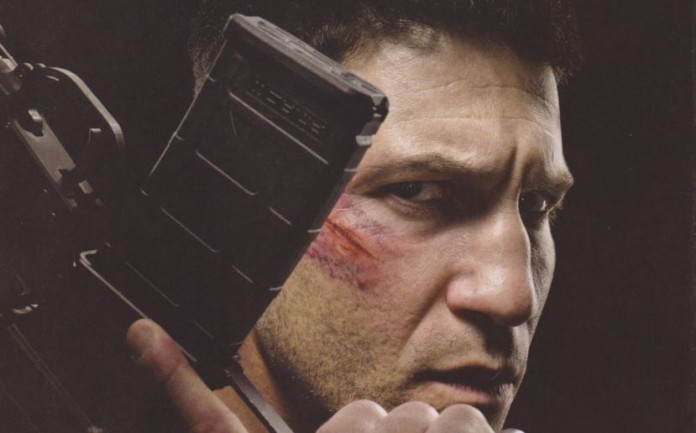 Once again, Empire Magazine has some amazing insider info related to an equally amazing comic book property making its way to the big – or small – screen. Yep. The latest issue seems to be ridiculously Marvel-centric with big articles dedicated to Marvel's forthcoming Magnum Opus, Captain America: Civil War, and the slightly more subtle, but extremely violent character-piece that is Daredevil Season 2! What did we actually get for Daredevil Season 2? Why, we were granted a peek at Daredevil Season 2 images focusing on the Punisher (Jon Bernthal). Check it out! And holy crap!
Oh, and besides the magazine's thorough interview with actor Jon Bernthal, it also shared a lengthy, Daredevil Season 2 scene description featuring the usually contentious duo apparently in the midst of a tenuous armistice.
"The actor playing Man Justifiably Terrified by The Punisher wrenches open the door and limps through the cabin into his chambers. After a beat, Bernthal – assault rifle in the ready position – follows. Gunfire is exchanged, and the scene ends with The Punisher standing over the man as he begs for his life. Bernthal takes out a handgun anf puts it in the man's mouth. Lost in character, Bernthal calls the man a "cocksucker."
"And then, just as Frank is about to Castle the poor chap, in barges Charlie Cox as that do-gooding Daredevil. "GET OUTTA HERE RED!" yells Bernthal. What happens next – Castle leaping up and pushing Daredevil out of the room."
Dress appropriately when pushing Daredevil around with something from our line of Punisher merchandise.
Debuting 3/18/2016 on Netflix, Daredevil Season 2 stars Daredevil/Matt Murdock, Foggy Nelson, Karen Page, Frank Castle/The Punisher, Elektra, Stick, maybe Kingpin, possibly Stilt-Man (but I really doubt it ), 7000 members of the Hand (probably not) and Typhoid Mary (no, but that would be AWESOME!).