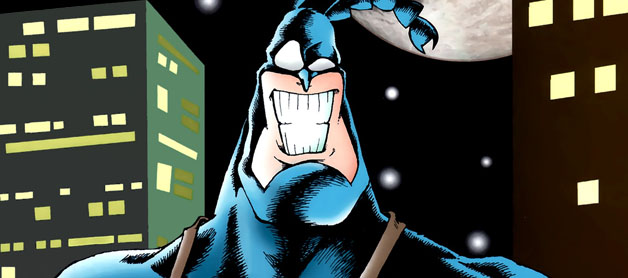 In a time when Batman's and Iron Man's are taking over the big screen, someone needs to dominate the smaller ones. So leave it to Amazon to enter the superhero genre by bringing back one of the greats… The Tick.

But who will don the vinyl blue jump-suit complete with mobile antennas? According to Deadline, British Actor/Comedian Peter Serafinowicz has been tapped for the role.
You might remember Serafinowicz from his role of Denarian Saal in Guardians of the Galaxy. He's also had appearances in Shaun of the Dead, Archer, and was even the voice of Darth Maul in Star Wars: The Phantom Menace. He's had a long, healthy career in Hollywood, but has yet to break into the leading man position… until now.
The new incarnation of The Tick will feature our titular hero dealing with memory loss, only to rediscover his heroic skills and reform his partnership with his sidekick Arthur (played by Vinyl's Griffin Newman). The show will feature a new cast of characters, both friend and foe to our heroes.
Amazon is probably praying that this version of The Tick will last longer than last time. A 2001 live-action version of the character (played by Patrick Warburton…who will serve as a producer for the new series), only made it to nine episodes before Fox pulled the plug. A 1994 animated version of The Tick performed much better, getting a whole three seasons.
Originally appearing as a mascot for a Boston area Comic Book Store in the 1980's, The Tick quickly appeared in his own well-received series. The success of the comic led to the animated series, video games, merchandise, and eventually two different live-action TV shows.
If there was ever a time for a Tick reboot, it's now. With serious superhero movies flooding theaters on a monthly basis, a spoof character like The Tick will be the perfect break from darker toned shows like Gotham and Daredevil. Let's hope Serafinowicz can deliver the mindless charm associated with the character so it will get the chance to last longer than nine measly episodes.