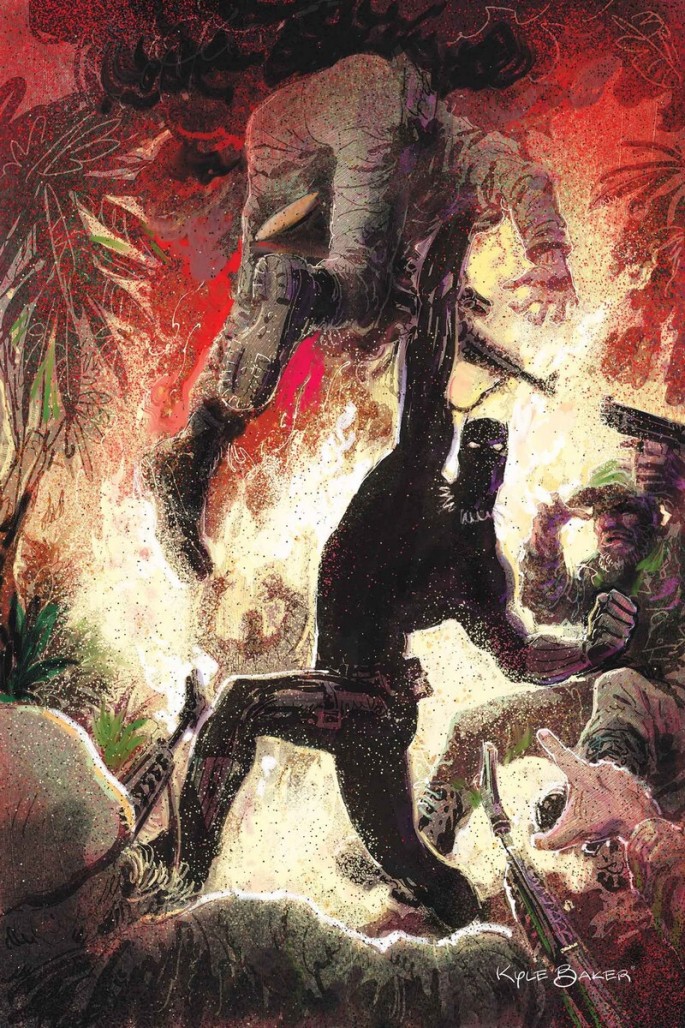 Check out our Review [WITH SPOILERS] of Black Panther #3!
Writer: Ta-Nahesi Coates
Artist: Brian Stelfreeze
Color Artist: Laura Martin
Black Panther #3 might be a little bit late, but for this level of beauty, the wait is worth it. After all, a writer with the literary cred of a Ta-Nehesi Coates probably has a lot going on and the lush art stylings of Brian Stelfreeze just has to take copious amounts of time. For a comic this beautiful, time is a small price to pay.
Now, one has to look at this comic on two levels. As a part of the tapestry of the Marvel Universe, there isn't really a great deal going on. T'Challa jumps from one threat to another in a series of barely connected plotlines that makes this issue feel more like a mosaic than a cohesive comic book experience. In this one issue alone, T'Challa meets with the renegade Dora Milaje, deals with a threat to the Wakandan Vibranium mound, and then enters into some sort of dreamlike quest involving Man-Ape…I think. It's all very confusing, and on that level, things don't hold together in a traditional sense.
But the prose of this issue – oh man, the prose. This is a lyrical comic where one can almost hear the traditional drum rhythms of an African griot weaving the tale of T'Challa. The art is sublime, as lush as the African veldt, as words and pictures combine to present something post-modern in a primal and ancient way. Coates' Black Panther is grandiose and mythic and this story would only work in a comic featuring T'Challa.
Black Panther pushes the medium to new places and what it lacks in cohesion it makes up for in competence. Coates and Stelfreeze are two masters pushing the medium to the next level while never forgetting the roots of storytelling. You can teach a Masters course in graphic storytelling with this bad boy. Seriously.