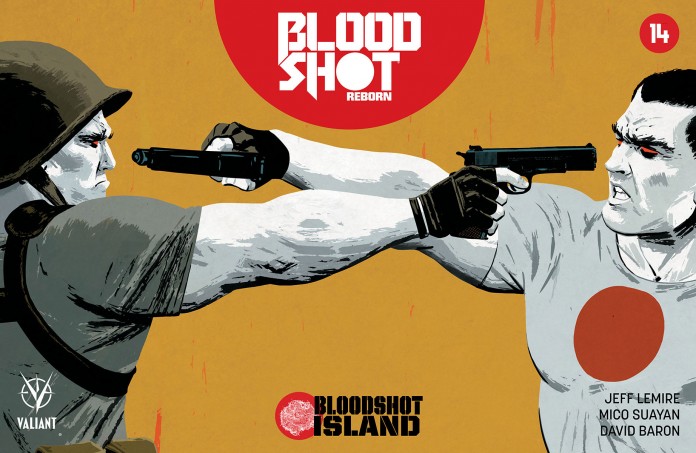 This summer, DEATHMATE strikes…as superstar creators Jeff Lemire and Mico Suayan launch Bloodshot into the most punishing confrontation of the summer!
In advance of C2E2 2016 in Chicago, IL, Valiant is proud to announce "BLOODSHOT ISLAND" – an all-new, four-part trial by fire beginning this June in BLOODSHOT REBORN #14! Jump on board one of the most acclaimed series in comics here as New York Times best-selling writer Jeff Lemire (Old Man Logan, Descender) and blockbuster artist Mico Suayan (BLOODSHOT REBORN) reunite for a relentless run through the jungle that will bring Project Rising Spirit's nanite-infused soldier head-to-head with fellow Bloodshots from decades past and the secretive killing machine driven to eliminate them each one by one – a calculating engine of destruction simply known as DEATHMATE!
Check out the several amazing variant covers and unlettered interior pages below!
Stranded on a mysterious desert island with no recollection of how he got there, Bloodshot is running for his life! But as he tries to make sense of his surroundings, he's quickly discovering that this is no ordinary tropical paradise… Surrounded by decommissioned relics of the same bloodstained project that created him – World War II Bloodshot, Cold War Bloodshot, Vietnam Bloodshot, and other antiquated experiments – Bloodshot is about to find out where Project Rising Spirit sends it old soldiers to die…and then rejuvenate and die again! Can this seasoned band of killers trust each other long enough to survive the threats that lie in the jungle around them…and unlock the secret at the heart of the island's existence before they're each permanently retired? And just what is the sinister force called DEATHMATE that now hunts them at every turn…and what is its untold connection to the life Ray Garrison left behind?
"DEATHMATE isn't an event or a crossover – she's much, much more. This is an all-new character, created by Jeff Lemire for BLOODSHOT ISLAND and brought to life with a brilliant design by Jeff, Mico Suayan, and David Baron," said Valiant Editor-in-Chief Warren Simons. "The secret of her creation and purpose is a central mystery  to BLOODSHOT ISLAND – and, in the very first issue alone, she cements herself as Valiant's newest A-level threat. Moreso than anything that's come before, BLOODSHOT ISLAND is Jeff and Mico firing on all cylinders for what is sure to be BLOODSHOT REBORN's biggest, most action-packed storyline to date. But it's not just bullets and Bloodshots… By the time the smoke clears, the mythology behind one of Valiant's most popular and enduring heroes – and his importance to the broader Valiant Universe – will be forever changed by the revelations that lurk within the jungle of BLOODSHOT ISLAND."
Featuring the return of blockbuster artist Mico Suayan to the pages of BLOODSHOT REBORN for the first time since the series' sold-out launch in 2015, BLOODSHOT ISLAND is the next epic culmination of writer Jeff Lemire's long-term plans for Valiant's most indestructible man-at-arms. Picking up in the direct aftermath of BLOODSHOT REBORN's current story arc, "THE ANALOG MAN," "BLOODSHOT ISLAND" represents many months of work for Suayan, whose hyper-detailed interior artwork for the series' best-selling debut became an instant sensation and spurred widespread critical acclaim.
Superstar creators Jeff Lemire and Mico Suayan send Bloodshot screaming into the biggest, most suspenseful jumping-on point of 2016 when "BLOODSHOT ISLAND" takes on DEATHMATE in June! Featuring covers by a battalion of comics' biggest talents – including Tomas Giorello (Superman/Batman), Ben Oliver (The Multiversity), Kano (Swamp Thing), Stephen Segovia (Ultimate Comics Avengers), Clayton Henry (HARBINGER), Ryan Bodenheim (The Dying & The Dead), Darick Robertson (The Boys), and Eisner Award winner Jeff Lemire (Essex County), the showdown of the summer begins this June, right here in BLOODSHOT REBORN #14!
Plus: Find out more about what BLOODSHOT ISLAND holds for DEATHMATE on Saturday, March 19th at the VALIANT: 4001 A.D. AND BEYOND panel presentation – only C2E2 2016!
For more information, visit Valiant on Facebook, Twitter, Tumblr, Instagram, and ValiantUniverse.com.
For Valiant Merchandise and more, visit ValiantStore.com
BLOODSHOT REBORN #14 (ALL-NEW ARC! "BLOODSHOT ISLAND" – PART 1)
Written by JEFF LEMIRE
Art by MICO SUAYAN
Cover A by TOMAS GIORELLO
Cover B by BEN OLIVER
Cover C by KANO
Cover D by STEPHEN SEGOVIA
Valiant x CGC Variant by CLAYTON HENRY
Interlocking Variant by RYAN BODENHEIM
Variant Cover by DARICK ROBERTSON
B&W Sketch Variant by TOMAS GIORELLO
Valiant Linewide Variant by JEFF LEMIRE
$3.99 | 32 pgs. | T+| COMING IN JUNE!