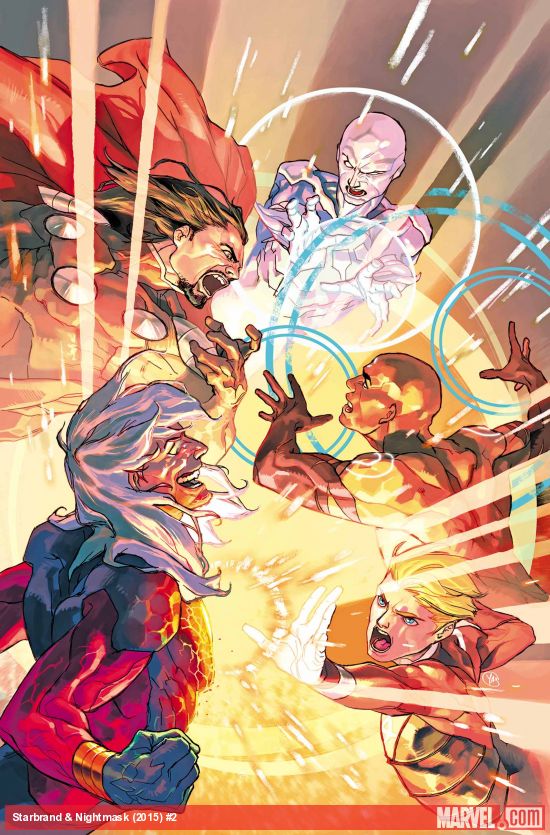 Curious about the new Marvel Comics landing in comic book stores this Wednesday? Curious and a little uninformed? Don't worry, we can help. How? By providing you with the full list of Marvel Comics hitting comic book stores this Wednesday, 1/20! Yes, yes, yes, you are welcome.
SILVER SURFER #1
Writer: Dan Slott                                   
Artist: Mike Allred
Cover Artist: Mike Allred
Release Date: 1/20
CAPTAIN MARVEL #1
Writer: Tara Butters, Michelle Fazekas                     Artist: Kris Anka
Cover Artist: Kris Anka
Release Date: 1/20
Face front, true believers! The Captain has made her return and oh, how mighty it is. It's a bold new frontier for Carol Danvers as she soars to new heights in her greatest mission yet—leader of the all-new Alpha Flight space program. Yup, Alpha Flight. As earth's first line of defense, Carol and her team aim to protect the planet from extraterrestrial threats. But can Carol be a soldier and a diplomat? Especially when an unknown enemy emerges that Carol can't quite punch. The superstar team behind Marvel's Agent Carter television series, Tara Butters and Michele Fazekas, make their comics debut alongside the awesomely-talented Kris Anka.
UNCANNY X-MEN #2
Writer: Cullen Bunn
Artist: Greg Land
Cover Artist: Greg Land
Release Date: 1/20
In a world that's never hated or feared mutants more, there is only one constant: BIGGER THREATS REQUIRE MORE THREATENING X-MEN. Refusing to accept one more mutant death, the most ruthless mutants on Earth have banded together to proactively mow down their enemies. But with a team populated by relentless killers, one question applies above all others: Can they stay away from each other's throats long enough to sever their targets'?
PATSY WALKER, A.K.A. HELLCAT! #2
Writer: Kate Leth
Artist: Brittney Williams
Cover Artist: Brittney Williams
Release Date: 1/20
STARBRAND & NIGHTMASK #2
Writer: Greg Weisman
Artist: Domo Stanton
Cover Artist: Yasmine Putri
Release Date: 1/20
Adam and Kevin are simply trying to get to Freshman Orientation–but instead, Nightmask and Starbrand find themselves trapped between Graviton, Nitro and Blizzard! But who is pulling the villains' cosmic strings?
MS. MARVEL #3
Writer: G. Willow Wilson
Artist: Takeshi Miyazawa
Cover Artist: Cliff Chiang
Release Date: 1/20
SPOILER ALERT: The agents at HOPE YARDS DEVELOPMENT aren't actually interested in real estate. Turns out, the development company that co-opted Ms. Marvel's face has been busy brainwashing the people of Jersey City…including BRUNO! Can Kamala find a way to save her city and her best friend from being mindless gentrified automatons?
STAR-LORD #3
Writer: Sam Humphries
Artist: Javier Garron
Cover Artist: Dave Johnson
Release Date: 1/20
A SPACE PIRATE'S LIFE FOR ME! Peter is now part of the Yondu crew of space pirates! ARRR! But don't pirates do, you know, pirate stuff? Stuff like looting and pillaging that might not be considered "good"? You worry too much, middle bullet point! I'm sure everything will be totally fine. SPACE PIRATES!
DRAX #3
Writer: Cullen Bunn, CM Punk
Artist: Scott Hepburn
Cover Artist: Eric Powell
Release Date: 1/20
HERCULES #3
Writer: Dan Abnett
Artist: Luke Ross
Cover Artist: Jay Anacleto
Release Date: 1/20
Hercules is back in the game, and the world is starting to remember why he set the standard for heroes right down through the ages. But has he left his reinvention too late? He's clean, he's sober, he's determined…but the world is fighting back. It's a darker place than even he imagined, and an all-powerful force is rising that could wipe out his kind and all the ancient ways of myth forever.
MAX RIDE: ULTIMATE FIGHT #3
Writer: Jody Houser
Artist: R.B. Silva
Cover Artist: Yasmine Putri
Release Date: 1/20
The James Patterson smash hit returns for a second series! MAXIMUM RIDE has to protect her family when their school is raided by the enemy! The gang begins to untangle the mystery of their origin when one set of parents is discovered! And THE FLOCK realizes that there may be a traitor in their midst!
UNCANNY INHUMANS #4
Writer: Charles Soule
Artist: Stevie McNiven
Cover Artist: Steve McNiven
Release Date: 1/20
THE ASTONISHING ANT-MAN #4
Writer: Nick Spencer
Artist: Ramon Rosanas
Cover Artist: David Nakayama
Release Date: 1/20
The Power Broker has a new app called Hench – need a super villain to take out a super hero for you? Just Hench it! "Zero out of five stars!," says Scott Lang, the Astonishing Ant-Man.
DARK TOWER: THE DRAWING OF THE THREE-LADY OF SHADOWS #5
Writer: Robin Furth, Peter David
Artist: Jonathan Marks
Cover Artist: Nimit Malavia
Release Date: 1/20
ODETTA HOLMES' FIRST CHAPTER IN STEPHEN KING'S DARK FANTASY EPIC COMES TO A DRAMATIC CONCLUSION! As the door to Earth closes, another opens to MID-WORLD. ODETTA HOLMES? DETTA WALKER? The Lady of Shadows embarks on a journey to discover who she really is! EDDIE DEAN and ROLAND DESCHAIN add one more to the ranks of their KA-TET!
NEW AVENGERS #5
Writer: Al Ewing
Artist: Gerardo Sandoval
Cover Artist: Oscar Jimenez
Release Date: 1/20
Captain America! Iron Mariner! King Hulk! Marvel Woman! Collapsar! Together, they are the Avengers – of the year 20XX! Now, these five heroes are breaking the laws of time itself to prevent their greatest tragedy! Destination – the year 2016! Target – the New Avengers!
DEADPOOL #6
Writer: Gerry Duggan
Artist: Scott Koblish
Cover Artist: Scott Koblish
Release Date: 1/20
INTRODUCING: DEADPOOL 2099! Jump 84 years into the future for an all-new adventure with an all-new Deadpool! Who is this sci-fi Mouthy-Merc-Lady? And what's her connection to Wade Wilson?
BRILLIANT #6
Writer: Mark Bagley, Brian Michael Bendis
Artist: Not Listed
Cover Artist: Not Listed
Release Date: 1/20
The runaway creator-owned smash continues! From the award-winning creators of ULTIMATE SPIDER-MAN comes another blistering chapter in a world where college students discover the secret of superpowers – and now that secret is out! How will the world react when science fiction becomes science fact?
STAR WARS #15
Writer: Jason Aaron
Artist: Mike Mayhew
Cover Artist: Mike Mayhew
Release Date: 1/20
Another tale of Obi-Wan's exile on Tatooine! Owen Lars took Luke in…but he refused to let Ben be part of his life. Why? What trouble could have been stirred up by Ben protecting Luke?