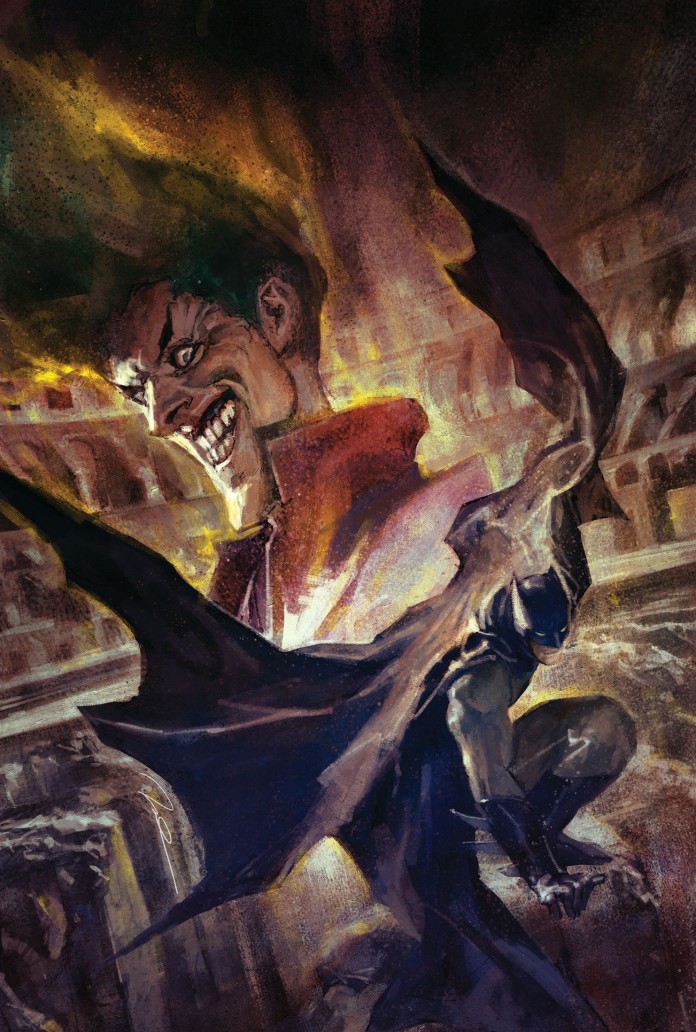 Curious about the new DC Comics landing in comic book stores this Wednesday? Curious and a little uninformed? Don't worry, we can help. How? By providing you with the full list of DC Comics hitting comic book stores this Wednesday, 2/3! You're more than welcome and you definitely need to check out the DC Comics 2/3 batch!
SWAMP THING #2
Writer: Len Wein                   
Artist: Kelley Jones
Cover Artist: Kelley Jones
Release Date: 2/3
PREZ VOL. 1: CORNDOG IN CHIEF
Writer: Mark Russell                             Artist: Domonike Stanton, Sean Parsons, Mark Morales, Ben Caldwell
Cover Artist: Ben Caldwell
Release Date: 2/3
Meet Beth Ross, the first teenaged President of the United States. In a nation where corporations can run for office, the poor are used as human billboards, and tacos are delivered by drone, our only hope is this nineteen-year-old Twitter sensation. But the real question isn't whether she's ready for politics—it's whether politics is ready for her.
NEW SUICIDE SQUAD VOL. 2: MONSTERS
Writer: Sean Ryan
Artist: Philippe Briones
Cover Artist: Juan Ferreyra
Release Date: 2/3
A breakaway faction of the League of Assassins has their eyes on the Suicide Squad. With new recruits in tow, infiltrating the deadly group will require extreme measures—and it may cost some squad members. How far will they push the limits and who will fall? Plus, how will Harley Quinn deal with her greatest enemy: boredom? Find out in these stories from NEW SUICIDE SQUAD #9-12, ANNUAL #1, plus the Sneak Peek story from CONVERGENCE: JUSTICE SOCIETY OF AMERICA #2.
MIDNIGHTER #9
Writer: Steve Orlando
Artist: Aco
Cover Artist: Jason Paz, Carlo Pagulayan
Release Date: 2/3
LOONEY TUNES #229
Writer: Sholly Fisch
Artist: Horacio Ottolini, Walter Carzon
Cover Artist: Horacio Ottolini, Walter Carzon
Release Date: 2/3
Ahoy, me hearties and scurvy Jimlads! Daffy Duck be plunderin' Seafarin' Sam's pirate deck, thinkin' it be a cruise ship! Shiver me timbers, will Daffy be heavin'-ho or walkin' the plank on the poop deck?
JUSTICE LEAGUE: GODS AND MONSTERS
Writer: Bruce Timm, J.M. DeMatteis
Artist: Various, Thony Silas
Cover Artist: Darick Robertson
Release Date: 2/3
Prequel to the DC Universe movie Justice League: Gods & Monsters! In this alternate universe where Superman is Zod's son, Batman is a vampire and Wonder Woman is a descendent of New Genesis, these powerful and dangerous loners are drawn together by a man who claims he can bring humanity to the next level of evolution. But are Jackson Alpert and his immortal Forever People what they claim to be? Will they save the earth—or conquer it? Collects JUSTICE LEAGUE: GODS AND MONSTERS – BATMAN #1, JUSTICE LEAGUE: GODS AND MONSTERS – SUPERMAN #1, JUSTICE LEAGUE: GODS AND MONSTERS – WONDER WOMAN #1 and JUSTICE LEAGUE: GODS AND MONSTERS #1-3.
INJUSTICE: GODS AMONG US: YEAR FIVE #3
Writer: Brian Buccellato
Artist: Juan Albarran, Mike S. Miller, Bruno Redondo
Cover Artist: David Yardin
Release Date: 2/3
Killer Frost has Catwoman on ice, trying to coerce her into coming over to the side of the Regime. When Batman comes to her rescue, Frost brings some muscle to the fight: Superman's newest henchman, Bane! Meanwhile, Damian has a pivotal encounter with Alfred. Digital Version to be released first.
IDENTITY CRISIS NEW EDITION
Writer: Brad Meltzer
Artist: Michael Bair, Rags Morales
Cover Artist: Michael Turner
Release Date: 2/3
GREEN LANTERN #49
Writer: Robert Venditti
Artist: Martin Coccolo
Cover Artist: Mark Irwin, Billy tan
Release Date: 2/3
Green Lantern faces off against Sonar and the forces of Modora in an explosive final showdown—but does Hal have enough will to stand up to the coming threat of Parallax?
GREEN ARROW #49
Writer: Benjamin Percy
Artist: Szymon Kudranski
Cover Artist: Szymon Kudranski
Release Date: 2/3
The Patriots have been cleared of any wrongdoing during the Midnight Parade attack, which only encourages what Green Arrow sees as state-sanctioned violence against the wargs! How can Oliver hide the symptoms of his Lukos infection while keeping the city safe from a brewing war?
DETECTIVE COMICS #49
Writer: Peter J. Tomasi
Artist: Fernando Pasarin
Cover Artist: Tyler Kirkham
Release Date: 2/3
BIZARRO
Writer: Heath Corson
Artist: Gustavo Duarte
Cover Artist: Gustavo Duarte
Release Date: 2/3
Superman's mirror-opposite enemy is back in his own solo series collecting the 6-issue miniseries and the Sneak Peek story from CONVERGENCE: SUPERMAN: MAN OF STEEL #2! But let's describe this in a way that makes sense: "Hate HARLEY QUINN? Then you will super hate BIZARRO! Bizarro, star of worstest comic ever! Go ahead and miss it! If there's one thing this graphic novel not have, it these two things: Jimmy Olsen and Chupacabras!"
BATMAN: EUROPA #4
Writer: Brian Azzarello, Matteo Casali
Artist: Gerald Parel
Cover Artist: Gerald Parel
Release Date: 2/3
As they reel from the effects of the Colossus virus, Batman and The Joker make their final stand in the ruins of Rome's Coliseum. At last, their true enemy reveals his identity for one final showdown. Weakened by sickness and forced into an uneasy alliance with his greatest foe, how can Batman focus on what he needs to do to survive?
BATMAN: ARKHAM – SCARECROW
Writer: Various
Artist: Various
Cover Artist: Jason Fabok
Release Date: 2/3
The Scarecrow, one of the Dark Knight's greatest foes, stars in this new best-of collection that includes tales from DETECTIVE COMICS #73, 389, 486 and 540, BATMAN #189, 296, 373, 523 and 524, DETECTIVE COMICS #23.3, BATMAN ANNUAL #19, JOKER'S ASYLUM: SCARECROW #1 and WORLD'S FINEST COMICS #3!
BATMAN '66 MEETS THE MAN FROM U.N.C.L.E. #3
Writer: Jeff Parker
Artist: Karl Kesel, David Hahn
Cover Artist: Mike Allred
Release Date: 2/3
BATMAN BEYOND #9
Writer: Dan Jurgens
Artist: Bernard Chang
Cover Artist: Philip Tan
Release Date: 2/3
Let the doctor make you strong, Let him give you the tools to survive… While the world flocks to Neo-Gotham, Batman tracks Terry's brother, Matt, to the former City of Tomorrow: Metropolis! But they both get more than they bargained for when they meet the new muscle in town. Check out the DC Universe debut of the Splicers, previously seen in the Batman Beyond animated TV series!
BATMAN & ROBIN ETERNAL #18
Writer: Scott Snyder, James T Tynion IV
Artist: Wayne Faucher, Scot Eaton
Cover Artist: Tony S. Daniel
Release Date: 2/3
Everything that can go wrong does in both the past and the present! Batman spent years believing Mother was dead…and when you see their blood-soaked confrontation, you'll know why! Now that she's returned in the modern day, Batman's allies will find themselves under siege from a world-destroying weapon they never saw coming! And on top of everything…Harper Row learns a devastating secret that will change her life forever—and potentially make her the most dangerous foe the Robins have ever faced!
BATGIRL #48
Writer: Cameron Stewart, Brenden Fletcher
Artist: Babs Tarr
Cover Artist: Babs Tarr
Release Date: 2/3
When Batgirl is down, it's Black Canary to the rescue! Dinah and Barbara reteam to try to discover the identity of the malevolent mastermind making their presence felt in Burnside!
ACTION COMICS #49
Writer: Aaron Kuder, Greg Pak
Artist: Aaron Kuder
Cover Artist: Aaron Kuder
Release Date: 2/3
"Savage Dawn" continues! Now powered by Kryptonite, Superman is confronted by the first of Vandal Savage's children! It's a creature with unrelenting bloodlust and the power to match it!