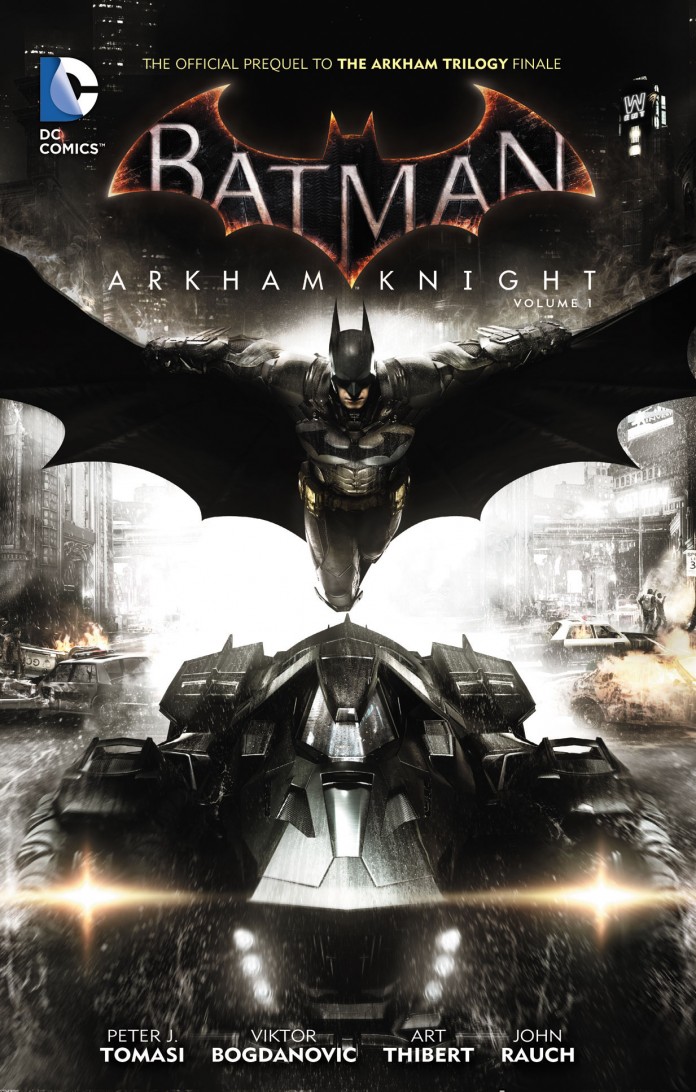 Curious about the new DC Comics landing in comic book stores this Wednesday? Curious and a little uninformed? Don't worry, we can help. How? By providing you with the full list of DC Comics hitting comic book stores this Wednesday, 1/6! For the first time this year: You're welcome!
TELOS #4
Writer: Jeff King                      
Artist: Jason Paz, Carlo Pagulayan
Cover Artist: Carlo Pagulayan
Release Date: 1/6
SWAMP THING #1
Writer: Len Wein                                    Artist: Kelley Jones
Cover Artist: Kelley Jones
Release Date: 1/6
Swamp Thing returns in an all-new series written by his co-creator, legendary writer Len Wein! Swamp Thing has received an ominous warning, and now he finds himself under attack from the forces of dark magic. These are more than just your average monsters—and there's something much worse looming on the horizon for Alec Holland!
RED HOOD AND THE OUTLAWS VOL. 7: LAST CALL
Writer: Scott Lobdell
Artist: Various, RB Silva, Geraldo Borges
Cover Artist: Giuseppe Camuncoli
Release Date: 1/6
After discovering who kidnapped Starfire, Red Hood turns to the only thing he knows can overcome them: Venom, the drug that made Bane a super-powered killer! Collects issues #35-40, plus RED HOOD AND THE OUTLAWS: FUTURES END #1
MIDNIGHTER #8
Writer: Steve Orlando
Artist: David Messina
Cover Artist: Aco
Release Date: 1/6
INJUSTICE: GODS AMONG US YEAR FIVE #1
Writer: Brian Buccellato
Artist: Juan Albarran, Mike S. Miller, Bruno Redondo
Cover Artist: David Yardin
Release Date: 1/6
This is it: the final year of INJUSTICE: GODS AMONG US, leading into the storyline of the hit videogame! Having defeated the Green Lantern Corps, the forces of magic, and now the gods themselves, the Regime seems to have eliminated all threats. Yet uneasy lies the crown on the head of Emperor Superman. Still obsessed with the outlaw Batman and worried about having enough troops to police his world, The Man of Steel begins to recruit some of Earth's deadliest villains to his side. Does the Dark Knight have any chance of ending the Man of Steel's rule? Digital copy to be released first.
 GREEN LANTERN #48
Writer: Robert Venditti
Artist: Martin Coccolo
Cover Artist: Billy Tan
Release Date: 1/6
Back on Earth once more, Hal Jordan must bring in help to handle a terrorist attack on Coast City. But when Batman arrives on the scene, Green Lantern learns that much has changed while he was off-planet…
GREEN ARROW #48
Writer: Benjamin Percy
Artist: Patrick Zircher
Cover Artist: Szymon Kudranski
Release Date: 1/6
As a result of the traumatic effects of the recent ANNUAL #1, Oliver Queen has contracted the Lukos virus! As he struggles to find a cure, he must stay far away from his friends and family—or else he'll tear them to shreds!
DETECTIVE COMICS #48
Writer: Peter J. Tomasi
Artist: Marco Takara
Cover Artist: Andrew Robinson
Release Date: 1/6
DC ESSENTIALS: DC: THE NEW FRONTIER #1
Writer: Darwyn Cooke
Artist: Darwyn Cooke
Cover Artist: Darwyn Cooke
Release Date: 1/6
World War II is over. The Cold War has begun. And the Age of the Super-hero is in decline. But where are the heroes of tomorrow? This is the opening chapter of DC: THE NEW FRONTIER, reprinted at just $1.00 with pages from the DC ESSENTIALS CATALOGUE!
DC COMICS BOMBSHELLS #8
Writer: Marguerite Bennett
Artist: Maria Laura Sanapo, Laura Braga
Cover Artist: Ant Lucia
Release Date: 1/6
Now serving on the side of the Allies as part of the Amanda Waller's Bombshells program, Supergirl and Stargirl wonder if they still are being used as instruments of propaganda. Meanwhile, mythological creatures and the undead legions of Tenebrus attack the Allied forces, bringing Wonder Woman into the fray. Can she count on the newest Bombshells to help?
BATMAN: DETECTIVE COMICS VOL. 7: ANARKY
Writer: Francis Manapul, Benjamin Percy, Brian Buccellato
Artist: Francis Manapul, Various, John Paul Leon
Cover Artist: Francis Manapul
Release Date: 1/6
BATMAN: DETECTIVE COMICS VOL. 6 – ICARUS
Writer: Brian Buccellato, Francis Manapul
Artist: Various, Francis Manapul
Cover Artist: Francis Manapul
Release Date: 1/6
Batman finds himself knee-deep in a new mystery involving a deadly new narcotic in Gotham City. Can the Dark Knight stop the threat before the entire town finds itself embroiled in a deadly gang war? Collects issues #30-34 and DETECTIVE COMICS ANNUAL #3.
BATMAN: ARKHAM KNIGHT VOL. 1
Writer: Peter J. Tomasi
Artist: Various, Robson Rocha, Ig Guara, Viktor Bogdanovic
Cover Artist: Various
Release Date: 1/6
Collecting the first four issues of the new series! The Joker is dead. Arkham City is closed. As a new day begins, Bruce Wayne finds himself in devastating pain, recovering from his injuries and questioning whether his role as Batman is still necessary to the city's survival. But can even death keep The Joker from tormenting the Dark Knight?
BATMAN BEYOND #8
Writer: Dan Jurgens
Artist: Bernard Chang
Cover Artist: Philip Tan
Release Date: 1/6
No good deed goes unpunished! Freeing the world from Brother Eye was only the beginning—with Neo-Gotham now standing as the only stable society in the known world, thousands of refugees have fled their war-torn cities to come knocking at the gates. But when the mayor of Neo-Gotham claims his city can't support the whole world, the fate of these people will rest on Batman's shoulders.
BATMAN AND ROBIN ETERNAL #14
Writer: Scott Snyder, James T Tynion IV
Artist: Matt Ryan, Fernando Pasarin
Cover Artist: Jonathan Glapion, David Finch
Release Date: 1/6
ACTION COMICS #48
Writer: Aaron Kuder, Greg Pak
Artist: Aaron Kuder
Cover Artist: Aaron Kuder
Release Date: 1/6
"The Savage Dawn" begins! Following recent events in the SUPERMAN ANNUAL, Superman is becoming increasingly desperate to regain his powers! The situation is dire, as he must rescue his fellow Justice Leaguers and save the lives of the soldiers facing Vandal Savage!