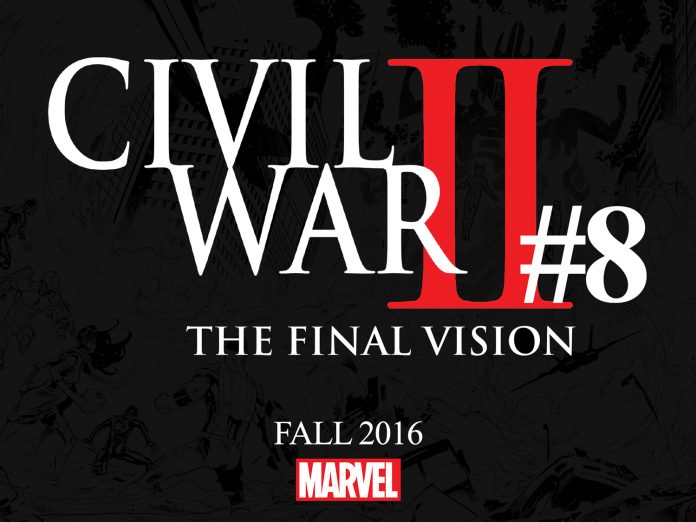 It's the story that has the world on the edge of its seat as heroes stand on opposite sides and fight to preserve the security of the future. And if you thought it couldn't get bigger – you thought wrong! Today, Marvel is pleased to announce the expansion of the blockbuster Civil War II event with CIVIL WAR II #8 – coming to comic shops later this year!
Legendary creators Brian Michael Bendis and David Marquez will extend their stay in the trenches of battle for one more unforgettable issue. Cracks are starting to emerge in the predictive visions of the new Inhuman, Ulysses, and the foundation where our heroes once stood is starting to fracture.
"First of all, the response from fans over Civil War II has been so heartwarming," says Bendis. "Secondly, over the summer I thought of a different, hopefully better, way to tell our ending. It's not a different ending but a different way to tell it and I am so happy that Marvel gave us this chance to do our thing. Some fans already know that a lot is going to change in the Marvel Universe post-Civil War II but we've kept some secrets secret and issue #8 is chock full of them."
Will the heroes of the Marvel Universe wield the power of "predictive justice" to change the future or battle to protect tomorrow? The additional issue of Civil War II will bring the explosive event to its powerful conclusion, but with an Inhuman at the center of the conflict with the ability to see what's to come, has the future already been foretold or can it be changed?
"As the events of Civil War II continued to unfold across the Marvel Universe we saw that the stakes kept rising," says David Gabriel, Marvel SVP Sales & Marketing. "By providing retailers and fans an additional issue, Bendis and Marquez are given the added freedom to present a story that is going to bring the war to a cataclysmic ending with seismic changes to the Marvel Universe."
Ideologies have been challenged, alliances have been tested, and battle lines have been drawn. What will be the end result as the final vision from Ulysses is revealed to the heroes of the Marvel Universe, and which side will stand triumphant over the other? Join Marvel this fall as Iron Man and Captain Marvel gather their sides and come head-to-head for the epic confrontation in CIVIL WAR II #8!
CIVIL WAR II #8
Written by BRIAN MICHAEL BENDIS
Art by DAVID MARQUEZ
Cover by DAVID MARQUEZ
On sale this fall!