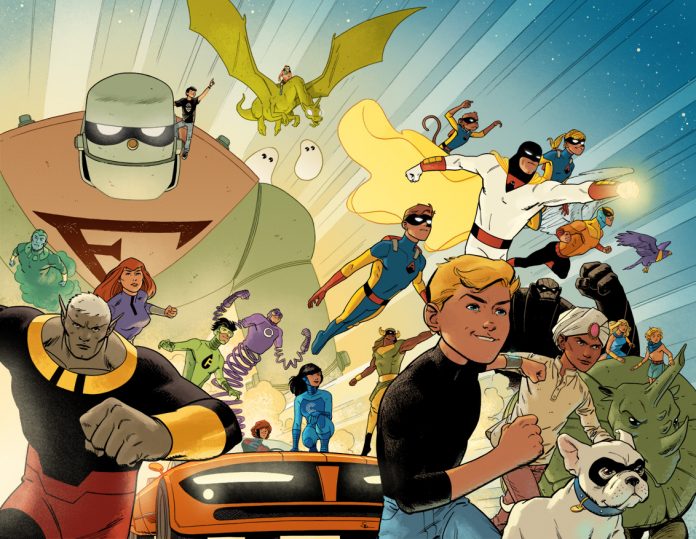 Check out Our Review [WITH SPOILERS] of DC's Future Quest #1!
Writer: Jeff Parker
Artists: Evan "Doc" Shaner and Steve Rude
Hanna-Barbera's Future Quest #1 is the comic I didn't know I wanted to read until I read it. I have fond memories of the old Hanna-Barbera adventure cartoons, but most of them faded into the recesses of a sugary cloud of childhood bliss. But as writer Jeff Parker and artists Evan "Doc" Shaner and Steve Rude brings each contemporary version of these old school HB character out onto the stage, I felt a profound sense of modern joy as the creative finds fun and new ways to present these once pleasantly simplistic cartoon favorites.
The debut issue mostly focuses on the Jonny Quest family of characters, Bird Man, and the characters involved in the Space Ghost mythos. The plot is simple, and for a comic dealing with these particular characters, it darn well should be. There are dimensional incursions happening on Earth as strange alien beings that should be very familiar to children of the 60s and 70s begin to appear on Earth. Quest and friends are caught up in just such an incursion as is Bird Man as our Saturday morning adventure begins.
The comic opens with an epic prologue as readers are introduced to a core of Space Ghosts. This is all akin to the Green Lantern Corps and really establishes a space-opera tone to the book. Then, we move into quick-shot introductions of the book's major players; it's clear that Parker has given each of these beloved icons a great deal of thought so the character templates of yesterday can arrive fully formed today.
The main event is the art of Shaner and Rude as each artist renders their portion of the book with an intense amount of honor and love. It is clear that these characters mean a great deal to the artists and these feelings shine through on the page.
This book is a gift to readers of a certain age as this book has the potential to open a whole universe of nostalgia and future potential. This comic is a pure joy that keeps the toes in the water of Saturday mornings past while flying into the future.