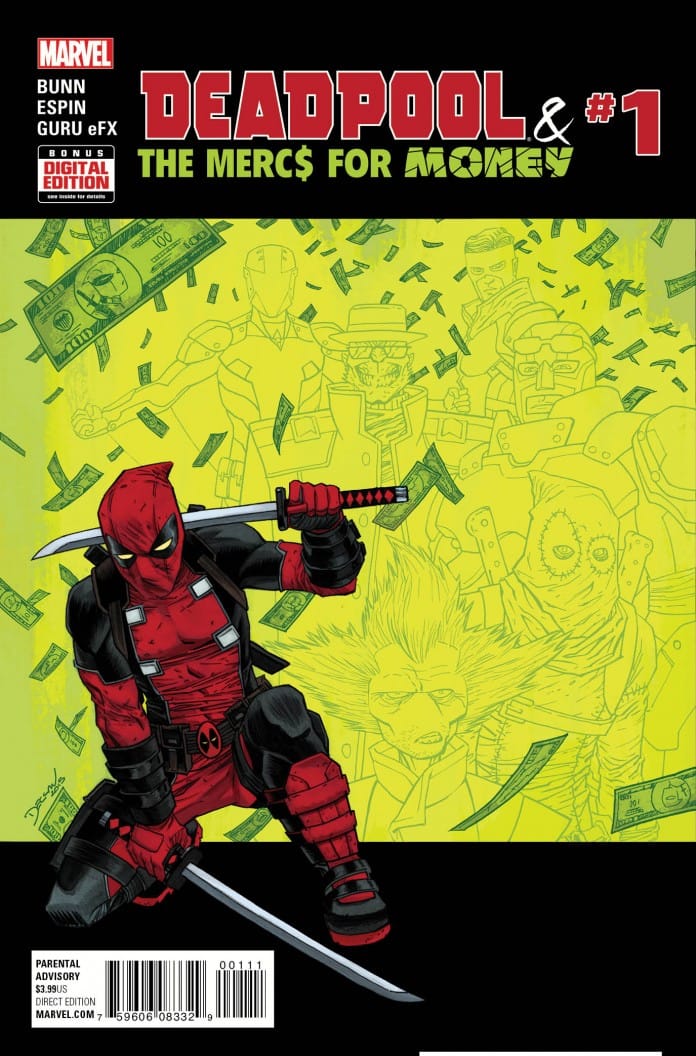 You people can never get enough Deadpool! We always get more and more Merc with a Mouth stuff in and you guys eat it up. One can only assume that extends into the comic book world as well, right? I did see that there is going to be a one shot with Gwen Stacy as Deadpool, so yeah…there's that. This particular comic book from Marvel will be released in February and features a motley crew led by the Regeneratin' Degenerate. There's no way that can go south, right?
DEADPOOL AND THE MERCS FOR MONEY #1
Packs More Deapool Than You Can Handle!
New York, NY—November 12th, 2015 — This February get ready for Deadpool, Deadpool and more Deadpool. That's right – he may be an Avenger now, but he's also got his own private team of mercenaries. And they're all coming at you in DEADPOOL AND THE MERCS FOR MONEY #1 – a brand new limited series from fan-favorite Deadpool creators Cullen Bunn and Salva Espin!
"With Mercs for Money, chaos and mayhem take center stage," say series writer Cullen Bunn in an interview with Marvel. "This is an action/adventure story that gets more and more wild with every issue."
Even Deadpool can't be everywhere at once, so if you've got a problem and a pile of money you'd like to be rid of – the legally-cleared-to-be-called Mercs for Money can help! You know Deadpool, but now it's time to get acquainted with Stingray, Massacre, Solo, Foolkiller, Terror and Slapstick! Point them at the problem and watch as it's shot, stabbed, pulverized and generally made bloody!
But when the Mercs are hired to retrieve a strange artifact from the Beyond Corporation – they'll soon find themselves in over their heads and up to their eyeballs in all manner of deadly assassins! Don't miss the kickoff to the pandemonium this February in DEADPOOL AND THE MERCS FOR MONEY #1!
DEADPOOL AND THE MERCS FOR MONEY #1
Written by CULLEN BUNN
Art by SALVA ESPIN
Cover by DECLAN SHALVEY
Action Figure Variant by JOHN TYLER CHRISTOPHER
Design Variant by MIKE HAWTHORNE
Variant Cover by RON LIM
On Sale in February!