Who doesn't love a touching story about friendship between a giant Tyrannosaurus Rex and a person? Devil Dinosaur was originally created by Jack Kirby in 1978, who scripted and penciled the first nine issues. Featuring a parallel universe where dinosaurs co-exist with primitive humans, Devil Dinosaur and his ape-like companion Moon-Boy protected their world and occasionally hung out with Godzilla(true story). However, it looks like Devil Dinosaur is about to return to the Marvel 616 Universe with a brand new adventure as this official Marvel press release states. Roar!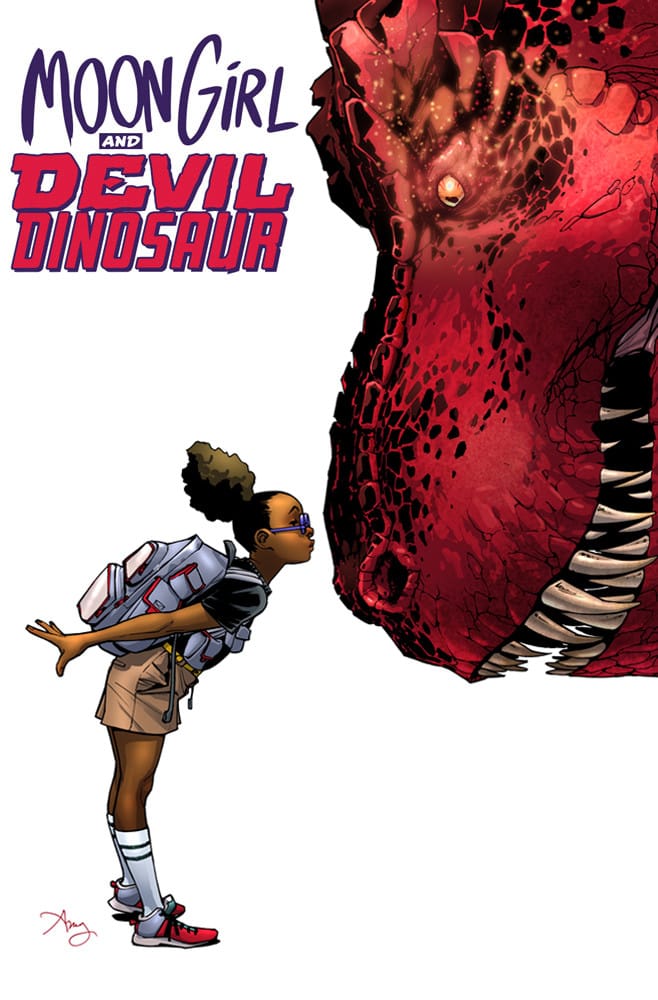 MOON GIRL & DEVIL DINOSAUR #1
Brings You a Girl and Her Prehistoric Pal This November!
New York, NY—August 14th, 2015 — This November, experience a friendship 65 million years in the making and a Marvel team-up that has to be seen to be believed. Today, Marvel is pleased to announce MOON GIRL & DEVIL DINOSAUR #1, a brand-new ongoing series launching this fall as part of All-New, All-Different Marvel. From the creative team of Amy Reeder, Brandon Montclaire and Natacha Bustos comes a story of unlikely friendship in the Mighty Marvel Manner!
 Meet Lunella Lafayette, pre-teen super genius who just wants to change the world and help those in need. Possessing latent Inhuman DNA, Lunella's unsure of what her strange future might hold. But when she stumbles on ancient Kree technology, things are about to get a whole lot stranger.
Opening a doorway to the prehistoric past, her life is turned upside down as she comes face-to-face with a towering Jurassic giant known only as DEVIL DINOSAUR! But he is not alone. Out of the portal and in to the Marvel Universe emerge the Killer-Folk – an ancient tribe of beings who will stop at nothing to acquire the alien technology!
 "Something that's the hallmark of a Marvel Hero is that they're gifted with a power they may see as a curse. Their hero's journey is to discover how to use it to help others," says series Editor Mark Paniccia. "Lunella is a little genius with grand plans on going to big schools, but she's got an Inhuman gene, unpredictable alien DNA inside that – once triggered – could take her life in a wildly different direction. She's determined to control that change. She's going to need to grow up really fast to survive in the new Marvel Universe…luckily she will have Devil Dinosaur at her side."
Lunella's about to learn the hard way that it'll take more than just big brains to save the world. This unlikely duo are many things, but together, they're the unstoppable Moon Girl & Devil Dinosaur! Prepare for a Marvel series unlike any you've seen before when MOON GIRL & DEVIL DINOSAUR #1 comes to comic shops and digital devices this November!
MOON GIRL & DEVIL DINOSAUR #1
Written by AMY REEDER & BRANDON MONTCLARE
Art by NATACHA BUSTOS
Cover by AMY REEDER
On Sale in November!