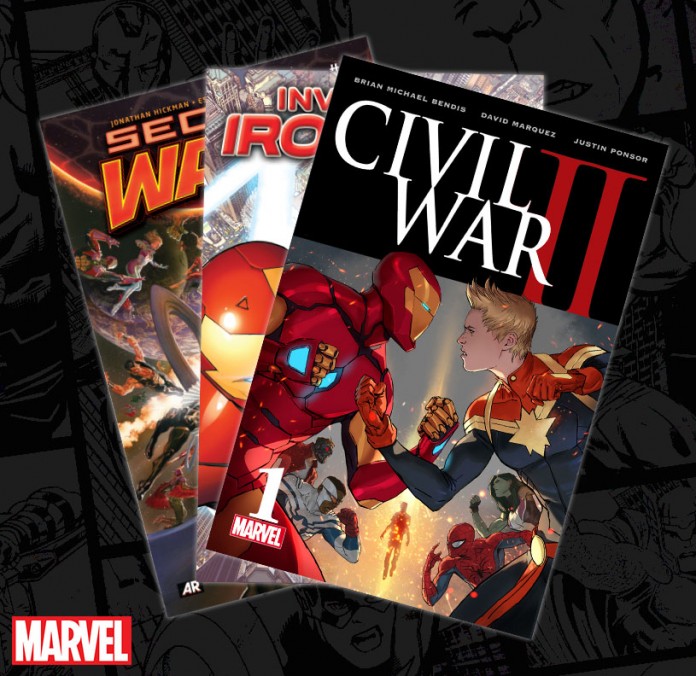 The battle begins this June at your local comic shop. Which side will you choose? Do you stand with Captain Marvel or will you side with Iron Man? Civil War II #1 is already one of the most anticipated comic books of the year, and we're aiming to make it even more special by giving this oversized first issue and each issue of the event-series a deluxe cover treatment!
Dubbed Power Metallic Gloss covers, each main cover to Civil War II #1 through Civil War II #7 will be printed on heavier stock using metallic ink, adding a glossy shine and sleek finish, enhancing Marko Djurdjevic's already dynamic artwork.
"Civil War II is poised to be the biggest comic book of 2016 and we wanted to give retailers covers that really popped off the shelves," says Marvel SVP Sales & Marketing David Gabriel. "Much like what readers saw with the deluxe cover treatments on Secret Wars #1 and Invincible Iron Man #1, you can bet this cover will look like nothing else on the rack!"
While this extra vibrant Power Metallic Gloss cover is sure to leap off the shelf and provide an exciting lure, fans picking up Civil War II #1 this June will be treated to an explosive thrill ride as this oversized issue kicks off the can't-miss comic book event of the year!
"Brian [Bendis], David [Marquez] and Justin [Ponsor] have crafted an event story that sends shockwaves through the Marvel Universe and says something about the world in which we live," says Marvel Editor-in-Chief Axel Alonso. "To greet fans that run into stores looking for 'Civil War II,' we are proud to deliver a deluxe cover treatment to each issue of the series."
As Civil War II begins and battle lines are drawn, the heroes of the Marvel Universe are faced with a choice: wield the power of "predictive justice" to change the future as they see fit, or reject it and allow tomorrow to unfold unaltered. Find out as heroes clash in Civil War II #1 – coming this June!
CIVIL WAR II #1
CIVIL WAR II #1 LAUNCH PARTY OPT-IN
Written by BRIAN MICHAEL BENDIS
Art by DAVID MARQUEZ
Cover by MARKO DJURDJEVIC
FOC – 04/18/16, On-Sale – 06/01/16
CIVIL WAR II #2
Written by BRIAN MICHAEL BENDIS
Art by DAVID MARQUEZ
Cover by MARKO DJURDJEVIC
FOC – 05/09/15, On-Sale – 06/15/16