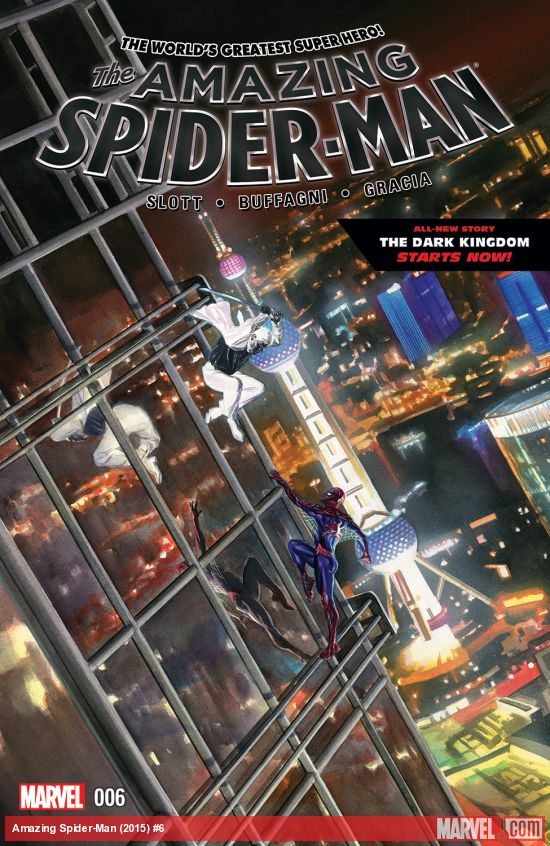 Curious about the new Marvel Comics landing in comic book stores this Wednesday? Curious and a little uninformed? Don't worry, we can help. How? By providing you with the full list of DC Comics hitting comic book stores this Wednesday, 1/6! Helpful, right? You're welcome.
SPIDER-MAN/DEADPOOL #1
Writer: Joe Kelly                                       
Artist: Ed McGuinness
Cover Artist: Ed McGuinness
Release Date: 1/6
ROCKET RACCOON & GROOT #1
Writer: Skottie Young                                         Artist: Filipe Andrade
Cover Artist: Skottie Young
Release Date: 1/6
There's a new criminal mastermind in the galaxy, and it's…ROCKET RACCOON?! How did this happen? SERIOUSLY, HOW DID THIS HAPPEN, YOU GUYS??? Groot knows, but he's not talking! Well, he is talking, but all he's saying is…oh, you know. Diabolical danger, madcap mysteries and astonishing adventure abound as SKOTTIE YOUNG and FILIPE ANDRADE return to tell tall tail tales of Rocket Raccoon, now with the adorable, arboreal Groot along for the ride! If you love adventure, animals, outer space and just about anything in between, this is the book for you!
UNCANNY X-MEN #1
Writer: Cullen Bunn
Artist: Greg Land
Cover Artist: Greg Land
Release Date: 1/6
In a world that's never hated or feared mutants more, there is only one constant: BIGGER THREATS REQUIRE MORE THREATENING X-MEN. Refusing to accept one more mutant death, the most ruthless mutants on Earth have banded together to proactively mow down their enemies. But with a team populated by relentless killers, one question applies above all others: Can they stay away from each other's throats long enough to sever their targets'?
OBI-WAN AND ANAKIN #1
Writer: Charles Soule
Artist: Marco Checchetto
Cover Artist: Marco Checchetto
Release Date: 1/6
A-FORCE #1
Writer: G. Willow Wilson
Artist: Jorge Molina
Cover Artist: Jorge Molina
Release Date: 1/6
A-FORCE, ASSEMBLE! From the ashes of Battleworld, Marvel's newest hero SINGULARITY has risen and entered the Marvel Universe. But she didn't make the journey alone. To combat the most fearsome threats from across the multiverse, Singularity will summon the world's mightiest team of Avengers to her side: SHE-HULK. CAPTAIN MARVEL. DAZZLER. MEDUSA. NICO MINORU. Together, they are A FORCE to be reckoned with!
 THE TOTALLY AWESOME HULK #2
Writer: Greg Pak
Artist: Frank Cho
Cover Artist: Frank Cho
Release Date: 1/6
CHO TIME CONTINUES AS THE HULK TAKES ON THE BIGGEST MONSTERS IN THE MARVEL UNIVERSE! • But can Amadeus handle the brand-new danger of Lady Hellbender? • Also: Trouble in the family! Snack time with Spidey! And more revelations about just what the devil happened to Banner!!
SPIDEY #2
Writer: Robbie Thompson
Artist: Nick Bradshaw
Cover Artist: Nick Bradshaw
Release Date: 1/6
Spidey and Sandman square off in a titanic tale that'll knock you out! Get it? Knock you out? Because Sandman. The book has better jokes than the solicits, we swear!
WEIRDWORLD #2
Writer: Sam Humphries
Artist: Mike Del Mundo
Cover Artist: Mike Del Mundo
Release Date: 1/6
GUARDIANS OF INFINITY #2
Writer: Robbie Thompson, Dan Abnett
Artist: Carlo Barberi, Marco Checchetto
Cover Artist: Jamal Campbell
Release Date: 1/6
TRIPLE THE GUARDIANS! TRIPLE THE DANGER! The GUARDIANS 1000 have arrived! But they aren't the only NEWCOMERS on the scene…The past is under attack, but is ANY time safe? Plus, DRAX GOES MISSING in a story by ROBBIE THOMPSON and MARCO CHECCHETTO!
HOWARD THE DUCK #3
Writer: Christopher Hastings, Chip Zdarsky
Artist: Joe Quinones, Danilo Beyruth
Cover Artist: Joe Quinones
Release Date: 1/6
The entire universe is after Howard! Is it because he's very handsome? Charming? Yes! No, wait. Of course not. Sorry. Howard is actually very difficult to be around sometimes. Also, it's hard to tell if he's handsome since he's a duck. Join Chip & Joe for … DUCK HUNT! The storyline created just so we could use that title! Plus the conclusion of the Howard/Gwenpool backup!
NOVA #3
Writer: Sean Ryan
Artist: Cory Smith, Humberto Ramos
Cover Artist: Humberto Ramos
Release Date: 1/6
VISION #3
Writer: Tom King
Artist: Gabriel Hernandez Walta
Cover Artist: Mike Del Mundo
Release Date: 1/6
A house attacked. A daughter dying. An old, dead friend screaming out in pain. This wasn't how it was supposed to go. The Vision created his family to be normal. This isn't normal. This is terrifying. And it's just the beginning. The epic tale of Vision and his family continues as he fights to remain ordinary, and that fight starts to tear his ordinary world apart.
MARVEL'S CAPTAIN AMERICA: CIVIL WAR PRELUDE #3
Writer: Corona Pilgrim
Artist: Lee Ferguson
Cover Artist: N/A
Release Date: 1/6
THE ROAD TO CAPTAIN AMERICA: CIVIL WAR BEGINS WITH THE OFFICIAL ADAPTATION OF THE SMASH HIT FILM CAPTAIN AMERICA: WINTER SOLDIER! When CAPTAIN AMERICA encounters an assassin named THE WINTER SOLDIER, he joins forces with BLACK WIDOW and FALCON to uncover a deepseated conspiracy in their very midst! It's spy versus spy as the fate of the country hangs in the balance!
DOCTOR STRANGE #4
Writer: Jason Aaron
Artist: Chris Bachalo
Cover Artist: Kevin Nowlan
Release Date: 1/6
Doctor Strange has gathered a circle of magic-using friends to try and best monitor magic in the Marvel Universe. But this tactic is too late as forces are destroying all magical objects and beings in the multiverse and they are turning their sights on our dimension. At least Strange won't have to die alone…
CONTEST OF CHAMPIONS #4
Writer: Al Ewing
Artist: Paco Medina
Cover Artist: victor Ibanez
Release Date: 1/6
INVINCIBLE IRON MAN #5
Writer: Brian Michael Bendis
Artist: David Marquez
Cover Artist: David Marquez
Release Date: 1/6
The big finale to our big first storyline. Cards are turned over. Truths are revealed. Tony's life is turned upside down!
DEADPOOL #5
Writer: Gerry Duggan
Artist: Mike Hawthorne
Cover Artist: Tony Moore
Release Date: 1/6
Deadpool knows who the imposter out to ruin him is! And he has the perfect bait to lure the baddie out…his innocent daughter, Ellie!
SPIDER-MAN 2099 #5
Writer: Peter David
Artist: William Sliney
Cover Artist: Francesco Mattina
Release Date: 1/6
Spider-Man 2099 and Captain America 2099 race through the streets of present-day New York City looking for a dangerous futuristic fugitive!
MIRACLEMAN BY GAIMAN & BUCKINGHAM #6
Writer: Neil Gaiman
Artist: Mark Buckingham, D'Israeli
Cover Artist: Mark Buckingham
Release Date: 1/6
The cast of the Golden Age converges on London to remember, to renew and to rejoice. Miracleman walks amongst the London's Day crowds searching for answers — before revealing a miraculous gift to humankind! Then, in "Retrieval," HE wakes up…and the Silver Age begins! Including material originally presented in MIRACLEMAN (1985) #22, plus bonus content.
AMAZING SPIDER-MAN #6
Writer: Dan Slott
Artist: Matteo Buffagni
Cover Artist: Alex Ross
Release Date: 1/6
One of Spider-Man's most terrifying villains, MISTER NEGATIVE, has followed him to Shanghai. In Mister Negative's service are two beloved Marvel heroes. Wait, TWO HEROES?! What is Mister Negative's plan and how did he convince two fan-favorite heroes to join him? Pick up this issue to find out!
STAR WARS #14
Writer: Jason Aaron
Artist: Mike Deodato
Cover Artist: Mark Brooks
Release Date: 1/6
VADER DOWN, PART FIVE • CHEWBACCA VERSUS BLACK KRRSANTAN! • What else do you need? • Marvel's first Star Wars event continues!