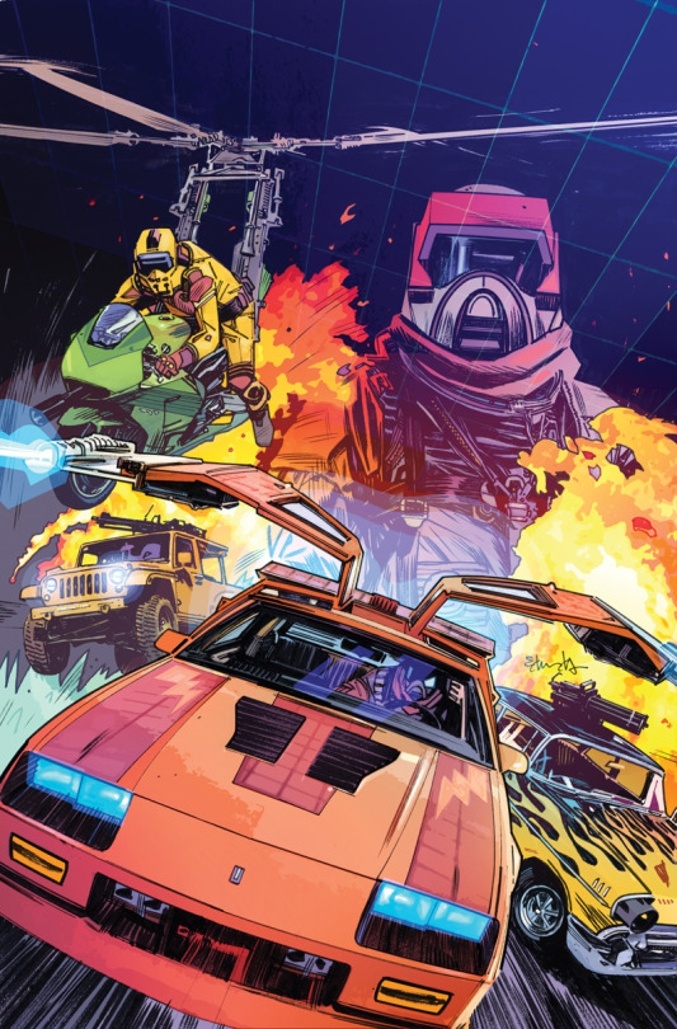 You remember M.A.S.K. right? The classic 80s cartoon (and Hasbro-produced toyline) featuring Matt Trakker and his loyal group of highly-trained agents armed with uniquely powered masks? Muh-muh-muh-MASK? No? Okay, not only did they have masks that projected lasers or propelled objects into the air, they had multipurpose vehicles that "masked" their additional functionality by appearing very much like your average, run of the mill sports car or motorcycle. Enemy agents of V.E.N.O.M. on your tail? Take your car off-road – SERIOUSLY off-road – and into the sky with a very simple transformation! NOW DO YOU REMEMBER?? Anyway, it was a great cartoon and I remember it fondly. If you're like me, and you're currently experiencing said fondness due to my rambunctious reminiscing, you should probably sit down. Why? Because IDW Publishing is releasing a new M.A.S.K. comic series based on Hasbro's M.A.S.K. (Mobile Armored Strike Kommand) property in November. SWEET!
Who's bringing M.A.S.K to us on a monthly basis? That would be writer Brandon Easton (Marvel's Agent Carter, Transformers: Deviations), and artist Tony Vargas (Rot & Ruin). The cover for issue #1 is by Tommy Lee Edwards.
Michael Kelly, head of Global Publishing at Hasbro, relayed a few inspiring words regarding the announcement.
"We've had tremendous success with IDW over the years in re-launching classic brands for a contemporary audience, while still paying appropriate homage to their origins. We are thrilled to welcome a new team to this library of heroes, as M.A.S.K. joins the ranks of Jem & The Holograms, Micronauts, and The Transformers."
Muh-muh-muh-MASK!!!