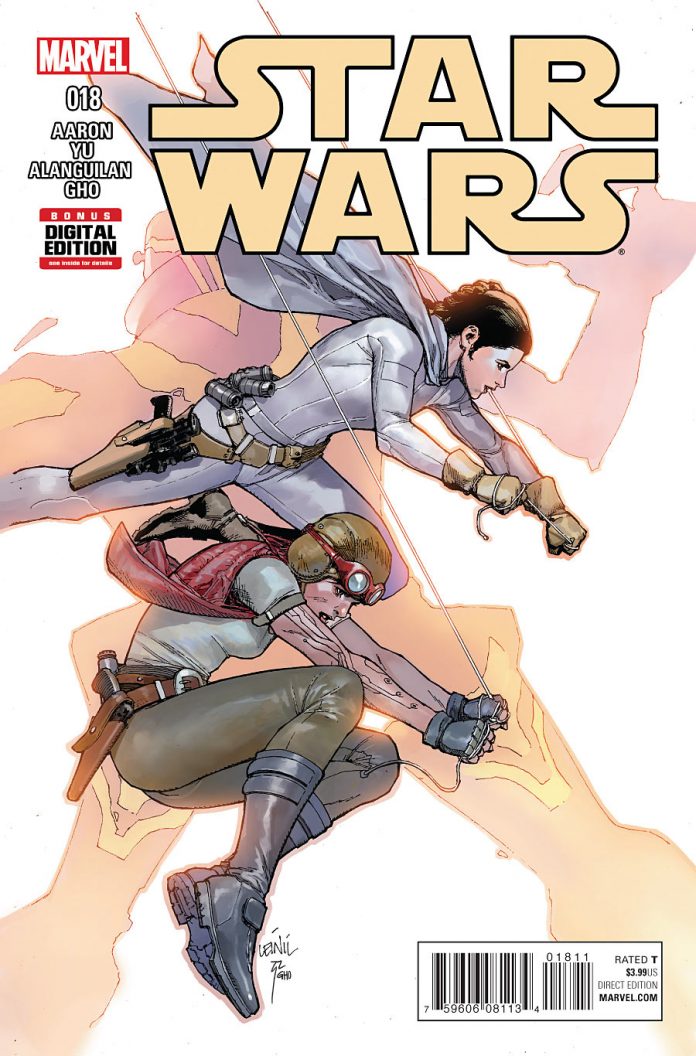 Check out Our Review [WITH SPOILERS] of Star Wars #18
Writer: Jason Aaron
Artist: Leinil Francis Yu
Inker: Gerry Alanguilan Colorist: Sunny Gho
Jason Aaron writes the classic Star Wars characters like he created them. That's how spot-on his Luke, Han, Leia, and C-3P0 are. I would say Aaron also nails R2-D2's voice, but you know, beep boop.
Aaron nails the cadence and rhythms of these characters just as accurately as Luke nails womp rats in his T-16 back home, so with that in mind it's no wonder that Marvel's Star Wars has been so note-perfect. This issue features an attack on a Rebel prison by a mysterious assailant. Aaron has not revealed who his protagonist is just yet, but the question is intriguing. The prison is defended by Leia, and original Marvel creations Dr. Aphra and Sana Starros. Together, the three star-ladies must put aside their differences to prevent the murder of the Rebels' prisoners.
Meanwhile, Han and Luke are on their way back home after an almost disastrous mission (Han lost all of the Rebellion's money in a card game and had to get it back. Oh, Han). You can sense what a blast Aaron is having writing these two legends in particular and this glee shines on the page. When the two storylines smash together, the result is pure Star Wars fun.
Leinil Francis Yu is perfect for Star Wars. His characters look like the actors but aren't overly rendered; his action is fun to look at, and his backgrounds and tech have that perfect Ralph McQuarrie used look that defines this universe.
Star Wars #18 is a reminder that Marvel is killing it on all their Star Wars titles right now, and Jason Aaron's flagship title is leading the revolution.