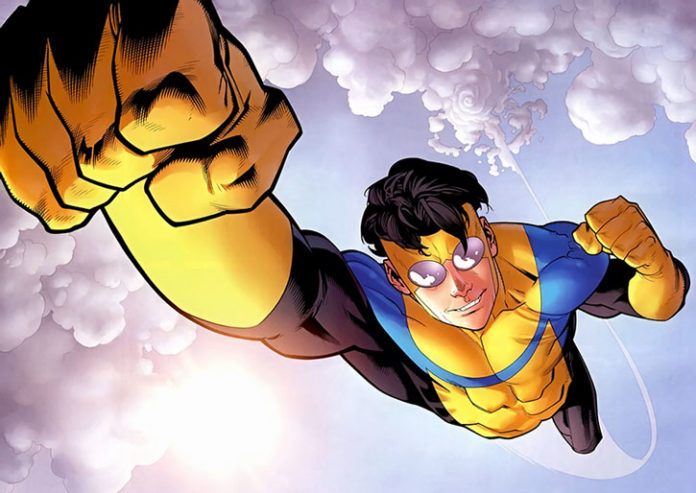 If you were previously unaware of comic book writer Robert Kirkman before AMC's The Walking Dead, you should be very aware of him now, considering the aforementioned show is based on his successful Image comic series and still going strong regardless of the diluted importance of actual zombies. Anyway, yeah, his source material is striking, and makes for an interesting, mature TV serial.
Of course, being a creator, The Walking Dead isn't Kirkman's only quality work; he's also responsible for Invincible, a series detailing the exploits of Mark Grayson, a high school student who discovers his father is an alien, but more importantly, the most powerful superhero ever — Omni Man. Grayson can't wait to inherit his father's powers and when he finally does, he creates his own identity and helps protect the world as…yep, you guessed it: INVINCIBLE!
Preacher creators Seth Rogen and Evan Goldberg are also HUGE fans of the source material and, teaming with Universal, are working to bring the adventures of Mark Grayson to the big screen. You're familiar with AMC's Preacher TV series, right? The show based on the eponymous, hyper-violent comic series created by Garth Ennis and Steve Dillon? Of course you are; it's a critical and financial success, immediately earning itself a sure-to-be-brutal second season.
We've seen what Rogan and Goldberg can do with a beloved comic series, so we're sure they'll handle a movie adaptation of Invincible with the same level of care and craft. In a recent statement picked up by our friends at the Hollywood Reporter, creator Robert Kirkman certainly appreciates his creation landing in capable hands.
"For nearly a decade I've had to endure the 'what about Invincible?' question as fans have watched The Walking Dead grow into the multimedia monstrosity it has become over the years. The answer was always that we were waiting for the right team to partner with. That team has arrived! The esteemed misters Goldberg and Rogen have proven themselves to be top-notch directors with a keen collective eye for stunning visuals after slumming it by writing hit after juggernaut hit."
"Invincible's surprising, edgy, shocking, and oftentimes blood-soaked story couldn't be in more capable hands. With the team of Rogen, Goldberg and Universal, I'm very confident this will be another superhero movie, in a long line of superhero movies that continues to prove that it's a viable, thrilling genre that will keep people coming to the cinema for years to come."
Rogen, Goldberg and Kirkman will write, produce, and direct the film which may take place, if we're throwing out assumptions, from the character's beginnings with more of his history explored in future films.
So, what do you think? ready to see Invincible on the big screen?