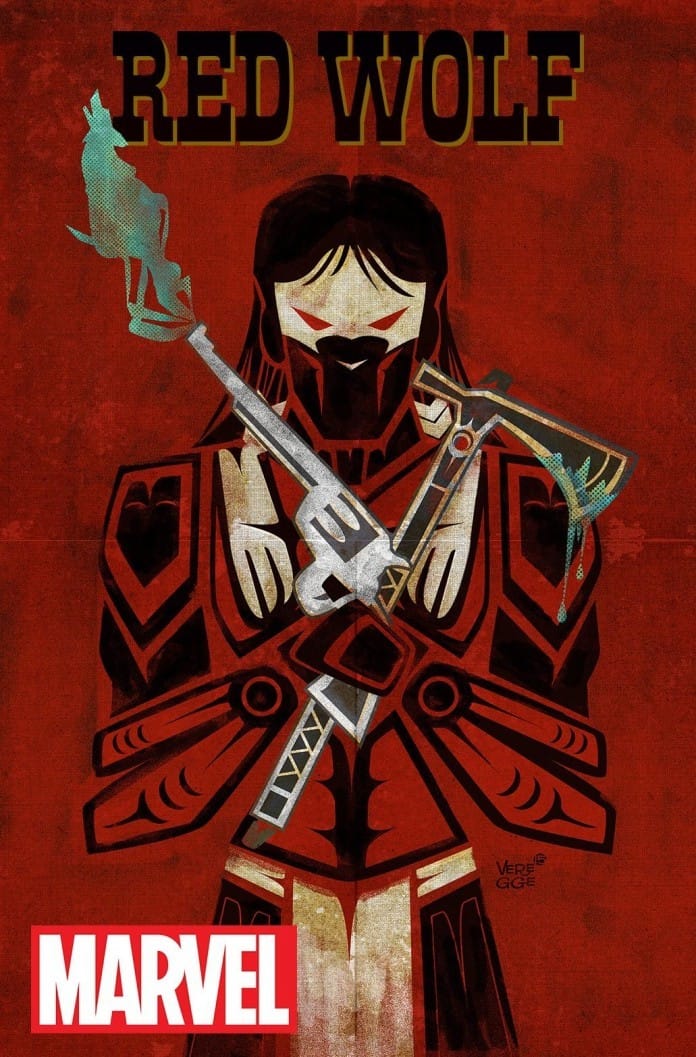 Hooray for new comics! This new preview from Marvel features their new comic book, Red Wolf! Wait, isn't that one of the villains for Starfox? Ack! Wrong series…platform…medium. You get the idea! Take a read through at this official release and take a gander at these fantastic examples of artwork.
Sentinel of the Southwest – Your First Look at RED WOLF #1!
New York, NY—October 27th, 2015 — The Marvel Universe's American Southwest has a hero to call its own! Today, Marvel is pleased to present your first look inside RED WOLF #1 – the brand new ongoing series from writer Nathan Edmondson (Black Widow), artist Dalibor Talajic (Master of Kung Fu) and cover artist/series consultant Jeffrey Veregge! The frontier boomtown of Timely has more than its share of scoundrels, and it'll take a hero to keep them in line. A hero named Red Wolf – the Cheyenne who crossed the desert and stood up to Mayor Wilson Fisk and stood shoulder-to-shoulder with the fallen Sheriff Steve Rogers. But that's all in the past. Following the events of Secret Wars, he'll find his boots firmly transplanted into the Marvel Universe. In a world chock full of super powered heroes—and villains – Red Wolf is going to need all his wits and both his fists to serve and protect.
This December, the tale of how Red Wolf won the West begins in 1872, but his journey will take him farther than you ever thought possible. Don't miss the bombastic debut when RED WOLF #1 comes to comic shops and digital devices!
RED WOLF #1 (OCT150774)
Written by NATHAN EDMONDSON
Art by DALIBOR TALAJIC
Cover by JEFFREY VEREGGE
Variant Covers by DALE KEOWN (OCT150775) and SKOTTIE YOUNG (OCT150777)
Action Figure Variant by JOHN TYLER CHRISTOPHER (OCT150778)
Hip-Hop Variant by MIKE DEL MUNDO (OCT150776)
FOC – 11/02/15, On-Sale – 12/02/15