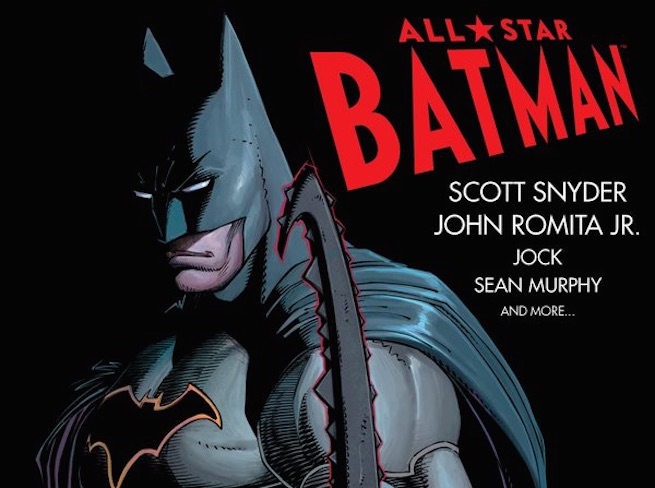 So, you know all about DC REBIRTH and all the new DC titles hitting in June, right? Look, if you don't, I'm not explaining it again. Yes, it's basically a softer reboot kicking off with an 80-page one-shot in May, followed by REBIRTH-specific prologues and new #1 issues in June and July. Ok, so that was a brief explanation, but not a full-blown explanation. For that, you're going to have to travel here because like I said, I'm not explaining it again. Anyway, yes, new titles; one such new title is All-Star Batman, written by Scott Snyder with art provided by a literal "who's-who" of contemporary comic book super-artists. At WonderCon, shortly after DC announced the creative teams behind its REBIRTH initiative, our friends at Newsarama sat down with Scott who shared his vision for All-Star Batman, and dished glorious creative details about the forthcoming series. So, sit back and enjoy as Scott Snyder talks about All-Star Batman.
Firstly, Snyder was asked if All-Star Batman was the next chapter of his Batman story (having recently finished his AMAZING New 52 run):
"Yeah, I didn't want to do something that would be repetitive where I felt like, if Greg Capullo was leaving the book, it wouldn't be right for me to do another Batman #1. And knowing they were thinking about Tom King coming over, I became very vocal about him taking the book because I knew he would do an amazing job. And he's going to. I think he's the best up-and-coming writer in comics, and Batman is gonna be great.
But I was like, 'What does that leave me when I have all these stories I want to do, particularly with all the villains?' And I started coming up with this idea back in August, where I started thinking, what if I do a series where I invite some of the best artists in the series in to do Batman stories, but in continuity with All-Star Batman for the first time ever, make it a new ongoing series that allows me to work with different artists. So it's not really the same thing that allowed me to work with one guy the way I did with Greg, but I'm working on every villain with a different artist that's paired to them, that loves that villain and has a new idea for how to do them. The way we revamped Joker, John Romita, Jr. is revamping Two-Face. And all of that's in continuity, so when they show up in other books, they'll look like these character you see in All-Star Batman."

He was also asked how he arrived at the name All-Star Batman, seeing as how close it is to All-Star Batman & Robin, The Boy Wonder:

"I know! Well, I debated it. But what Tom reminded me is that there's never been an All-Star Batman, there's only been All-Star Batman & Robin, The Boy Wonder. When I realized that, I said, 'You know what? There's never been an All-Star Batman. All-Star Superman is my favorite Superman story of all time.' And what "All-Star" means to me is that it was a brand that invited my favorite creators to do books that were special to them. For me, this book is about inviting creators that I admire to do Batman with me. It's an appropriate title.
I thought about some other ones. I thought about calling it "Shadow of the Bat," or "The Batman," but what it really came down to is that All-Star Batman, for me, said what it is. It's not that I'm an all-star, it's that I'm inviting the best people in the business outside of Greg, because it doesn't get any higher than Greg, to come do this with me. And my friends, also – I've been dying to do a Batman story with Sean Murphy for years. And when John said he was available, a year ago, he said 'Let's do some Batman,' so how do you turn down John Romita? I'm very excited. I can't wait."
Psyched for All-Star Batman? How about DC REBIRTH in general? Let us know below! Seriously, don't be a silent, disengaged, indifferent poop-collector. Say something.