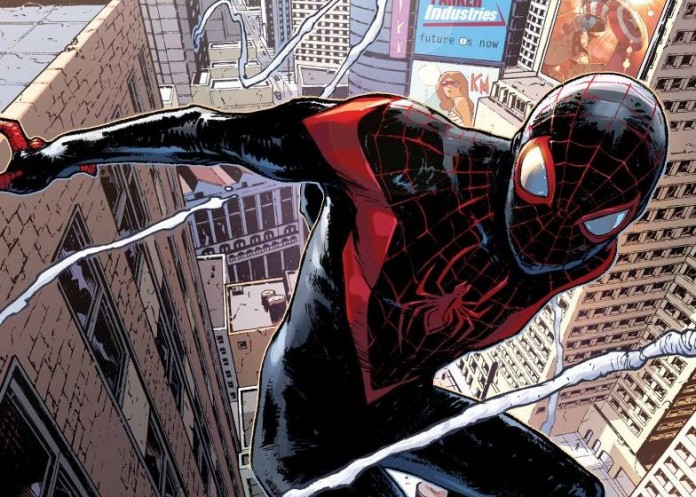 Check out Our Spider-Man (2016) #1 Review [WITH SPOILERS]
It's a new day in an all-new and all-different universe for Miles Morales. But the one thing that stays the same is that with great power comes great responsibility in Spider-Man #1.
As Spider-Man, things have been going well for Miles. He's gotten better at being a superhero and now he's even a member of the Avengers. Juggling his normal life with these new responsibilities is another story; his grades are dropping and he can't get to a date on time since being a teenager is already hard enough. Things get even crazier when the demon known as Blackheart comes to conquer Earth and Spider-Man's the only one left to stop him. But is there something more to this than meets the eye?
As someone who's read a lot of the Ultimate Spider-Man books – before and after Miles was introduced -I was pleased when this series was announced for All-New All-Different Marvel. I was very curious to see how this story would play out now that the Ultimate Universe is gone. I have to say, Spider-Man #1 had just what I was hoping for.
While there are some things that have changed for Miles since the end of Secret Wars, such as his mother being alive again, the story felt a lot like it was continuing his story instead of restarting it. Miles himself remains an entertaining character and a distinct version of Spider-Man, as always. His supporting cast, including his best friend Ganke and his parents, are fun characters and have some pretty hilarious interactions with Miles himself.  Blackheart is also good at being a threatening and ominous villain for Miles to fight, though it's not clear just yet what he wants other than conquering the world.
Brian Michael Bendis does an amazing job at keeping the same tone – blending serious action with good comedy – that readers fell in love with before. The art by Sara Pichelli excels at making the comic's style unique, especially in the action scenes, while staying true to the original look and feel of Ultimate Comics: Spider-Man. It even seems that there are still bits and pieces of the Ultimate Universe that still exist. For instance, there is a mention of the character Lana Baumgartner, who was previously a character in Ultimate Comics. I'm glad there are other things that made it over other than Miles and I'm hoping we see more of that in future issues.
The only negative things I have to say about this comic are minor, but they did bug me a little. The comic itself felt a little too fast and that's strange since not a whole lot happens. We see Miles in school, Miles facing off against Blackheart, and that's about it. Some scenes were just so short I felt like I finished the issue in three minutes. Also, while I liked the artwork for this comic, there were times where the eyes looked a little creepy when a character was expressing shock or surprise. Finally, the cliffhanger was just a little confusing. Blackheart retreats and we see Peter Parker, the Amazing Spider-Man, standing over the fallen Avengers and yelling at Miles…but what does any of this mean? I know it's a little hard to speculate since this is the only issue out right now, but it's a little confusing what to feel about this ending.
Despite the minor flaws I still enjoyed this comic and I am excited to see more. It's definitely a great first step in the next arc of Miles's superhero career and I hope that the next issue keeps the momentum going. If you're a fan of Miles Morales, Ultimate Comics, or just Spider-Man, I recommend you check out Spider-Man #1 for a bit of web slinging action and fun.
Support your favorite Ultimate Earth exile with this neat-o Spiderman Ultimate Symbol T-Shirt!