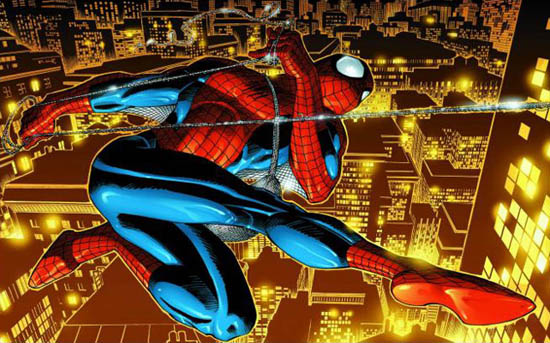 Spider-Man has had some of the best written comic stories of all time. Next to Daredevil, he takes up the most space in my comic collection. When the Spider-Man: Homecoming trailer dropped, like Little River Band, I began reminiscing about my favorite comic adventures of your friendly neighborhood Spider-Man. Let's take a look!
8) Amazing Spider-Man #300 (first full appearance of Venom)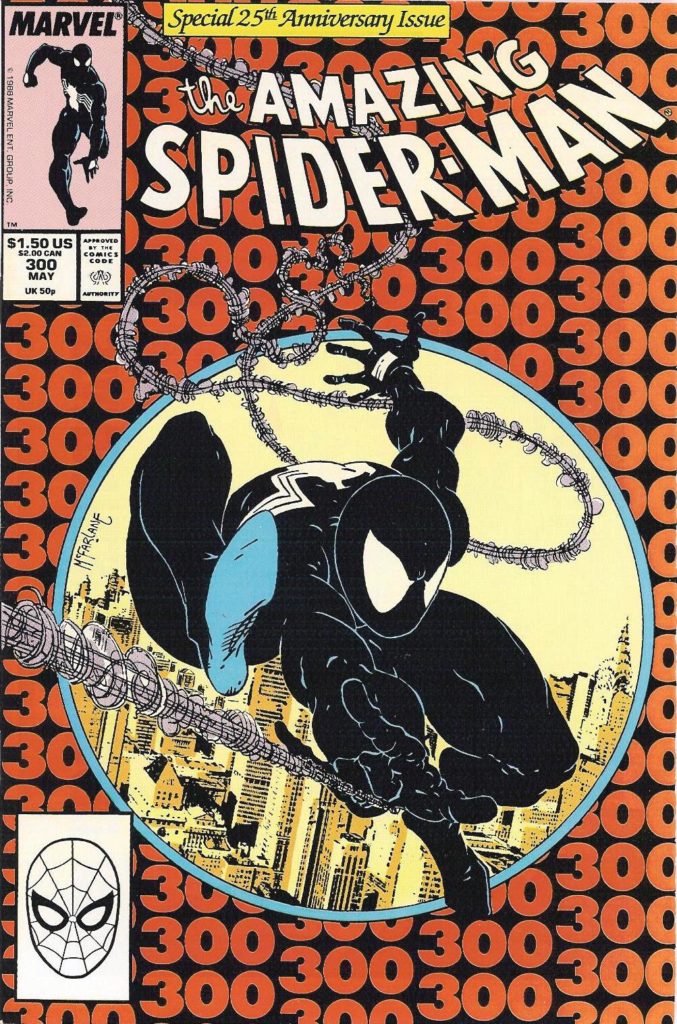 Yeah, it's a little 'hacky' having this on a top Spider-Man stories countdown, but it certainly lives up to the hype. Writer David Michelinie and artist Todd MacFarlane were on a red-hot streak when this hit the comic carousel in the 80s. Sure, the wall-crawler was facing Venom for the first time, but this terrifying new villain was not only his equal, but in some ways his superior!
The artwork by MacFarlane was amazing. This was also a hot book when it first came out. My dad used to sell books at comic book shows in the 80s and he told me people would be RELIEVED if they found it available for $50! That's 80s $50, kiddos! That'd be like buying a comic book at a convention for over $100 now.
7) Amazing Spider-Man #500 (Anniversary Issue)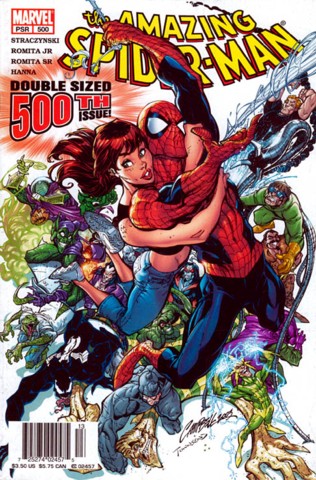 The finale to the "Happy Birthday" story arch by J. Michael Straczynski and artist John Romita Jr. is more of a celebration of the wall crawler than anything. We see Spider-Man traveling through time with Doctor Strange, watching himself get bitten by the radioactive spider, and reliving key moments in his life. This is a good issue for new fans because it gives the hero a sense of history. Also, there is a touching moment with Peter Parker and Uncle Ben that made me tear up a little when I first read it.
6) Amazing Spider-Man #122 ("The Night Gwen Stacy Died" Part 2)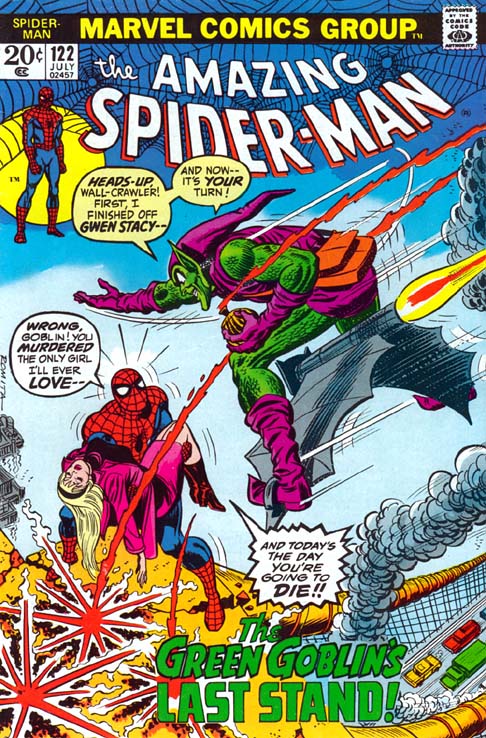 I read this years later knowing full well what was going to happen, but the impact was still felt. In the previous issue, Gwen Stacy, Peter Parker's first true love, plummeted to her death after the Green Goblin threw her off the top of the George Washington Bridge!
In this issue, Spidey and the Green Goblin fought it out to the death. This felt different than any other comic book battle. There was pain and anger behind Spider-Man. This story by Gerry Conway and Gil Kane had emotion. It was beyond personal. There was a sense of finality to it, like the end of one era of Spider-Man and the beginning of another. For years, along with the Els and the Waynes, Gwen Stacy was a permanently dead character. This is a must read for any fan.
5) Ultimate Spider-Man #54-59 ("Hollywood")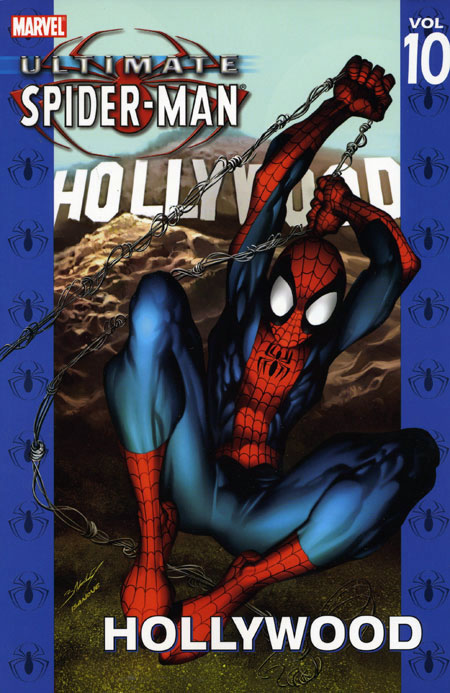 A much lighter tale than other webslinger stories, this takes place in the Ultimate universe. There, in this alternate dimension, the Marvel heroes we know and love originated this millennium rather than the 1960s and 70s.
Written by Brian Michael Bendis and drawn by Mark Bagley, Spider-Man faces off against Doctor Octopus and finds out there is a movie being made all about him starring Tobey Maguire! This story came out around the time Spider-Man 2 hit theaters in 2004, so it was no coincidence Maguire and director Sam Raimi made an appearance. It was so fun seeing Spider-Man interact with his cinematic portrayer.
4) Amazing Spider-Man #506-508 ("The Book of Ezekiel")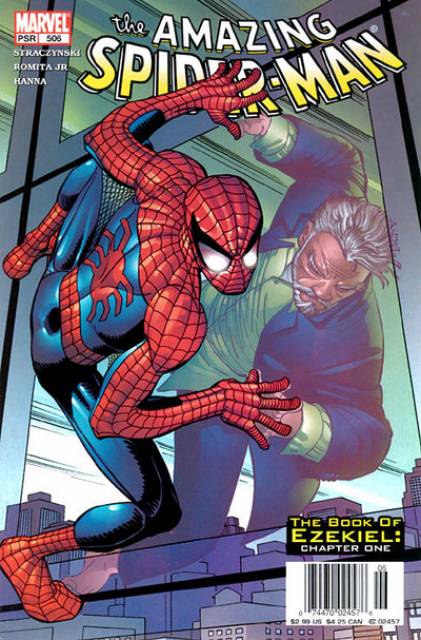 This one holds a special place in my heart. It is the final story arc for the creative team of J. Michael Straczynski and artist John Romita Jr. Here, we have Spider-Man facing off against his former ally, the spider-powered Ezekiel, who was tying like heck to sacrifice Peter to a spider god.
It was fitting Straczynksi and Romita Jr.'s run came full circle ending with a new supporting character they created in their first arc together. Romita Jr.'s art in this whole run is spectacular and needs to be seen!
3) Amazing Spider-Man #39 ("How Green Was My Goblin")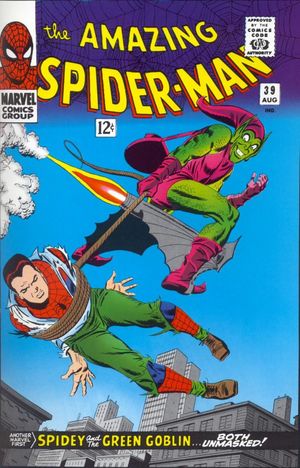 Issue 39 of The Amazing Spider-Man is historic in two ways. First, it was the debut issue of legendary artist John Romita. His art style (along with Stan Lee's writing) is perfect, marking the beginning of a new era for Spidey with bright, vivid panels filled with action.
The other reason it's such a historic issue is because not only does the Green Goblin find out who Spider-Man is (a villain finding out the secret identity of the hero was unheard of back in the 60s), but readers finally find out the identity of the masked, menacing Green Goblin: Norman Osborn, father of Peter Parker's best friend, Harry!
According to lure, a disagreement between Stan Lee and original Amazing Spider-Man artist Steve Ditko caused Ditko to leave the book! Ditko wanted the Green Goblin to be a brand-new character while Lee wanted an established character to be the Green Goblin.
2) Amazing Spider-Man #50 ("Spider-Man No More")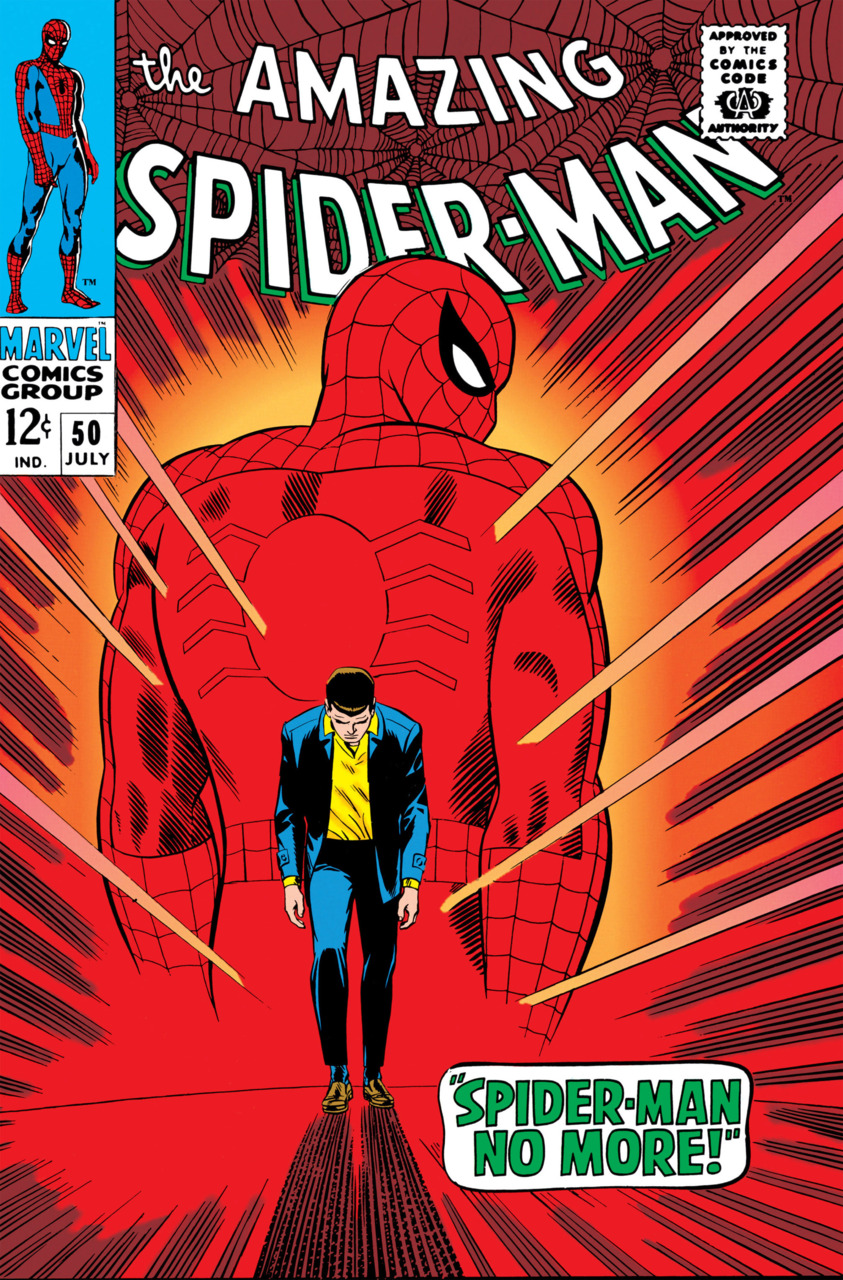 Here, we see Peter Parker temporarily abandon his superhero persona. He wants a normal, happy life and doesn't think being Spider-Man will give him that opportunity. So, he throws away his costume in the trash, looking forward to a new life as plain ol' Peter Parker.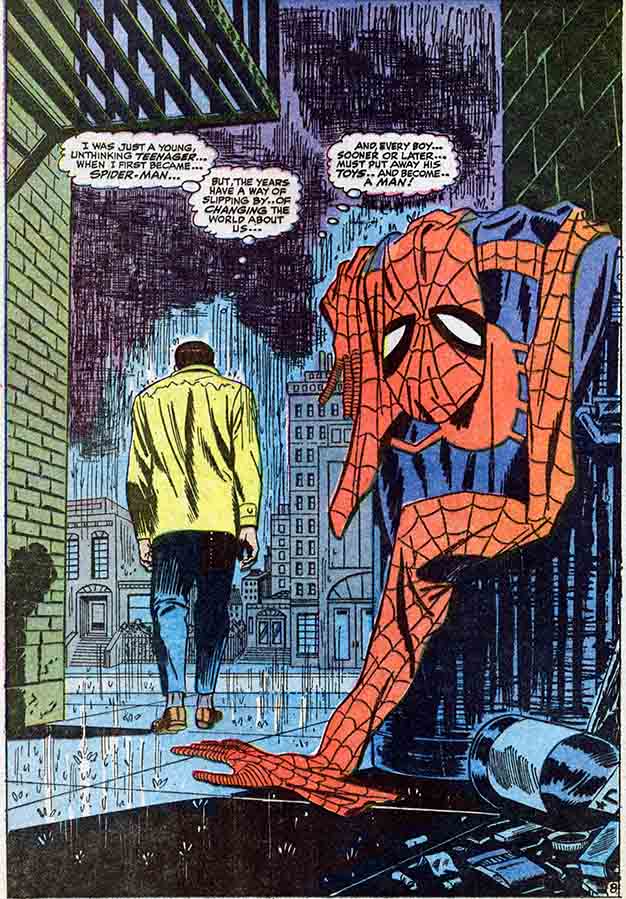 This is one of my favorites for a few reasons. Firstly, Romita contributed amazing artwork in this particular issue. Secondly, it secures the number two spot because this is the first story I can recall that really explores the psychology of a superhero. What is it really like to constantly feel like you have the weight of the entire world on your shoulders? Is being a superhero all it's cracked up to be? Sure, you saved the day, but how much of a toll does it take on you? This was the first to explore it and it broke new ground. Thirdly, it was also the basis for the main plot in Spider-Man 2. An absolute must-read for any Spider-Man or comic book fan, period.
1) Amazing Spider-Man #20 ("

The Coming of the Scorpion! OR: Spidey Battles Scorpey!")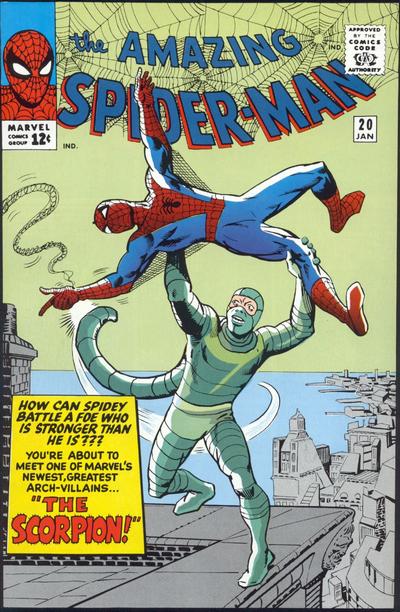 This is my absolute favorite Spidey tale! Sure, the Scorpion isn't as iconic a villain as Doctor Octopus, the Lizard, Green Goblin, Venom or even the Kingpin. Want to know what the Scorpion has on all those other villains? He was the first one to really just beat the crap out of your friendly neighborhood Spider-Man. Doc Oc and the Sandman were walks in the park compared to the Scorpion. He put Spider-Man's abilities to the test for the first time in his career.
What makes the Scorpion's debut so interesting is that he was created in part by J. Jonah Jameson, the editor of the Daily Bugle and journalistic antagonist of Spider-Man. He comes across a scientist who can mutate animals, so he offers up Mac Gargan as a lab rat. Things go great for the Scorpion who brings Spider-Man to the verge of death.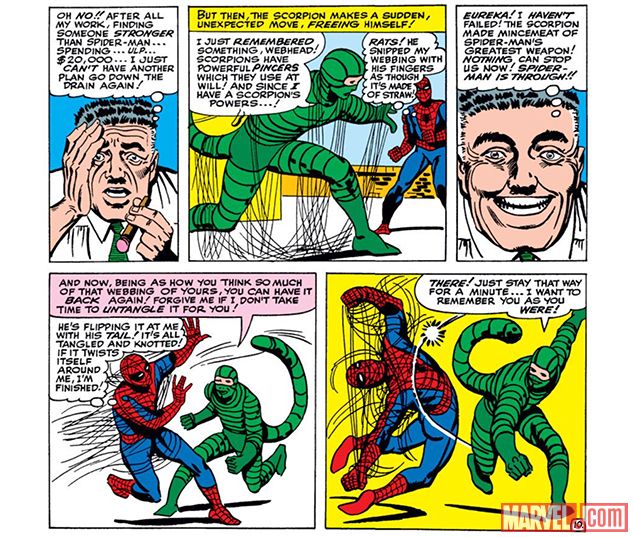 The art by Steve Ditko pops off the panel and it's refreshing to see a hero earn his victory. Now, it's commonplace for a hero to be pushed to his or her limit in comics, but this was the first time you saw your favorite hero doubting himself after an encounter with a villain. It added another element of drama to the story.
So, those are my favorite Spider-Man stories. I know everyone's list will be different, so let me know what your favorite Spider-Man stories are in the comment section below!