With images appearing from the set of a tentatively titled Wolverine 3 –  presumably based on the contemporary comic series, Old Man Logan (although the landscape looks less apocalyptic than one would hope)  – I thought the time was right to celebrate the X-Men's pseudo-immortal, rage-suffering, incessantly imbibing assassin/samurai by compiling a record, a list of the very best Wolverine comic book moments reflected in the whole of Marvel Comics' history. But… I'm going to need your help to put the dang thing together.
Yep, I want you, a loyal member of the good 'ol S.A. (Source Army), to tell us about your favorite Wolverine moment as witnessed in your immense collection of Marvel Comics that just happen to feature an inordinate amount of Wolverine! Here's the nitty-gritty:
In the comments section below, describe the scene, the characters involved, the name of the comic and the issue number(s). And, if you already have it committed to memory, or if your comics are easily accessible and NOT sealed behind a time-locked vault, go ahead and include the names of the creators; this isn't a necessary bit of information, but we'll take it if you have it. So, starting NOW until this Friday, June 17th, go ahead and tell us about your favorite bloody, vulgar, or surprisingly heartfelt Wolverine moment. After we take a look at the suggestions, we'll announce your suggestions during our Friday, Facebook-centric, live-streaming news roundup segment! AND ONE PARTICIPANT WILL WIN THEMSELVES A FREE WOLVERINE T-SHIRT as a "thank you" for participating!

Is your Wolverine moment limited to a certain comic line, time-period or continuity? No, absolutely not. If your favorite Wolverine moment happened in Age of Apocalypse, so be it; it was a great story and a one-handed Wolverine rocking an Ultimate Warrior motif was cool as sh*t. Were you a fan of him regaining his pre-Weapon X memories in House of M? Then testify, sisters and brothers! Here's one to get us started (and no, your description doesn't have to be this long):
Wolverine kills a Mutant teenager in Ultimate X-Men #41. Why? Because over 265 people, including his girlfriend and classmates, burned before his eyes during the violent, pubescent manifestation of his X-gene. Yes, the boy is effectively a walking angel of death, and there's nothing he, or the Xavier's school, can do about it. Enter Wolverine, who imposes upon the boy another option, a final option. Wolverine shares a beer with the troubled "new mutant" in a cave, commiserating with the lad and ostensibly offering understanding. I use "ostensibly" because Wolverine is the only one to leave the cave the following morning. What happened to the boy with a penchant for covering all those he sees in a perpetually burning death-blanket? You know what happened.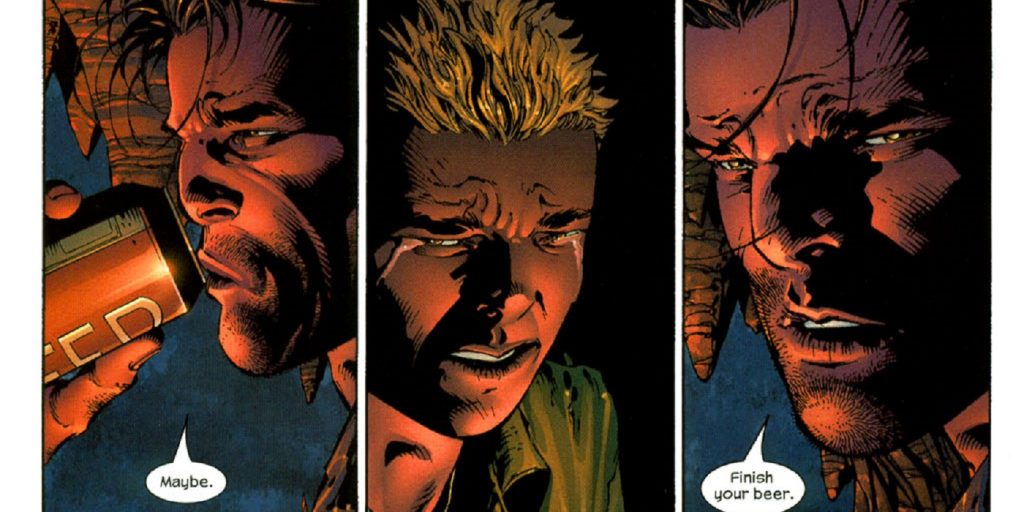 Now, what's YOUR favorite Wolverine comic book moment? Sound off below!