Remember the episode "Surf's Up! Joker's Under," yet another gleefully campy offering from the legendary, live-action 1960s Batman series? Foolish question; of COURSE you do! Yes, in this quaintly colored, sun-drenched episode, Batman (Adam West) and The Joker (Cesar Romero) competed in a "surf-off" in order to…uh…determine whose surfing skills positively pass the mustard? Determine which surfer pulls the better "bail" after accidentally "bogging" on a particularly deep "bombora? No and…no. You see, the Joker thought he could win the hearts of Gotham's citizenry by besting Batman at…surfing! And to ensure his victory, he imbued himself with the abilities of a kidnapped, professional surfer via the "Surfing Experience & Ability Transferometer." Got all that? Good, because FUNKO created the Batman and Joker 'Surf's Up' POP Vinyl figures to commemorate this…uh…rather unique episode. OBSERVE!
It's the Batman Surfs Up! Funko Pop Vinyl Figure!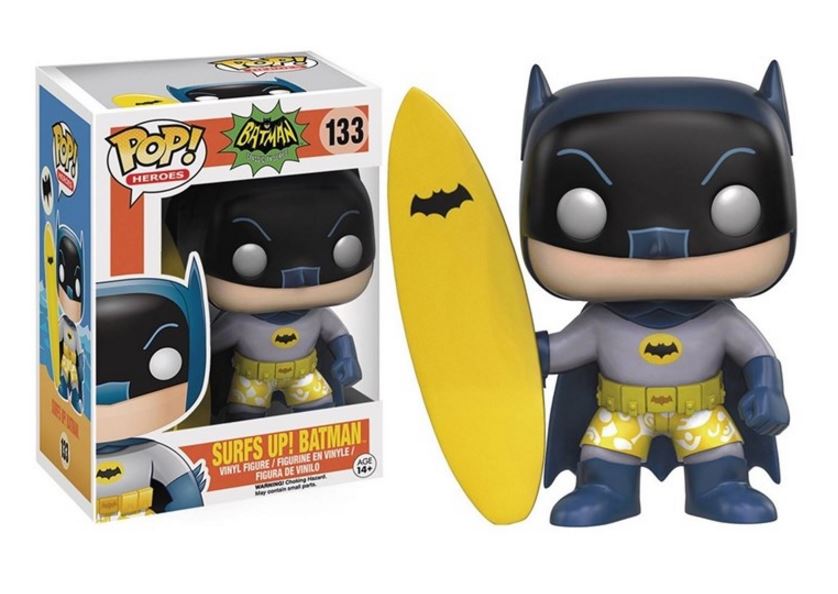 In the yellow trunks, it's Batman! Measuring 4″ high, he Bat-surfs the hell out of any wave without the "Surfing Experience & Ability Transferometer." Yep, he's naturally adaptable, regardless of the level of ridiculousness foisted upon him during this challenging, aesthetically bewildering TV series.
The Joker Surfs Up! Funko Pop Vinyl Figure!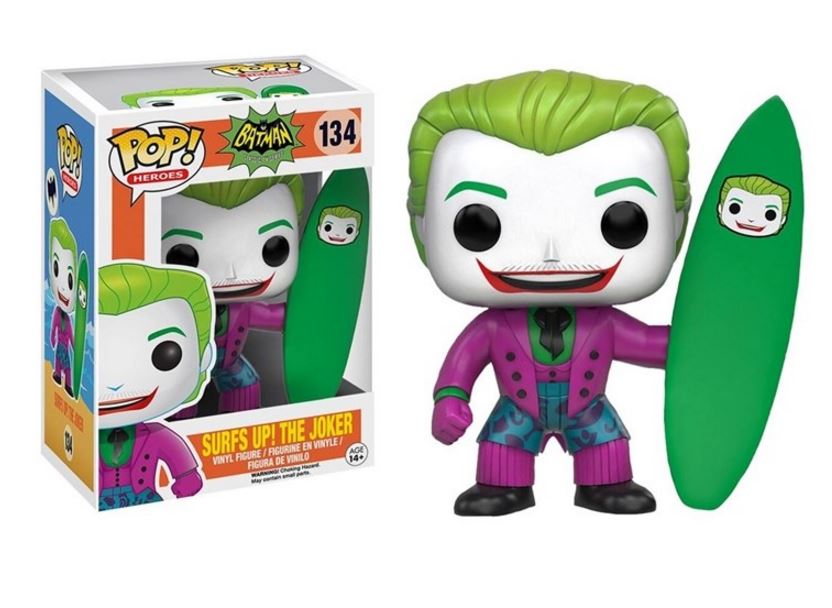 In the green (turquoise?) trunks, it's the Joker! At 4″ tall, this little fella' just wants to be loved! How much does he want to be loved? So much, he'll kidnap a professional surfer and drain his natural abilities in order to 'out-surf' Batman! Look, just don't mention the emaciated corpse of said surfer, or the 3,456 other, unnaturally grinning victims of the Joker's arbitrary, but apparently effective, mass murder tangents.
Oh, and if you think this whole thing is a complete scam in order to sell you ridiculous looking Batman and Joker figures, I suggest you view the below excerpt for purposes of verification.
More Batman toys and figures? Fine, check out our entire line of Batman toys and figures.