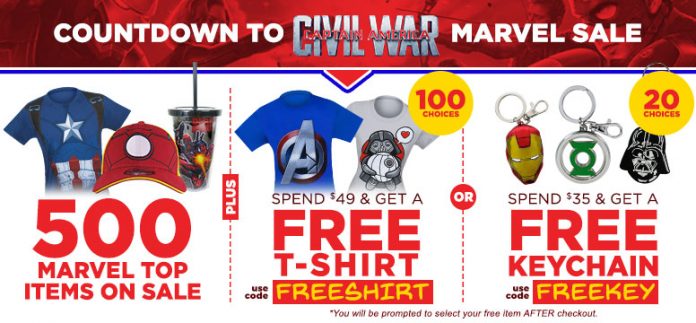 I'm ready to watch Iron Man beat the living sh*t out of Captain America in the forthcoming Marvel film spotlighting, and aggressively expressing, the heroes' collective resentment that's been building since the budding of the good ol' MCU! Well, okay, they didn't dislike each other from the beginning, but the refusal of the Sokovia Accords and the simultaneous mishandling of Bucky certainly turned an air of friendly tolerance to something resembling all-out war!  Okay, it's beyond "resembling;" it's ALL-OUT WAR!! And y'know what? This isn't a bad thing. Why? Because it'll look cool as sh*t on the big screen! So, let's celebrate with our 3-pronged Countdown to Civil War Marvel Sale!
1. WE HAVE 500 OF YOUR FAVORITE MARVEL ITEMS ON SALE!
Everything from t-shirts, to wallets, to socks, to watches, to keychains, all adorned with or rendered in the shape/likeness of your favorite Marvel super-people! Who, specifically? Deadpool! Captain America! Iron Man! X-Men! The Avengers! Captain Marvel! Spider-Man! Hawkeye! Black Widow! Wolverine! More? Yes…AND MORE!!
2. SPEND $49 AND GET A FREE T-SHIRT!
Look, we're not even making you spend an even, easier-to-pronounce $50; we're very much okay with $49. And once you accumulate enough swag to hit $49, we're granting you a free t-shirt. Just add the boldly presented, highlighted code FREESHIRT at checkout, choose your free t-shirt (there are over 100 to choose from), and you're off; you're done; you're blissfully sated until the next Marvel film begets the next unbelievable sale!
3. SPEND $35 AND GET A FREE KEYCHAIN!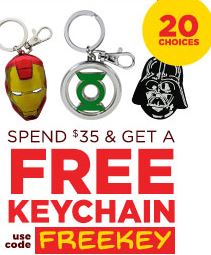 Yep, we're going to give you a free keychain after spending $35 on our amazing, incredible items on our amazing, incredible website! Just enter the boldly presented FREEKEY code at checkout, choose your keychain (20 choices) and…you're off!
So. I'll leave you to it.