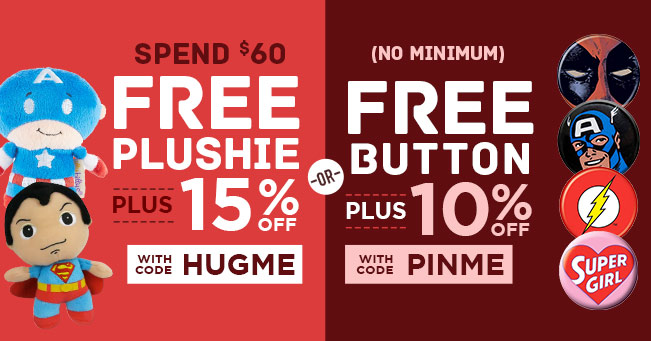 OBVIOUSLY, THIS PROMOTION IS OVER!!!
Yes, from now until February 11th you can earn yourself a FREE Plushie or a FREE Button during our MASSIVE Valentine's Day BLOW-OUT SALE! The aforementioned 'blowing-out' is so freaking vast and significant it had to be expressed in UPPERCASE LETTERS!
So, how do you get this free Plushie? Well, just make sure to spend $60 or more and you've successfully snagged yourself a soft-as-velvet, super-cute, superhero caricature! Oh, and you'll also get 15% off your order! Just enter the code HUGME at checkout!
Don't feel your significant other is worth a measly sixty bucks?? Fine. Buy a few things, enter the code PINME at check out, and get yourself 10% off your (paltry) order and a FREE, nifty-keen button. Not sure what to do with a button? Well, when's the last time you saw your jean-jacket? Hmmm. It's probably in the bottom door with your Rubix Cube, Missing Link and Atari 2600. Potentially.
What kinds of things can you purchase to reach one of the two previously mentioned discount tiers? Why, there are MANY, MANY things to choose from during our massively vast and voluminous V-Day BLOWOUT sale!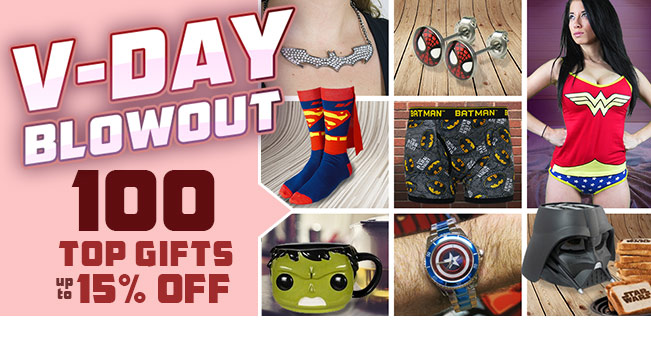 Here are a few highlights (from the very top row since I'm too lethargic to scroll)-
It's the Captain America Symbol and Waist Boxer Briefs! They're made from 90% polyester and 10% spandex….and 50,000% freedom! Uh…the elastic waistband is where the freedom can be found.
It's the Harley Quinn Women's Stretch Chemise! It's made from 92% polyester and 8% spandex, simulating one of the many bits of similar but rotating attire adorned by the Joker's tenacious, incredibly incorrigible main squeeze, Harley Quinn! Oh, and it's shiny! Very, very shiny!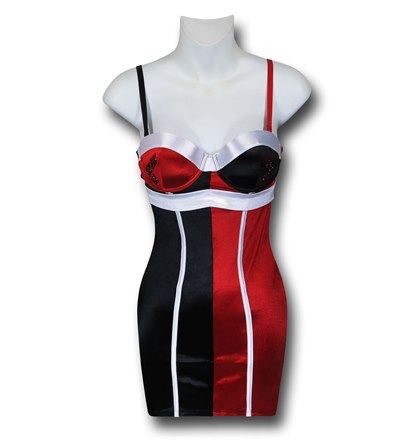 It's the DC Comics 5-Pack Women's Ankle Socks! It's a 5-pack of super-stylish ankle socks made from a combination of 68% acrylic, 30% polyester and 2% spandex! These fuzzy little puppies are adorned with the repetitive patterns of your favorite superhero symbols! LOOK! We have Superman! Flash! Green Lantern! Green Arrow! Oh…and Batman! Warm your piggies with these decadent, superhero symbol-slathered piggy-sheathes!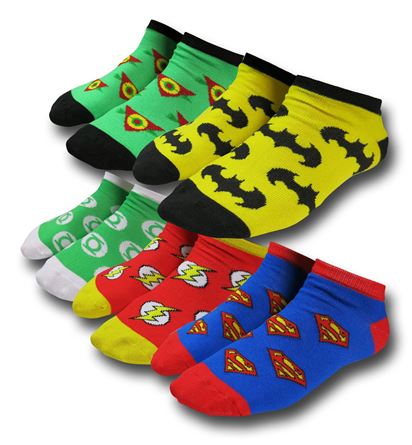 DC Comics 5-Pack Women's Ankle Socks, NOW $21.49!
Want more, you say? Then here's the digital, coded pathway (translation: LINK!) to more AWESOME Valentine's Day gifts/ideas/implements/peace offerings!