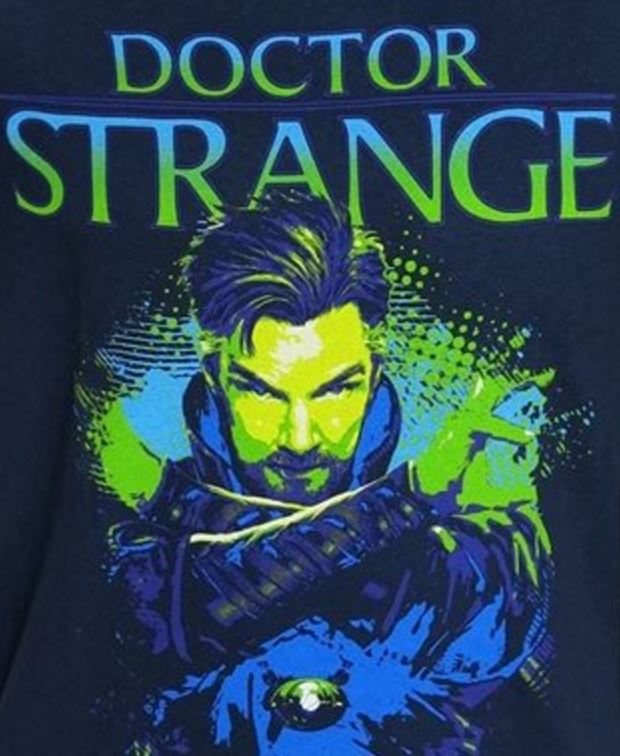 Check out our NEW DOCTOR STRANGE T-SHIRTS BEFORE IT'S SIMPLY TOO LATE FOR YOUR WORLD!
Can you feel it? The warm, ruffling feathers of reality's flexing cellophane opening casually, beguiled by toxic, under-dimensional creatures softy tiptoeing their way throughout multiversal canals in order to reach, and invade, our currently defenseless universe??? Can you sense it? The impending doom brought about by beings not of this world as they enter your bedroom from beneath the bed, arming themselves with towel racks and action figures to properly mangle your skull while you soundly sleep, snarl and snore??
They're coming. The evil, lichen-swarms of multiversal invaders are coming, and there's nothing we can do…except whisper the 'white spell of infinite panic' and summon forth Earth's Sorcerer Supreme, Doctor Strange! HE'LL SAVE EVERY ONE OF US! And, to support his understandably costly 11th-hour rescues, I'll gladly purchase one of these brand new Doctor Strange T-Shirts! OBSERVE!
Made from 100% cotton, this blue t-shirt features an illustrated image of the good doctor portrayed by actor Benedict Cumberbatch. You see, there's a Doctor Strange movie hitting this November and Cumberbatch is playing the titte role. Wait…that vacuous look in your eyes tells me you have no idea what I'm talking about. Here, check out the latest trailer….and believe.
Those 'under-dimensions' I mentioned? The above image simulates a moment within the 10,000,000-year suffocating darkness overseen by Carzkath Big Hands, a fire demon who doesn't appreciate entitled interlopers pursuing mortal justice in the deep, fiery, timeless wastes where such concepts are merely…well, they're just not useful in a deep dimensional well exclusively incubating heat and suffering.
Editor's note: I really have no idea who Doctor Strange is battling on this 100% cotton, heather-blue t-shirt, but I'm confident that it is, in fact, a demon, and its realm is quite sloppy when it comes to expressing happiness.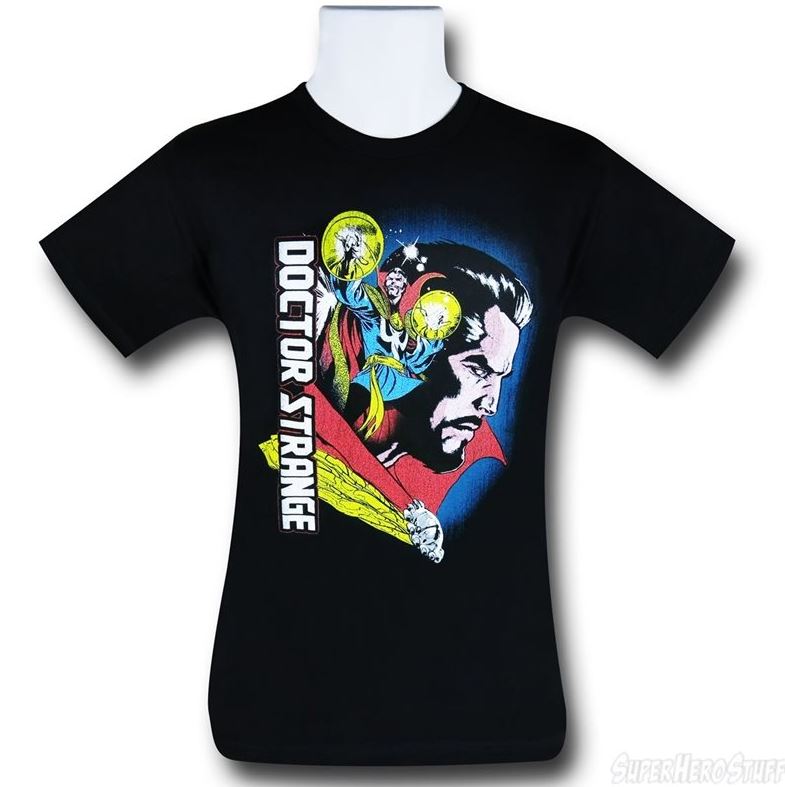 Made from 100% cotton, this black t-shirt features the focused cranium of Doctor Strange lost in deep thought, disseminating mystical spells very much like HTML code in an effort to splice said extrapolated code to other, less volatile spells. Yep, the good doctor is currently spell-crafting (and imagining himself wielding any newly crafted spells).
More Doctor Strange merchandise? Fine, here's our entire line of Doctor Strange merchandise.