That's right, the New Year is almost upon us, and with it a chance to leave behind destructive habits and pick up a few healthy ones! Yes, instead of sitting there, eating chips and playing video games, how about slapping on some athletic gear, going outside and burning some calories…on purpose!??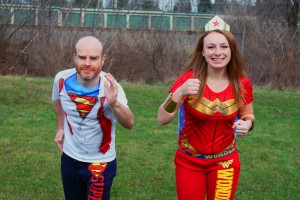 So, regarding that athletic gear; allow us to help you with that! Check out our two runners above, delightfully decked out in superhero-themed, athletic gear! Our determined runner on the left sports the Superman Red Tie Costume Reveal T-Shirt! At $27.99, this flexible, 100% polyester t-shirt features a printed reproduction of Superman's costume existing in a perpetually transformative state! And check out those Superman Side Logo and Symbol Blue Pants he's sporting! At $24.99, these soft, 100% cotton, navy blue pants feature a brilliant Superman symbol and commanding Superman text! Perfect for jogging, gardening, sleeping and lounging, these Superman pants are…..super. Promise.
Our equally determined runner on the right is sporting the Wonder Woman Sublimated Caped Women's T-Shirt! Made from stretchy, form-fitting, 100% polyester, this Wonder Woman t-shirt features a printed reproduction of Wonder Woman's costumed torso! Want more? How about the awesome, removable cape? I mean, it's cool and all, but if you're trying to improve your time, it's kind of a speed-killer. And check out the Wonder Woman Women's French Terry Pajama Pants! Made from 60% cotton and  40% polyester, these Wonder Woman pants are prefect for running, biking, fighting, flying (low altitudes), lounging, sleeping, resting, napping, filleting, folding, foraging and…uh…running! And to complete the look, how about topping it off (literally) with the Wonder Woman Costume Tiara? At $24.99, it's not a very practical, athletic accessory, but it's shiny and looks just like Wonder Woman's tiara!
But wait, what's going with the Yoga practitioners in the featured image at the very tippy-top of the article? Why, they're adorned with the Harley Quinn Women's French Terry Pajama Pants ($29.99), the Harley Quinn Card Shot Women's T-Shirt ($23.99), the Deadpool All-Over Print Costume Fitness T-Shirt ($26.99) and the Deadpool Logo Sleep Pants ($24.99)
YAY!
And there you have it! Now, get out there, move around and…uh…do it without the can of Pringles.
Happy New Year!