They've been poisoning our water supply, forcing us to laugh uncontrollably until our innards catch fire, engaging supermen with ancient, dangerous artifacts from their planets of origin, and throat-stomping superhero sidekicks for over 70 years. Because of this, their litany of terrible, preposterously-themed plans for global domination, we find the recurrence of super-villainy to be….entertaining.
I mean, let's face it; how fun would it be to read about Superman hugging homeless people when it's far more engaging to watch Lex Luthor slam him in the crotch with a Kryptonite mallet. And Batman without his colorful cadre of super-predators would be like reading a magazine about the many exiting shades of off-white paint. Anyway, heroes need contentious forces, and we revel in the entertainment created by these off-kilter conflicts. So, to properly celebrate malicious, sometimes masked murderers and psychologically splintered malcontents, we give you the Villains HeroBox mystery box (of death)!!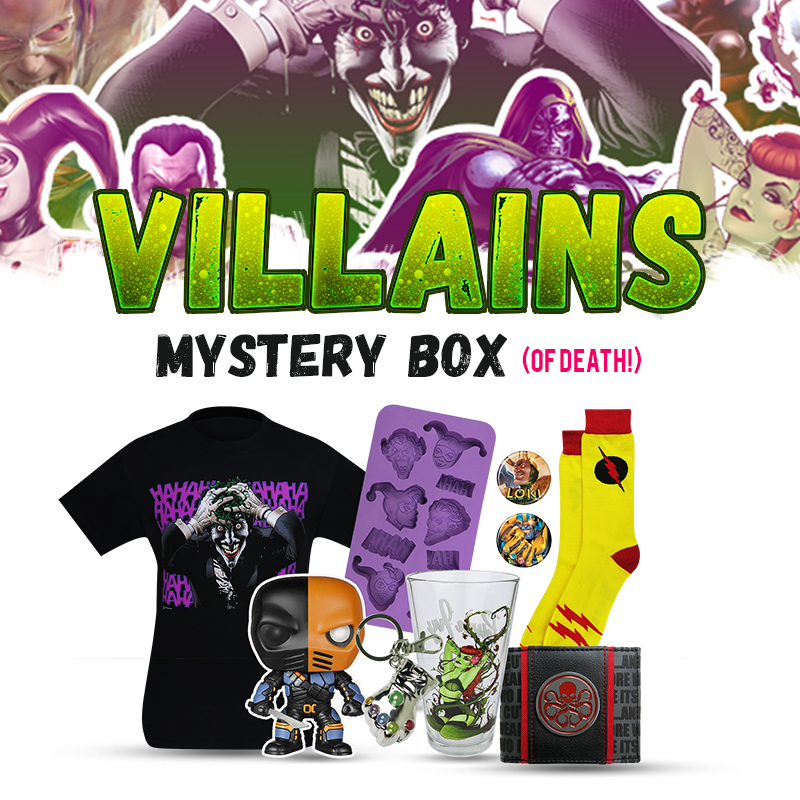 If you're brave enough to order one of these potentially booby-trapped mystery boxes, you should know the neatly packaged trove of terrible treasures is twofold:
The Silver Edition!
This costs you a measly $49 for $70-worth of villain-centric swag!
The Gold Edition!
This costs you a paltry $69 for $100-worth of officially branded super-villain accessories and attire!
What does our Villains HeroBox actually contain?
Well, it will definitely contain a t-shirt of your choice, and perhaps a selection of the following:
A pair of socks!
A glowing rock that weakens ridiculously powerful, gravity-dismissing aliens who look like Tommy Hilfiger models.
A pint glass!
An ice cube tray!
A lanyard!
A baby Parademon!
100,000 wind-up, chattering teeth!
Buttons!
A wallet!
A riddle!
More bath salts than you could ever eat!
So, stop reading this blasted description and add one of these Villains HeroBox mystery boxes to your g-darn cart. Look, we're not condoning their actions, we're simply acknowledging their entertainment value.