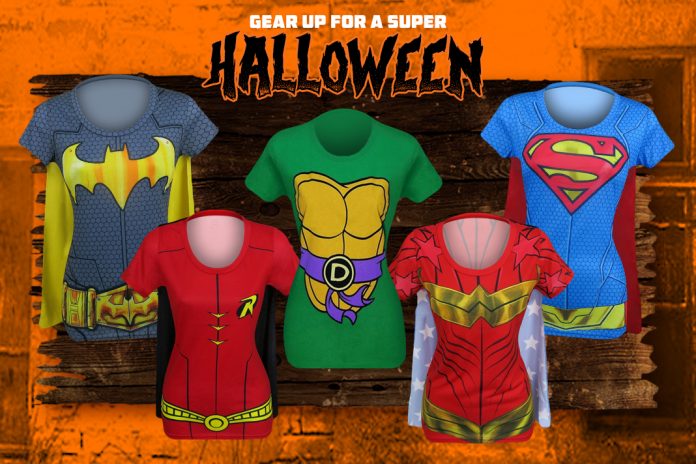 Ladies! Dress up like your favorite superhero/superheroine with any or all of our top 10 superhero costume t-shirts for women! Look, adorn one of the following immaculate costume t-shirts and feel free to throw a dump truck at some googly-eyed punk who keeps asking for your number, and your newly-acquired collection of Kit-Kat bars. Honestly, both questions are liable to get someone super-punched repeatedly until Thanksgiving. Anyway, wear one of these and beat the sizzling sh*t out of crime and unwanted onlookers!
1. It's the Supergirl Suit Up Women's Costume T-Shirt!
It's made from 100% polyester and replicates the scaled uniform of the brazenly chipper Girl of Steel, Supergirl! And yep, the cape is totally removable since you don't really need it; your self-propelled flight is due to gravity manipulation and has ABSOLUTELY NOTHING to do with a fluttering cape.
2. It's the Wonder Woman Sublimated Caped Women's T-Shirt!
Made from 100% polyester, this Wonder Woman t-shirt replicates the likeness of Wonder Woman's uniform in a sharp, sublimated print. And when you're not championing peace in Patriarch's world, but throwing giant, machine gun-toting apes into the Aegean Sea, you can easily remove the velcro-fastened cape. Yep.
3. It's the Robin Sublimated Caped Women's T-Shirt!
100% polyester t-shirt replicating the costumed torso of a certain Boy Wonder, complete with removable cape that DOES NOT protect against combustible materials or fear-inducing toxins. ADDITIONAL WARNING: Robins tend to have a HIGH MORTALITY RATE! The moment Batman begins training you in the "Always put your body between me and the assailant" maneuver, it's time to pack it in and maybe go back to the organic farm co-op.
4. It's the Batgirl Suit Up Women's Costume T-Shirt!
Made from 100% polyester, this costume t-shirt reproduces the likeness of a certain Bat-themed vigilante whose Google-fu is far more impressive than yours. Why, just bask in the printed, protective platelets and utility belt, along with the impressively bolted Batgirl symbol. And yes, you can remove the cape to clean the tofu smudges from your iPad.
5. It's the Star Wars Women's R2D2 Costume Tank Dress!

CLICK!
Made from 94% cotton and 6% spandex, this R2-D2 tank dress reflects the familiar aesthetic of your favorite, cooing-through-beeps astromech droid who probably has a very important recording of someone somewhere; you just have to know exactly which control panel to hit with a wooden ladle.
6. It's the TMNT Donatello Costume Women's T-Shirt!
Made from 100% cotton, this soft, form-fitting t-shirt looks very much like the shelled exterior of the thinking man's Teenage Mutant Ninja Turtle, Donatello! Yeah, pizza is great and skateboarding through sewers at Mach 3 is always enjoyable, but adding a third buzzsaw arm to the Battle-Van is usually more satisfying.
7. It's the Supergirl Women's Costume Tank Dress!
Another variation on Supergirl's super-uniform, this 95% cotton, 5% lycra (spandex) tank dress is perfect for battles occurring closer to super-heated stars like, well, the sun. Yes, even a super-girl could use some lighter material when plunging Mongul through the chromosphere of the sun.
8. It's the Power Rangers Yellow Ranger Women's T-Shirt!
Now YOU can be Trini Kwan, the YELLOW RANGER! This 100% cotton, cornea-melting yellow t-shirt resembles Kwan's Power Ranger costume from the waist up! Now, prepare to inflict devastating space-karate on terrible looking aliens with the help of a giant freaking robot also trained in devastating space-karate. GO, GO POWER RANGERS!
9. It's the Star Wars Chewbacca Costume Women's T-Shirt!
This 50% cotton/50% polyester, surprisingly soft but not-at-all-hairy costume t-shirt is printed in a fashion resembling Wookie hair layered by the always handy bandoleer. EDITOR'S NOTE: This is NOT real Wookie hair. Look, we know they're ancient, and pretty gosh darn rare so we're certainly not hunting them down for t-shirts. Nope. Also, we can't navigate space for sh*t, so we kind of need them.
10. It's the Star Wars C3PO Costume Women's T-Shirt
Made from a 50/50 cotton/polyester blend, this costume t-shirt in rendered in the likeness of that INCESSANTLY ANNOYING protocol droid, C-3PO! Yes, he's annoying. Why? Because his linguistic acumen regarding the mutating dialects of 74,725 known star systems is COMPLETELY IRRELEVANT when there's a battalion of Stormtroopers blasting the hell out of a card game-procured spacecraft that MIGHT NOT MAKE IT OFF THIS ASTEROID!!! Also, he just needs to let R2 be R2. Every time the droid beeps flippantly, C3 instigates a damn sissy spat. Calm the hell down, C-3PJERK!!!!
More costume tees and other related costume stuff? Here, check out our entire line of costume t-shirts and other related costume stuff.