Well, it's that time of year again! The wait was killing us, but soon all our patience will pay off once we all step foot inside this year's New York Comic-Con! The NYCC has so much to see and do, that there are COUNTLESS reasons to get stoked for it! Having trouble figuring out what you should see? Luckily, we've got the list for you! Here are a few reasons why we're excited for NYCC!
The Panels!!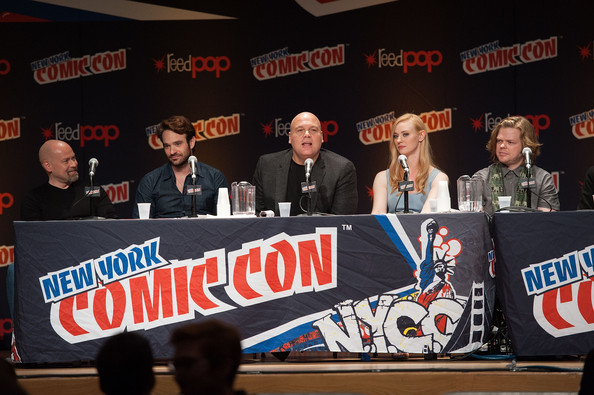 From movies, to TV shows, to comics and various other things; panels have a lot to offer Comic-Con goers! This year's got a whole lot of surprises on the way for the convention guests! You'll get an inside look at what's to come from Marvel, DC, Image, and more! There are also previews and premieres for things like Shin Godzilla, Justice League Dark, and The Walking Dead! Not to mention there's multiple other panels where you can see what it takes to break into comics from the writers themselves! No matter what your interests are, I guarantee there's a panel for you at the convention!
The Cosplayers!!

I know EVERY SINGLE ONE OF THESE CHARACTERS!
Now here's something you don't have to go too far to see! Comic-Con just wouldn't be complete without the enthusiastic fans in costume, the cosplayers! As you walk the convention halls you're bound to see people dressed up as your favorite fictional characters! It's fun to look at all the different characters in one room and they're always happy to have their picture taken. There's even some who decide to get creative and put their own spin on who they're dressing up as and that's always a blast to see!
If you're a cosplayer yourself, the NYCC is also a great meet-up place for like-minded people who like to express their passion through costumes. Not to mention there's the always fun cosplay contests! No matter how you look at it, the cosplayers always bring more energy to the party.
P.S. If you're with friends, then I've got a fun game you can play that I call "Spot the Deadpool". As you walk around the convention try to spot as many Deadpool cosplayers as you can. Regular Deadpools= 1 point and Variant Deadpools=3 points. The one who has the most points at the end wins!
Events, Giveaways, and More!!
Looking for some excitement? NYCC has just enough fun for everyone! You can meet all sorts of celebrity guests for autographs and photo-ops you can't get anywhere else! Then there are the tons of fun events all around the convention center, like "Blast-a-Trooper" or "Geek Geek Revolution" to participate in. There are even giveaways and raffles of all kinds with lots of goodies to collect! There's no shortage of things to do and the possibilities are as endless as the fun is!
Stan Lee's Final NYCC Appearance!!

This will be the last time.
Yup, it's been confirmed that this year's New York Comic-Con will be the last time the legendary Stan Lee attends. It's sad to think this will be the last time that many of us will ever get to see Stan Lee in person, but that's all the more reason to add this meet-up to your Comic-Con to-do list! If you ever wanted to meet or get an autograph from the "Generalissimo" himself, now's the time to do it!
The Source and SuperHeroStuff Will Be There!!
If you thought we were sitting this one out, then think again. That's right; we're going to be at NYCC too! We'll be bringing you the stuff you love and then some. And yes, dear readers, we've got deals up the wazoo! Free buttons with any purchase, $25 off your next online purchase if you spend $65, and to you lucky few who can find our Editor-in Chief, free comics! If you're a fantastic fan of The Source or you just love the super-awesome merchandise of SuperHeroStuff.com, make sure to stop on by booth #1866 and say, "HELLO!"
What are you excited to see at NYCC? Let me know below!