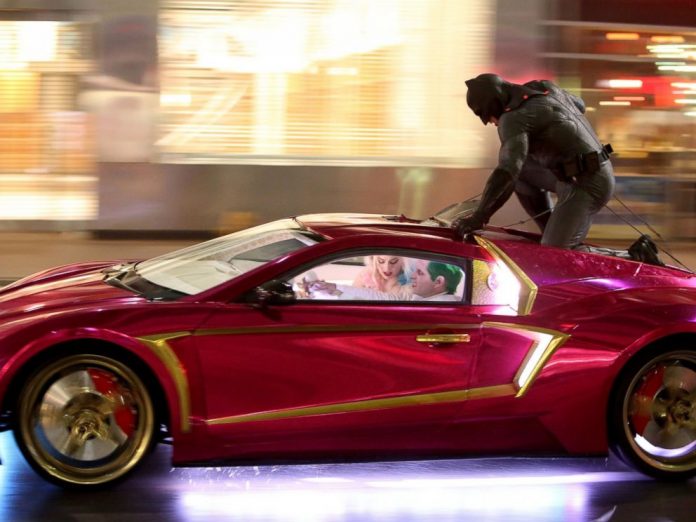 Okay, so we know Batman is appearing in David Ayers' villain-populated buddy-film, Suicide Squad. What we don't know (or "didn't" since you're bound to keep reading) is the length or extent of Batman's role in a film starring a few of his more popular, more consistent detractors. Would he be showing up within 30 seconds, pinning Harley to the wall and demanding the location of Joker? Would he wrap the Squad in an electrified Bat-fence and demand Amanda Waller pull the plug on Task Force X? Well, according to our friends at Batman-News, Batman's role in Suicide Squad is pretty much relegated to a cameo, and it seems less confrontational than one might surmise, expect, or adamantly beg and plead for.
Firstly, according to the source, Batman doesn't get into a huge "Batman V Suicide Squad" brawl. That, my friends, sounds like a completely separate endeavor. However, Batman has a scene with Will Smith's Deadshot being described as "emotional," and a later scene with the amazingly accurate anti-hero that is more than likely a flash-back.
The site then elaborated on the scene we're all familiar with; a hood-surfing Batman clinging to the getaway vehicle driven by Joker and Harley Quinn (who's not driving, but totally abetting).
.
"Next is the car scene that we saw in the trailers with Batman, The Joker, and Harley Quinn. Unfortunately there isn't much interaction between Batman and the Joker here. It's mostly between Batman and Harley. A report came out last summer that said the Joker's car plunges into the water, and as we saw in the latest trailer, it does and Batman gets Harley out safely."
I'm thinking Joker purposely submerged the car and escaped, allowing a drowning Harley to distract from Batman's initial person of interest.
So, what do you think? Is any amount of screen-time ample for the determined Dark Knight, or is there a need to increase Batman's current cameo designation?
Let me know…NOW! RIGHT NOW!