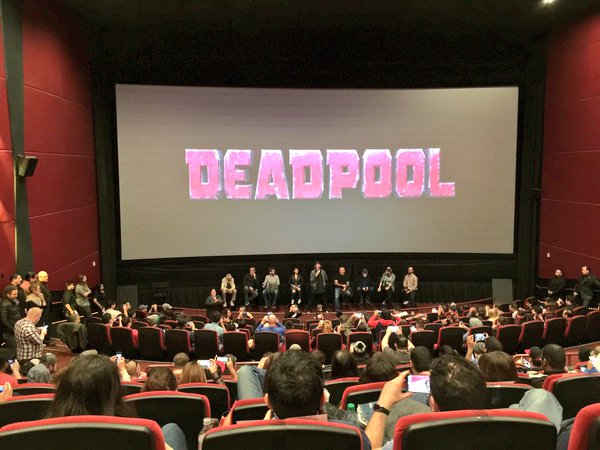 Surprise, Surprise! It looks like there was an early screening of Deadpool yesterday and lo and behold…the fans loved it. Hosted in New York City, Twitter immediately became awash in reactions to the movie and they've all been generally positive. No! More than that…they freakin' loved it. Just look at some of the early reactions below!
John Mike Melendez @MrMikeMel Holy chimichanga! Deadpool was phenomenal!!! Such a great job, well done guys!! #Deadpool #DeadpoolMovie @ROBLIEFELD
Gregg Katzman @GreggKatzman This #deadpool fan's happy. Really fun movie. Overall plot's standard, but consistently strong comedy, fan service & action overshadow that.
Lucas Siegel @LucasSiegel Well, hell, you guys. They went and made an amazingly awesome, fun, exciting #Deadpool movie. It's outstanding.
Eddy @ItsEddynotEddie #Deadpool is so freaking drop dead awesomeness. Why did I use those words together well cause I just died #Vsauce
Rachel Howard @racheljhoward Just saw early screening of Deadpool. The movie is f**king amazing. Everything I was hoping for from the Merc with a Mouth! #deadpool
Rachel Howard @racheljhoward And like all marvel movies, make sure you wait for the tag at the end of the credits! Self aware and referential, perfect Deadpool.
Jenna Ezarik @jennaezarik Got to see Deadpool a month early. BEST MOVIE I'VE EVER SEEN. SO GOOD.
Nadeshot @Nadeshot This is how I just spent my afternoon! OFFICIALLY ONE OF MY FAVORITE MARVEL MOVIES OF ALL TIME. SO GOOD!
Erick. @ErickGSinatra#Deadpool was freaking amazing!!!!!! So damn hilarious, so dumb & probably one of my favorite movies!!!! @deadpoolmovie
daddy @MajinBuunnyLITERALLY BEST MARVEL MOVIE. I was lowkey hella doubtful but by far best executed movie i've seen in a long time.
Joe P Harris @Joe_P_Harris Deadpool is an absolutely fantastic movie!!! Go and see it Feb. 12th!! #deadpool #robliefeld #fox
Phillip acosta @pacosta289 Just watched #Deadpool a month before it's out and it's f**king amazing, #DeadpoolMovie #Marvel #Epic
Andre Lee @andre30496@deadpoolmovie #DeadpoolMovie #Deadpool the movie was amazing!!! THANKS FOR THE EVENT AT NYC!
Pretty impressive, right? We wish we would have gotten an invite that's for sure. Deadpool originally started off as leaked test footage and through the sheer determination of fans became a full-fledged film! It is also one of the few 'R' rated superhero films so hopefully it still does well. Starring Ryan Reynolds, Morena Baccarin, T.J. Miller, Ed Skrein, Gina Carano, and Brianna Hildebrand, Deadpool is set to be released on February 12th, 2016.