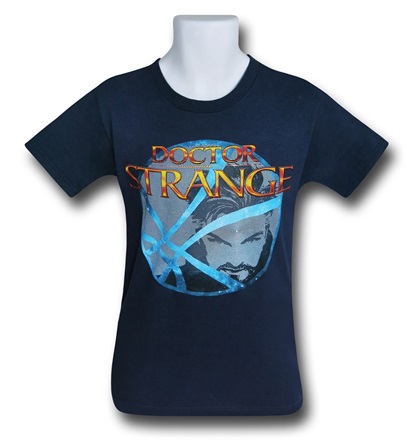 …because finding the home of Marvel's Sorcerer Supreme is a real pain in the tookus, considering the damn thing phases in and out of reality on an inconceivable rotation. Plus, you would need a Spell of Finding or some other magical equivalent to seize up the damn phasing so you could physically interact with the place and knock on the front door. Sure, he has a business card, but the letters of the once plainly written address keep changing, and the card tends to spontaneously combust. Yes, Doctor Strange is here to help, but finding him is a b*tch. Well, it was, anyway. Apparently, technology has caught up with the good Doctor's many spells of concealment, considering Doctor Strange's Sanctum Sanctorum is now on Google Maps.
An especially perceptive (and daring) fan discovered the location of Doctor Strange's magical abode after typing in the super-wizard's classic, comic book address: 177A Bleecker Street in Manhattan. OBSERVE!
Love this. Type 177a Bleecker Street into Google Maps and this shows up. (I think it's actually a grocery store on that spot) #DoctorStrangepic.twitter.com/FSx6wwuFbb

— Chris Hewitt (@ChrisHewitt) October 24, 2016
Now, as a fan, he was aware of the actual address, but if you simply type "Doctor Strange's Sanctum Sanctorum", you'll find it just as easily. After entering the address myself, I'm confronted with a two-hour-and-thirty-six-minute drive. Road trip? Possibly.
Another interesting bit: Google classifies it as an "Association or Organization" which, conveniently, lists Marvel.com as its web address.
A small, more personal bit of advertising "magic" in an effort to promote Benedict Cumberbatch's turn as Doctor Strange in the forthcoming film? You bet. Effective in its translation of nostalgic, comic-accurate lore to the real world? Abso-freaking-lutely. Well done, Marvel.
Doctor Strange stars Benedict Cumberbatch, Chiwetel Ejiofor, Rachel McAdams, Benedict Wong, Michael Stuhlbarg, Benjamin Bratt, and Scott Adkins, with Mads Mikkelsen and Tilda Swinton. Scott Derrickson is directing with Kevin Feige producing. Louis D'Esposito, Victoria Alonso, Stephen Broussard, Charles Newirth and Stan Lee serve as executive producers. Jon Spaihts and Scott Derrickson and C. Robert Cargill wrote the screenplay.