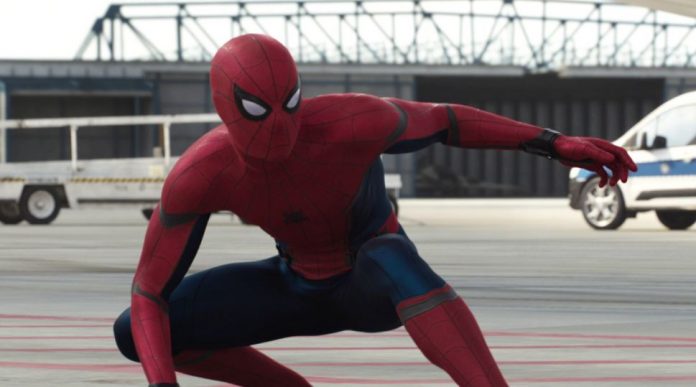 Thanks to @tomhollabr — a Twitter account devoted to actor Tom Holland thanks to the ever-increasing Tom Holland fan-base — we may have just stumbled across a brand-new Spider-Man: Homecoming movie poster. In fact, we're getting our first look when the worker responsible for applying said poster gets his first look. OBSERVE!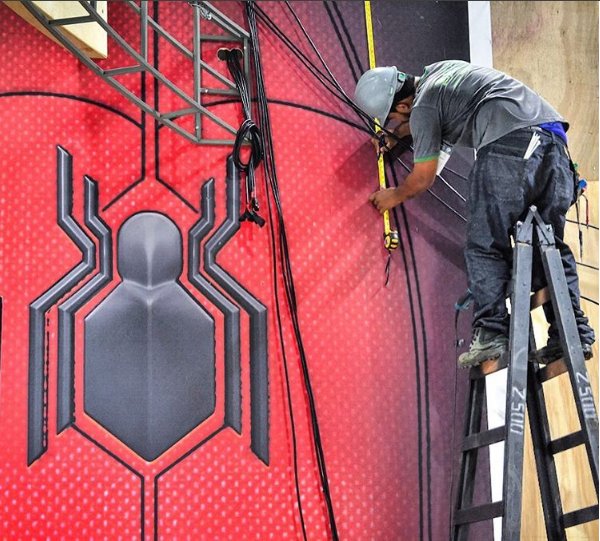 Taken somewhere within the halls of Brazil's CCXP (a super-comic convention held in, yes, Brazil), this Spider-Man Homecoming teaser poster boldly displays the very sharp, modern, angular Spider-symbol over the flexible red mesh of Spidey's Stark-produced threads.
And a bold Marvel statement regarding the MCU Spider-Man's first standalone film seems a necessity, considering the Twitter account confirmed the release of the very first teaser trailer during this Spider-centric event. Yes, rumors had the first trailer preceding Rogue One: A Star Wars Story, but it might hit sooner, like, THIS FRIDAY, if the proclamations of this very Holland-centric Twitter account are on the up and up.
And, if it debuts during the Spider-Man: Homecoming panel this Friday at the ol' CCXP, does that mean the trailer might drop sooner online? Is it happening…NOW? Crap, I need to wrap this up so I can post the trailer if it drops in the next 45 seconds to 14 days.
Debuting July 7, 2017 and directed by Jon Watts, Spider-Man: Homecoming stars Tom Holland, Marisa Tomei, Robert Downey Junior, Zendaya, Donald Glover, Logan Marshall-Green, Michael Barbieri, Hannibal Buress, Martin Starr, Kenneth Choi, Laura Harrier, Tony Revolori, and Michael Keaton.