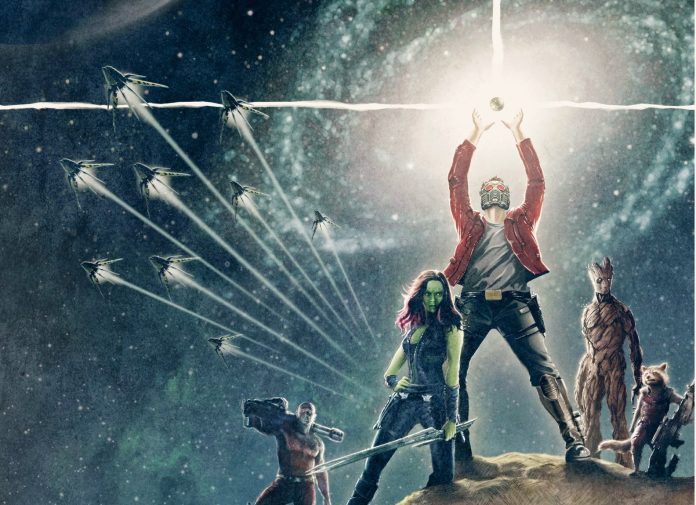 Oh, James Gunn, you rascal. I say this because the Guardians of the Galaxy (and yes, Vol. 2) director just shared some new Guardians of the Galaxy Vol. 2 concept art ahead of its debut in a forthcoming issue of Empire Magazine. So…you rascal, you! Yes, James Gunn delivered this intriguing illustration, complements of artist Andy Park, through his very own Twitter account. OBSERVE!
First digital look at #GotGVol2 concept art shared in the new @empiremagazine. Have a great week, all! #GotGpic.twitter.com/frZLH5JqjC

— James Gunn (@JamesGunn) August 22, 2016
And here's a slightly larger version for your viewing pleasure.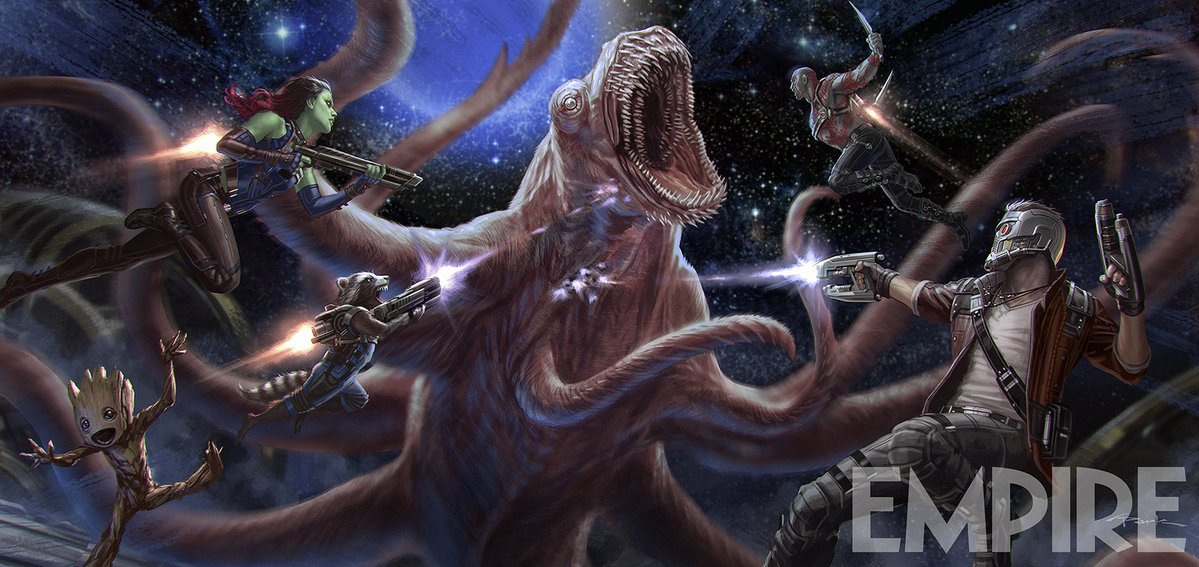 It looks like Gamora, Drax, Star-Lord, Rocket and baby-Groot are fighting some despicable, space-faring, sea cow/octopus abomination (Gunn calls it an Abilisk) in the deep recesses of…the Crab Nebula. Maybe. And it should be noted that baby-Groot isn't fighting. At all. In fact, I would say he's…dancing. Not sure how this is helpful. Cute as a button, though.
What's lacking are appearances by Mantis, Nebula and Yondu. Do they arrive later, or are they waiting to see who wins in order to kill the survivors? And is this actually going to happen in the film, or is this just some snazzy bit of promotional art to get our collective GOG juices…uh…flowing?
Whatever. It's the cat's pajamas.
Written and directed by James Gunn, Guardians of the Galaxy Vol. 2 punches space in the gut-hole on May 5th, 2017, starring Chris Pratt as Peter Quill/Star-Lord, Zoe Saldana as Gamora, Dave Bautista as Drax the Destroyer, Vin Diesel as Groot, Bradley Cooper as Rocket Raccoon, Michael Rooker as Yondu Udonta, Karen Gillan as Nebula, Glenn Close as Irani Rael, Pom Klementieff as Mantis, Kurt Russell as Peter Quill's father, Elizabeth Debicki as Ayesha, Chris Sullivan as Taserface, Tommy Flanagan as Tullk, Sean Gunn as Kraglin Obfonteri, Nathan Fillion as Simon Williams, Steve Agee, and Sylvester Stallone.