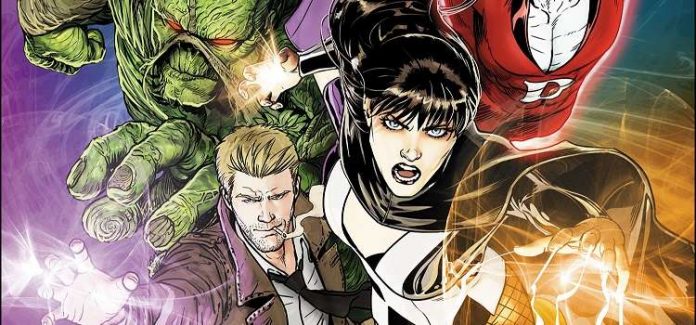 After Batman: The Killing Joke debuted at the San Diego Comic-Con this past weekend, it appears the special features recently spilled online, including a featurette focusing on the next DC Animated Film, Justice League Dark! OBSERVE!
It looks like Batman will be joining with a contingent of DC's supernatural characters, including Zatanna, Etrigan the Demon, Swamp Thing, Constantine, Black Orchid, and Boston Brand; this is a line-up very similar to the eponymous comic series debuting during DC's New 52 line.
Wait….Batman? Yes, Batman. Remember, Batman strives to be an expert in all things, including realms of thought and practice where extraordinary logic is applied.
Oh, and Superman and Green Lantern John Stewart show up. Is there a larger problem here
the Justice League is completely aware of, but completely incapable of stymieing? And does this place Batman in the position of infinitely curious liaison?
Constantine is ably portrayed by one-time, live-action John Constantine, Matt Ryan! Jason O'Mara continues his work as the voice of Batman, and Tomb Raider voice actress Camilla Luddington voices Zatanna! Boston Brand? Why, that's Nicholas Turturro! Etrigan? Why, that's Ray Chase!
Justice League Dark will be available on Blu-ray and VOD this fall. We'll update you when we get the official release date!