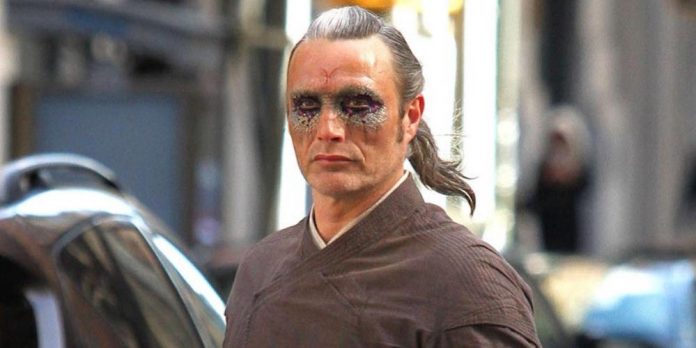 Actor Mads Mikkelsen is having a banner year (or years). The talented Denmark native finds himself involved in not one, but two prodigious movie franchises: Star Wars and Marvel. In Rogue One: A Star Wars Story, Mikkelson plays Jyn Erso's father; in Doctor Strange, his role is a little more ambiguous, and intentionally so. In the following, excerpted interview from our friends at Yahoo Movies, Mikkelsen teases his mysterious Doctor Strange role, and talks about how Doctor Strange is going to be a very different, very unique comic book movie that successfully honors the source material.
"If you look at the comic books, the comic books are quite different [to other Marvel stories]," he explained. "I think that the film will be different from the other [Marvel] films that we've seen, but not as different as the books are, because that was basically the '60s and '70s – it was more like an acid trip. I don't know if you're familiar with the old comics but it's quite a specific universe, with Kung Fu and Magic… so what's not to love, really?" Mikkelsen then elaborated on how director Scott Derrickson found the perfect balance between conveying something new while respecting and acknowledging the source material. "We've taken that fascination of the time into something we can relate to today. So you still have the energy, you still have the colors, you still have the madness, but you also have something you can identify with. I think that was a necessity – if not, you would just make a crazy film. But you still have it there – you have all the action, all the good ingredients you get in a Marvel film, but it will have a different flavor, that's for sure."
Mads then granted us a little insight regarding his currently unnamed Doctor Strange villain, a character who isn't necessarily evil, but willing to practice more antagonistic means to achieve the same goals.
"He's not a villain in that way – he's a man who believes in something else than the hero. That doesn't mean that he doesn't want to make the planet look wonderful or he wants to save the world as well, but he has a different way of doing it. He is the antagonist, of course, but he's not necessarily wrong."
So, ready for Doctor Strange? Honestly, I'm ready for the g-darn identity of Strange's adversary!